What spices can spice up zucchini
Since the zucchini have a very delicate taste and consistency, it is better to add more soft spices. For cooking them in the oven, for example, more suitable for white pepper than black or red. Although the latter also use is not prohibited, especially if you cook the squash with meat or potatoes.
Also, these vegetables combine well with onions fresh or dried and garlic. These seasonings will give them more spicy and full-bodied taste. In this case, you can add cheese to the zucchini, tomatoes or sour cream – it will very tasty.
From herbs to zucchini is a smart choice dill or parsley, root and greens celery, and marjoram – a perennial herb, which is often placed in dishes in combination with oregano. You can also spice baked zucchini with fresh or dried herbs fennel and thyme (thyme) – these two herbs are ideal for almost all vegetables.
Pleasant taste and aroma of the oven baked the zucchini will also attach tarragon, or, as it is called, tarragon. However this herb of the genus Artemisia should be added in very small quantities, otherwise it will kill the delicate flavor of the vegetables. It is best to put the sauce on
cooked
baked zucchini – in this case will make a perfect combination.
How to roast zucchini in the oven
To prepare this delicate and low-calorie meals you will need:
- 2 zucchini of the same size;
- 1 large tomato;
- onions;
- medium size carrots;
- 1-2 cloves of garlic;
- 100 g smoked;
- salt to taste;
- vegetable oil;
- parsley.
Have pre-washed zucchini cut off the tails, then cut them lengthwise into two equal parts and remove the pulp, taking care not to damage the peel. Lubricate them with a small amount of vegetable oil, place on a baking sheet to deepen down and bake for 10 minutes at a temperature of 180oC.
Meanwhile, chop onions, grate carrots and fry them in vegetable oil. Then add pulp of zucchini, cleaned and sliced tomatoes. Boil everything on low heat until excess liquid has evaporated. Then add salt and remove from heat. Add in the stuffing crumbled feta, passed through press the garlic and finely chopped parsley.
Remove pumps, flip them over, add salt and fill with the prepared stuffing. Again, return to the oven for 15 minutes. Then cool a little and serve.
Advice 2: Baked zucchini with cheese
In cooking, cheese is considered to be one of the main products, because it is used for cooking practically all types of dishes, from desserts to first dishes. It goes well with vegetables.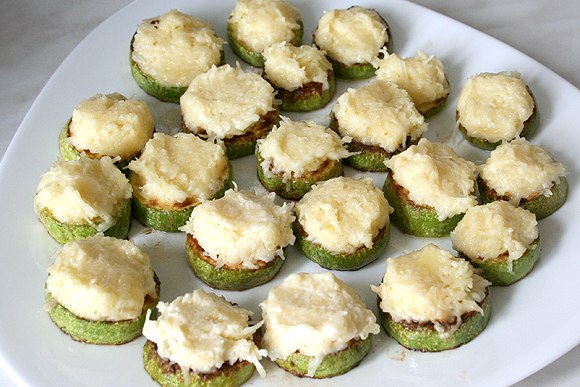 Ingredients:
Young zucchini - 650 g;
Egg – 2 PCs;
Cheese "Tilsiter" - 350 g;
A little salt and crushed pepper;
Olive oil - 50 ml;
2 slices of white bread;
Garlic – 2 cloves;
Tomatoes – 2 PCs;
Herbes de Provence - 1/2 tsp.;
Fresh greens for serving and decorating.
Preparation:
Zucchini will be baked in the oven, so you will need a suitable form. Put into it the slices of bread without adding oil, place in oven until a nice Golden brown.
While dried bread to make homemade croutons, you need to grate the cheese.
Fresh herbs can take any what you like very finely chop.
Add half the cheese to the polished wood, to squeeze in a lot of single clove of garlic. Season with salt and freshly ground pepper.
Dried bread to cool and RUB with garlic. As soon as the toast is cold, you must grind in a blender or with a mortar / rolling pin into fine crumbs. To add to the crackers Provencal herbs and stir.
If the young zucchini, you can cut them lengthwise, remove the core of fruit is a bit of the pulp, chop it and add to the cheese mass. Delicate skin can not be cut, it's full of vitamins, but when cooked it becomes soft. If the zucchini late, then they should be cut into washers, with a height of about 5 cm, also remove the pulp and cut the skin. When you cut the flesh must be left at the bottom of the washer the bottom is that the cheese filling does not leak when cooking.
Eggs slightly vzbit with salt and seasonings, add some fresh herbs.
Dip the zucchini in egg, breaded in bread crumbs with herbs de Provence and garlic and spread on a already greased pan.
Will only dump in the zucchini and cheese on top put thin slices of fresh tomato and sprinkle with the remnants of cheese mixed with breadcrumbs and put bake in the oven.
Select the temperature to 180 degree and bake 10 minutes or 5-7 minutes on the mode "Grill". Serve with greens, fresh vegetables and sour cream sauce.
Advice 3: How to cook zucchini in batter
That zucchini healthy vegetable that people knew in ancient times, but dietitians began to pay attention to it recently. Zucchini digested easily, contains a considerable amount of useful minerals such as sodium, potassium, iron, phosphorus, vitamins b and C. Of zucchini can be cooked many delicious dishes, one of the most popular recipes – the zucchini tempura.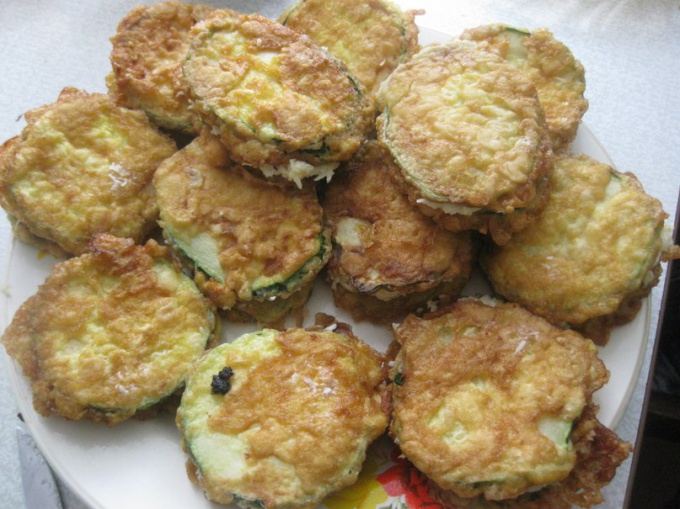 You will need
- small zucchini – 1 PC.
- chicken eggs – 2 PCs.
- olive or sunflower oil for frying zucchini
- flour – 2 tablespoons
- carbonated water – 2 tablespoons
- garlic – 2-3 medium cloves
- spices – to taste
For zucchini, baked in batter:
- wheat flour – 130 grams
- eggs – 5 pieces
- filtered water – 0.5 cups
- salt and spices
- sunflower oil – 2 tablespoons
Instruction
To batter turned out airy and light, whip the eggs with two tablespoons of cold sparkling water, flour powdering there. Then add salt and spices.
To prepare the zucchini in the batter, you need to choose young vegetables with no rough thick skin. But if you still got zucchini already hardened, it does not matter – you should cut it out and remove the core with seeds. Then slice the vegetable mugs 5-7 mm, fine salt and leave to rest in bed for 20 minutes. Drain zucchini liberated juice.
Each slice is carefully dipped in batter, fry in oil until brown. Ready to make zucchini not so fat also possible – it is necessary to lay out the slices on a paper towel or napkins, they will absorb the excess oil. Prepared zucchini, spread on a large platter with layers, seasoned with garlic and dill.
For those people who can not tolerate fried and fatty foods, there is a lightweight version – the zucchini can not fry, and baked in batter. First you need to separate the whites from the yolks and beat them separately from each other. In the bowl with the yolks add the oil and warm water, mix thoroughly and season with salt.
Into the yolk mixture add the sifted flour, beat well and combine with proteins. The resulting batter to cool, roll it vegetables, chopped into slices. Zucchini tempura are cooked in pre-heated oven for about half an hour until soft.