Instruction
Start with small amounts of food. Well, if you are accustomed to such food a little kitten that besides milk there is nothing else in life have not tried. But if you have many years fed his Mouser meat and sour cream and all of a sudden, without warning, fill his bowl with some obscure grains, most likely, nothing but gentle confusion on the part of the animal in the answer you get. Don't start with large portions, try first just buy a cat a few dry pellets, so he could evaluate their taste and aroma.
After the cat will understand that the strange stones which you offer, can be eaten, start the next stage. Natural products gradually replace the dry food. If an animal eats a new food willingly, just give him first a small amount of feed, and then, as a reward, a little comfort food. If eating problems and the cat refuses to eat what you offer, you must act differently. Offer the cat a small amount of feed and do not give any other food as long as he will not eat. Your task is to produce a reflex. The animal must clearly understand that first need to cope with the peas, and then they would give him meat.
Gradually increase the amount of dry food and decrease the amount of natural. Manufacturers of animal food added to their products substance that attracts cats. Therefore, eating dry tablets, contrary to the opinion of many breeders, is a great appetite. The cat just needs to get used to her food now looks as follows. Remember that your main task is to transfer the animal on dry food. To combine natural food and balanced feed, unfortunately, impossible. Or do you feed meat, or poured into a bowl of dry food. The third is not given.
Note
When feeding dry food cats consume a lot more liquid. Ensure that the animal was always access to clean water!
Useful advice
If your purring hard without meat or sour cream, buy in the store a small bag of wet food of the same manufacturer. It, in contrast to the natural, can be combined with dry food without compromising the health of your pet. And the taste of moist pieces of meat in jelly will remind the cat of what it lacks.
Advice 2 : How to teach a kitten have food
Kids living with a mother cat, do not know how to eat on their own. But if they remain with their mother until the age of reason, she teaches them all herself, and they imitate her, and occurs the natural process of learning adult life. But what if you took kitten, and he is not himself? Don't worry, to accustom him to the food easily, the main thing is not to panic, even if he absolutely refuses to eat.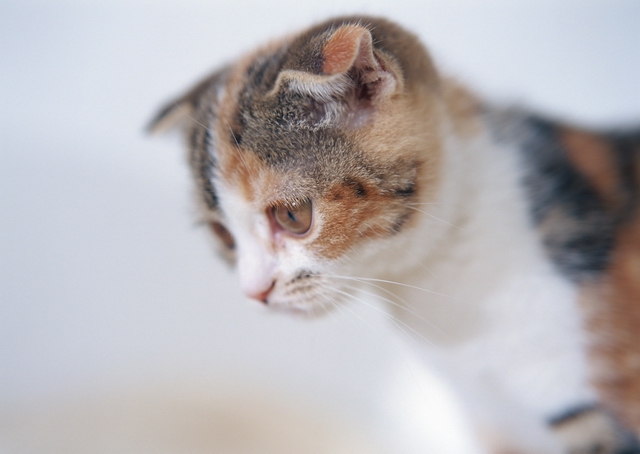 Instruction
For feeding use a shallow bowl to which you need to put quite a bit of food, and especially milk or other liquids. The first time you feed a kitten soft food, you can grind in a meat grinder or blender.
Slightly poke the baby food it needs to feel pleasant aroma and taste. Need not poke his nose and lips. Kitty wants to eat and start doing it yourself. Do not be afraid that he will die from starvation, these are isolated cases. Usually fluffy self-preservation instinct, and it starts with the pleasure to consume the proposed meal.
To teach a kitten to dry food need after a fully formed teeth. Even food for the little ones designed for grown-up animals, a kitten three weeks of age will not be able to crack. The exceptions are liquid feeds, which can be used to give the kids. Enter it in the diet gradually, the daily rate should not exceed 1/3 of all the food. Gradually increase the amount of cat food, and then simply transfer the animal in him completely.
Introduce dry food in the same way, but consider the age of the baby. Do not attempt to feed food designed for adult cat, the kitten may be indigestion. Be sure to always bowl stood clean and fresh water. Daily rate see the package, do not forget to take into account the age and weight of the animal. The calorie content of the product is different, so follow the manufacturer's instructions.
Advice 3 : As accustomed to dry food kitten
Kitty demands attention no less than the child. And they have similar problems: how to feed, he grew up healthy and active. Dry food provides kitty with all the necessary nutrients, and the owner or the owner saves time.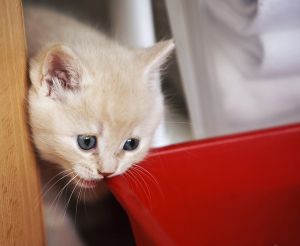 You will need
2 bowls: one for water and one for feed
Instruction
Dry food based on hydrolyzed meat with vegetables, minerals and vitamins. Food is balanced, and when feeding dry food to cats do not need additional vitamin feeding. Keep only those that the cat was always a bowl of fresh drinking water. Dry food is easy to store, it does not savedlevels in a bowl.
Dry food has different manufacturers. For kitten choose feed only super premium. This food really consists of natural ingredients. Unlike forage mass market, which can consist of by-products. On the packaging of food for kittens is the inscription Kitten&Junior, and age 1-12 months or 2-10 depending on the manufacturer. Some manufacturers write on the package "For all ages". This does not mean that food is bad. But such feed pellets are too big for those just beginning to eat on their own kittens. Familiarity with food, it is better to postpone up to 6 months. Optimal forages for kittens are: Hills, Lams, Eukanuba, Pro Plan, Acana ( for grown kittens). On the packaging must indicate the dosage of feed for every age.
Transfer the kitten to dry food should be gradual and not before 2 months of age. At this age the kitten is fed fractionally several times a day in small portions. Dry food start to give the soaked in water in one of the day feedings. During the week you see the reaction of the kitten to a new food: if there is discharge from the eyes ( sign of allergies), is it normal chair, cheerful is the kitten. If the introduction of feed passed without changes, the number of feedings dry food gradually increased. By 6 months the kitten should be fed 4 times a day. In one of the feedings can be given wet food of the same manufacturer. But rather, it should be regarded as a treat.
Advice 4 : How to accustom a cat to a home cooked meal
Many of us are kept in the homes of cats. Some owners faced with a situation where the kitten you bought it, refuses normal food and only eats ready purchase wet or dry cat food. This is due to the fact that the previous owners fed him only store food.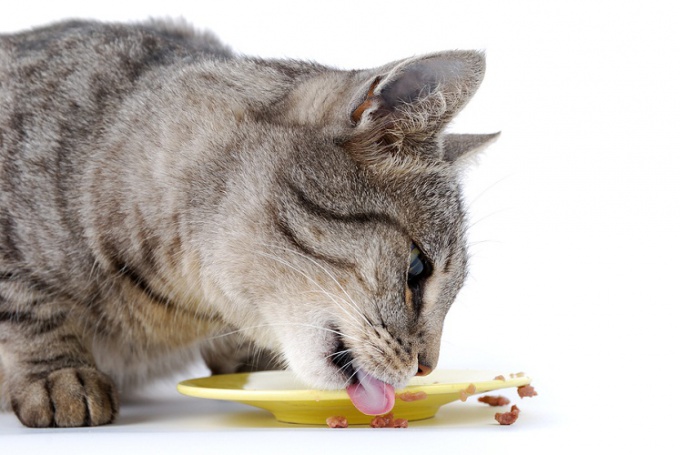 Instruction
You must wean your pet from this harmful habit, not only because constantly buy is not always cheap food is quite expensive, but also because it may harm the health of the cat. Veterinarians are of the opinion that dry and wet cat food cannot provide all the necessary animal vitamins and minerals, but also harm his health.
To accustom a cat to a homemade food in several ways. The most effective of these is the gradual replacement of feed home-made food. To do this in a bowl put pet food, replacing about 10 percent of the usual meal. If you use wet food, it's very easy namyat bread, pasta, potatoes, cereals, etc. If your pet prefers dry food, it is better to prepare special porridge or vegetable puree. The recipe of porridge for the cat is very simple: take
chicken necks
, feet, bone and the rest meat and sausage cutter, boil and add grits. Gradually increase the amount of homemade food in the bowl and lessen the amount of food.
Some cat owners are tired of the whims of the pet resort to more radical methods. In order to accustom the cat to a homemade food, you just need to put him in a bowl is not food, and other food. When an animal is hungry, it will eat what is offered.
Other owners, pitying your pet, suggest to offer him instead feed other treats. Give your cat a piece of meat or sausage instead of feed him food. The animal is not accustomed to eat only meat, mix it with bread, mashed potatoes, pasta, etc. So you can gradually accustom the cat to homemade treats.
To completely abandon the feeding of special foods is not necessary. You can add them to the food to the animal one or two times a week. Indeed, in the special feed still contained some of the vitamins required for your pet, especially in autumn and winter, when to get their homemade products is quite difficult.
Advice 5 : How to teach your cat to dry food
Translation cat homemade food to dry food very often results in problems with the gastrointestinal tract. In order to avoid this, you need to change the diet for your furry pet.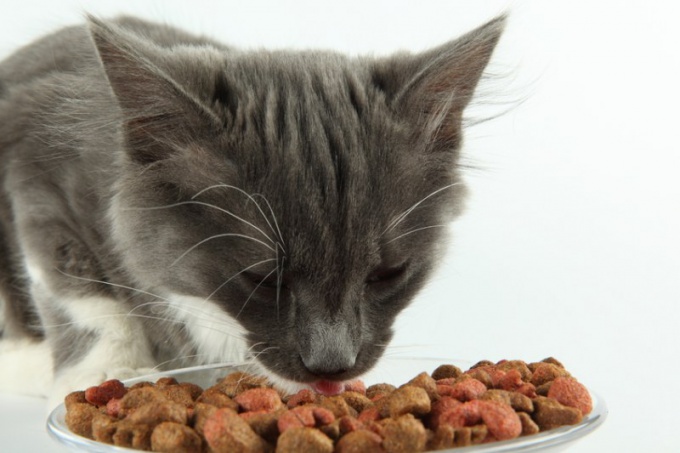 You will need
seven days;
-quality dry food.
Instruction
First and foremost, you must know that all changes in diet should be gradual. Accustom the animal to the new feed should be done in seven days.
In the beginning it is necessary to take some dry food and soak it in a small amount of water, then mix with the usual food your cat. Every day the share of soaked feed should be increased.
If you give your pet a meat broth, then the feed can be soaked in them, not in the water.
On the 4th day try not to soak the food, and just pour it into a plate of homemade food in the ratio 50: 50.
On the fifth-sixth days proportionally increase the amount of dry food and decrease the food home.
On the seventh day, pour into a bowl of just dry food.
During the period of training of a cat ready to feed follow the chair. With the correct translation it should not change radically. If your pet has diarrhea or constipation, you should consult with a veterinarian - it is possible that this food is causing allergies in your cat or just poorly digested.
When choosing a dry food, you should know that only feed premium are balanced and do not require the introduction of additional solid foods. Keep in mind that if you choose the food economy class, in addition to the dry food should give your cat extra food and vitamin supplements.
Note
When it comes to feeding cats high quality dry food should not be additionally introduced into the diet of vitamin and mineral supplements, as these feed all these substances are present in the correct proportions.
Useful advice
If you decided to move the cat on dry food, remember that the animal with this diet require much more fluid, so be careful to have your cats in a separate bowl have always been fresh and clean water.