Range of irons
In order to reduce the possible impact of an aggressive, you need to choose the right pad. The most important is the material from which made his plate. The safety of hair straightening depends on it directly.
Plates of metal severely damage hair, so use of such a device can be no more than four times per month, is excluded to use it every day.
Ceramic plates are more gentle on hair. Ironing with such a coating are considered good for home use and refer to the middle price category.
The highest quality, almost not harm the health of the hair are plates with tourmaline and ionic-ceramic coating. Such devices are considered professional and are therefore more costly.
Very convenient if the hair straightener has a temperature control, because to straighten hair different lengths at different temperature conditions. Bangs – at partial load temperature, the rest of the hair is more high.
Especially hair straightening irons
More than twice a week thermal hair straightening is dangerous. You can very badly damage the hair structure, and they will become faded and begin to thin.
Very useful to use special heat tools to protect the hair, especially if they are dry and brittle.
To create a voluminous hairstyle, you should straighten only the outer strands and the ends of the hair. In this case, the stored volume and is attached to the smoothness of the hair.
Before straightening, you need to wash your hair as dirt and the remains of various styling products will lead to the hardening of the hair, which is very harmful for their health. If the opportunity to wash the head is missing, then the temperature mode should I choose the minimum.
It is not recommended to flatten wet hair, while they are damaged and instead of smooth and silky, turn lifeless hair and thinning. When using heat tools, you need to wait for full drying or dried in the dryer.
Straighten your hair should be separated into small strands by the width equal to the width of Ironing. The smaller the strand the better the effect.
It should not be a long time to hold a pad in one place, a very high risk of burning up the hair. Quite a few flowing movements from top to bottom. After you can use varnish to fix the result.
If the hair is still damaged, you need some time to stop using the irons and conduct the therapy through various restorative hair masks.
Advice 2 : How to straighten hair without damage
Fashion trend - perfectly straight, shiny, healthy hair, but unfortunately, it is a great luxury. Various gels and hair products sometimes do not help to achieve the desired effect. However, do not despair and resort to drastic measures in the form of short cuts. Hair can be straightened with a regular hair straightener at home without harm to their health.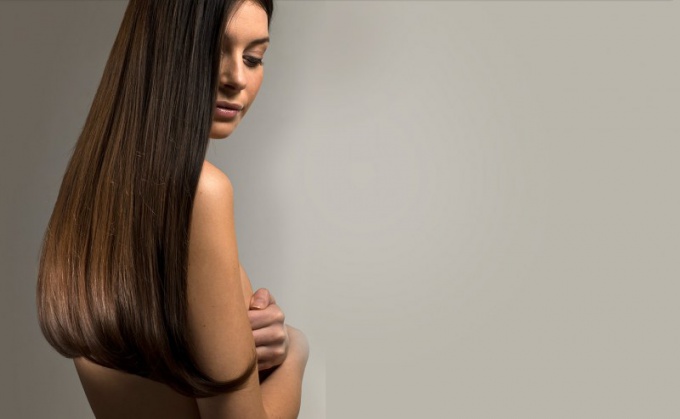 You will need
- Hairdryer
- Styler;
- thermomilk;
spray for hair straightening.
Instruction
The hair looked healthy, watch out for temperature when using a hair dryer for straightening. The optimal temperature of 120-130 degrees, otherwise your hair is threatened by the drying, resulting in breakage and thinning hair. If you are unable to achieve the desired effect, increase temperature, but reduce the duration of exposure.
Before you start the procedure for straightening hair, apply a special protective means. There are also a variety of masks and shampoos that are used to restore hair structure after the negative impact of Hairdryers and stylers. Consult a hairdresser, what's the best fit for your style.
Never use raspalitelem if your hair is wet. You can burn and the only cure for you would be a short haircut. Before straightening your hair should be dried with a Hairdryer or allow to dry in a natural way and only then begin this procedure.
Do not overdo it. The procedure is repeated not more than two or three times a week. After straightening, use a spray to secure the result. And don't forget about recovery therapy, using a variety of cosmetic and folk remedies to strengthen hair.
If you still burned the hair, you should cut off the burned length and delay using the hair straightener on your hair in other ways.
Note
For straightening hair at home use hair Styler with temperature control and ceramic coating, which reduces the chance of drying out hair.
Useful advice
Straightening your hair, separate small clumps, otherwise the heat will not penetrate the hair structure, and the effect will be zero.
Advice 3 : How to restore hair after a flat iron for straightening
Modern girl can not imagine my life without the tools for beauty. Hair straightener hair straightening is a very timely and useful thing, because with it you can quickly and easily make a beautiful hairstyle. But the frequent use of this item causes the hair to become dry, brittle and lifeless. In addition, they start to split, which gives them a healthy look. Can this be avoided using flat irons for straightening hair?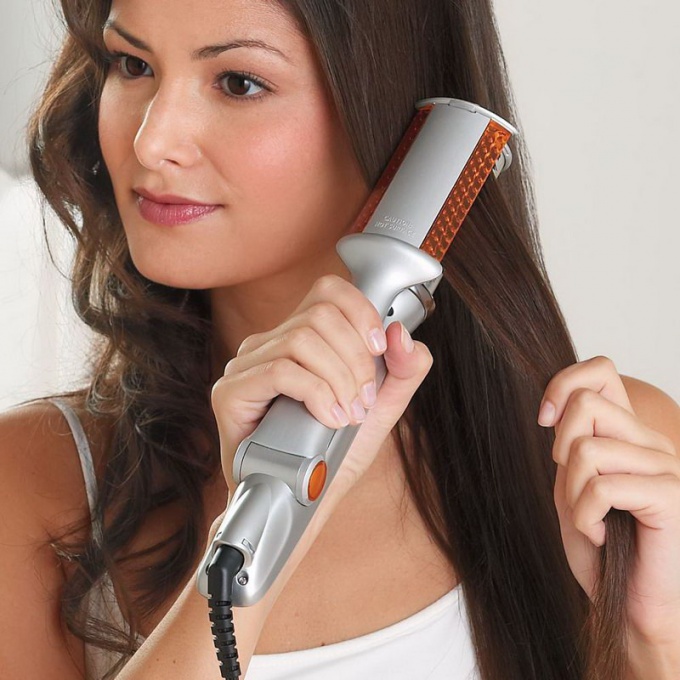 Restore hair after using a flat iron


Damaged hair an urgent need to treat. What can you do in this situation? First, you can just give up on Ironing. But as it is in most cases not possible, you can use it slightly less often.

Second, the damaged part of the hair need to clip, as it is not recoverable.

Third, you need to pinpoint your problem and turn to cosmetics for hair care. Experts advise to choose balms, shampoos and masks the same manufacturer as complementing each other, they give the best effect. Don't worry if your hair was much fatter than they were before the use of cosmetic products. This means that they are filled with life.

Fourth, restoration of hair after using a flat iron will help homemade masks. They are very easy to prepare yourself, having at hand only the ingredients for this. These masks should be done no more than twice a week. The result will not keep you waiting long. But about the mask later.

Fifthly, to help gelatin lamination of hair. Solution induced in this way: pour gelatin with one tablespoon of warm water and leave for half an hour. After it swells, dissolve it in a water bath or in the microwave and add 30 grams of hair. The weight should be applied to wet hair. To do this procedure once a week, and a month later you will notice that the hair becomes heavier and smooth.

Sixth, if you have the opportunity, please contact the beauty salon treatment keratin straightening and laminating hair. However, these procedures treat the hair only outside, but inside they also need to be strengthened.


Mask for hair at home


At home you can prepare masks for damaged hair after Ironing. You can offer these options:

- honey mask for the preparation of which requires 15 grams of honey and milk and essential oil with moisturizing effect. Honey dissolved in hot milk and add 4 drops of oil. The mixture is applied on dry hair that you want to hide in a shower cap for two or three hours. If your hair is highly desiccated buy in a drugstore oil of ylang-ylang, lavender, frankincense, sandalwood or orange.

- oil mask – option for weakened hair. You need to distribute on hair, coconut oil, Shea butter or cocoa for two hours. As these oils are very fat, with high fat content in hair roots should step back a little from them and to start the process. You can also mix equal amounts of jojoba oil and burdock oil to make a mask. Good effect gives sour milk, heated until small temperature. This mask is done on the scalp, gently rubbed, is covered with a towel for half an hour and then rinse.

Irons for hair straightening is undoubtedly the right and necessary thing for the modern girl. But whether to use it as often so you have to spend a lot of time on hair restoration?