If you are going to file a semi-sweet red wine to the table, you need to remember about the balance of flavors. This means that the taste of the food should not prevail over the taste of the wine and Vice versa. As the taste of food changes the perception of the aroma and taste of drinks, the wine can be felt differently. As a General rule, lighter wines with light appetizers, and rich, with heavy, fatty foods. But also remember the rule of attraction of opposites. For example, semi-sweet and sweet wines are well suited to the spicy dishes: they soften sensation of heat and bitterness. Wine in combination with food also often takes the role of spices. If you choose the right combination then this drink is able to reveal the most subtle nuances of taste.
Semi-sweet red wine served chilled to 16-18 degrees. In contrast to the dry, semi-dry and sweet dessert wines sweet never diluted with boiling water. It will spoil the taste.
Cheese
Mild cheese, e.g., mozzarella or cheddar average exposure, well with complex red semi-sweet wines like "Pinot Noir". Semi-hard cheese ("Cheddar", "Gouda") complement the taste is moderate sweet wines such as "Merlot", "Pinot Noir" and "Shiraz". A wine with a rich fruity bouquet, for example, "Cabernet Sauvignon" and "Zinfandel", usually served with sharp cheeses such as "Golden blue," aged "Cheddar" and herbal cheeses.
Fruit
Here everything is simple. Semi-sweet red wine perfect for any fruit desserts, whether it be fresh fruit or candied fruit, fruit mousse or chutney. Importantly, the taste of the dishes were a little sweeter wine.
Salad
Semi-sweet red wine suitable for almost all vegetable salads. But there is one important rule: never use vinegar when making salad dressing if you plan to submit this type of wine. Vinegar just kills the taste and aroma of the drink. This applies to all types of vinegar: Apple cider, balsamic and classic. A good option would be a salad consisting of cauliflower, artichoke and mushrooms.
Crabs, crayfish and oysters, despite the common opinion that the seafood suitable for white wines, there may be snack or semi-sweet red wines.
Soups
Balanced velvety taste of berries "Riesling" is a good foil for the pungency of saturated soups, Thai and Japanese cuisine. It will soften the bright flavor of the spices and reduce the heat. Also to the red semisweet wine suitable cream soups cream-based.
Meat and game
If you are a lover of good steak, or a steak, semi-sweet wine - not for you. But the bird is perfect for this wine as "Pinot Noir", the Australian "Shiraz", "Merlot", which set off the earthy taste of white meat poultry.
Advice 2 : What better to accompany your wine
On the table the wine is very common. However, not everyone knows that this drink requires a special relationship, respect the culture of drinking, and special snacks. Under the influence of a product the wine reveals a completely charming with its unique bouquet and flavor.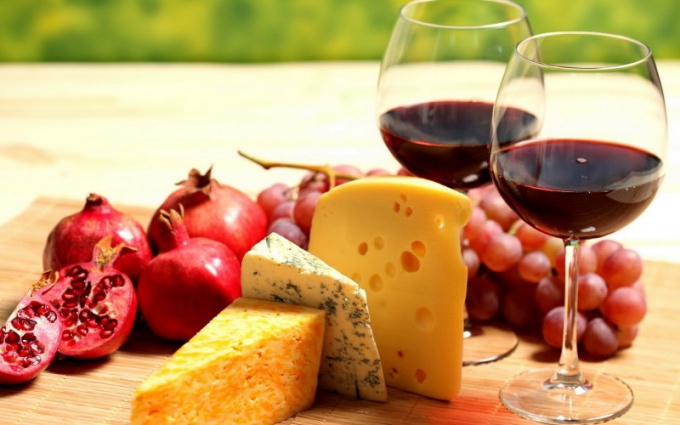 Three kinds of snacks for any variety of wine
For many will be a revelation that the best snack for this noble drink is ordinary bread. Indeed, this simple product is one of the few that does not affect the taste of wine and drowns out his basic notes. Also bread can be replaced with biscuits – hard biscuits without salt and sugar. If desired, as a snack, you can use the salted cracker, however, many experts believe that salt does not always fully reveal the wine's bouquet.
Another product that is perfectly suitable for any type of wine – cheese. The tradition is
to eat
the wine and cheese was born in France. Since then, cheese has become an indispensable part of this noble drink. As a snack you can use any cheese. But in most cases, the cheese is chosen for a brand of wine. In addition, a good solution would be filing a cheese fondue to wine. It is a popular Swiss dish is served in a special pot that is heated over a Bunsen burner. Such food will not only make an excellent snack with wine, but will also make your evening more rich and unusual.
Completing the list of the best snacks for wine – fruit. They perfectly accentuate the taste and aroma of the beverage. However, many experts recommend not to use as snacks citrus.
Snacks to a particular variety of wine
There are a great number of brands and varieties of wine. Dry white wine is excellent with any seafood. It could be like caviar, and a variety of fish varieties. In addition, the taste of white wine is revealed, if you serve it with shrimp, lobster or crayfish.
For lovers of sweet and dry wines can be recommended for dinner quality chicken, pork or veal. As a side dish usually served vegetables or mushrooms. White semi-sweet wine is also great in combination with a variety of desserts and pastries.
Red wine is a perfect aperitif before a hearty lunch or dinner. Beef and sharp cheeses will become the best snack to strong red drink. In addition, it is fortified wine it is possible to offer as a complement to any soup.
All kinds of sweet wines typically served with desserts, sweets, cakes, and fruit. That is, this kind of beverage is not recommended to serve during dinner parties as a Supplement to main dishes.