Fried sausages in tomato sauce
Ingredients:
- 6 Bavarian sausages;
- 2 tomatoes;
- 1 tsp flour;
- 1/3 Cup of water;
- 1/3 teaspoon of black pepper and salt;
- 2 tbsp vegetable oil;
- 10 g green onions and dill;
- 2-3 leaves of lettuce.
Sauté sausage in vegetable oil for 3 minutes over medium heat, turning occasionally. Bring them forth, and yet set aside. Remove the skin from one tomato, grate the pulp on a grater and put it in the same pan where you prepared the main ingredient of a dish. Let the tomato mass to become homogeneous, add the flour mix and lightly fry.
The skin of the tomatoes comes off easier if pre-scald vegetables with boiling water or scratched his blunt side of a knife blade.
Dilute the sauce with hot water, stir, to avoid lumps, pepper and salt. Put it in sausage, heat them a little and remove the dishes from heat. Cover a plate with lettuce, put them contents of the pan, pour the sauce, sprinkle with parsley and garnish with slices of the second tomato.
Fried sausages with egg
Ingredients:
- 2 Vienna sausage;
- 2 eggs;
- 2 pinches of salt;
- 0.5 tsp. dried Basil;
- vegetable oil.
Deeply cut sausages crosswise in increments of 0.5 cm. Gently roll them in the whole circle inside, and tie the ends with toothpicks. Heat vegetable oil and fry in it the ring from one side, then flip. Break in each egg. They add salt a pinch and fry for another minute. Transfer the sausages on the plate with a wide blade and sprinkle mini eggs dried Basil.
The dish will be more attractive if you first pour in the protein, and as soon as he almost grabbed, put on top of the yolk.
Very tasty grilled sausage in a crispy batter
Ingredients:
- 12 dairy sausages;
- 1 tbsp. of corn and wheat flour;
- 2 teaspoons of baking powder;
- 2 tbsp corn starch;
- 1 chicken egg;
- 1 tbsp. milk;
- 0.5 tsp. black pepper;
- 1 tsp. sugar and salt;
- vegetable oil.
Mix both kinds of flour with baking powder, starch, salt, sugar and black pepper. Whisk separately the egg with the milk and stir into it the bulk mixture. Pour the liquid flour ground in a narrow glass. Neat string of sausages on wooden sticks, leaving 3-4 cm of the ends. Place on high heat in a deep pan and heat it with vegetable oil.
Make sure that the sausage was not wet, otherwise the dough will hold. If necessary, dry them with a paper towel.
Lower the
sausages into the batter
, holding them by the skewers, and immediately put into hot fat. Fry them until it will turn brown and crunchy turning in a circle every 20-30 seconds. Use long tongs to not burn my hands. DAB ready "skewers" with a napkin to remove excess oil. Serve them with your favorite sauce.
Advice 2: How delicious to fry eggs
Scrambled eggs is a dish that never get tired and the Breakfast is always varied. There are lots of tasty and interesting options for cooking eggs, as, for example, in a rural or shrimp in the oven.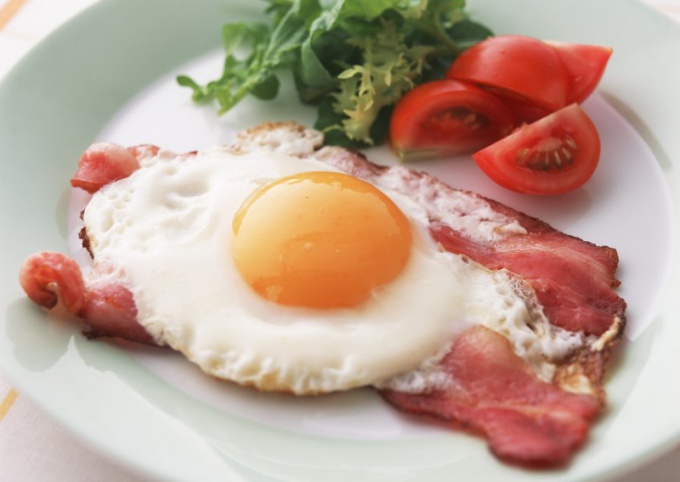 You will need
For Sunny-side up with bread croutons:
-rye bread – 200 gr.
-2 eggs
-1 clove of garlic
-salt to taste
-green
green onions
-vegetable oil for frying
For eggs-mash with tomatoes:
-2 tomatoes
-2 eggs
Sol
-spices
-green
-vegetable oil
For eggs Swiss cheese:
-2-3 eggs
-100 gr. cheese
-vegetable oil
For eggs with ham and mushrooms:
-mushrooms – 200 gr.
-ham – 300 gr.
-onion – 1 head
-2 eggs
-vegetable oil
For fried eggs with eggplant:
-2 eggplants
-2 eggs
-vegetable oil
For eggs in the village:
-100 gr. fat
-2 potatoes
-onions
-2 eggs
For eggs with shrimp:
-300 gr. shrimp
-3 eggs
-butter – 10 gr.
-100 gr. cheese
-green
ground pepper
For eggs in bread:
-white bread
-2 eggs
-salt to taste
For eggs with cottage cheese:
-100 gr. cottage cheese
-3 eggs
-parsley
-spices and salt to taste
Instruction
Fried eggs with bread grenkami. Rye bread cut into cubes and fry in pan adding garlic cloves. Beat two eggs. Fry until cooked, season with salt, garnish with fresh herbs and green onions.
Fried egg mixture with tomatoes. Tomatoes cut into slices and fry in a pan. Two eggs vigorously with a whisk, add salt and spices according to your preference, pour in the tomatoes and cook under the lid until ready. Serve with greens.
Fried Swiss cheese. Eggs stir with a whisk. Soft cheese cut into small cubes. Fry egg pancake with two sides, then put on one side, cubes of cheese and roll omelet in half. Soak under lid for 5 minutes.
Scrambled eggs with ham and mushrooms. Mushrooms wash and cut into slices. A small head of onions cut into half rings. Saute onions and mushrooms in vegetable oil, a little sunflower. Add diced ham and sauté too. Whisk the eggs with a whisk with the salt and pour into the pan. Under the lid, bring to readiness.
Fried egg with eggplant. Eggplant cut into cubes, sprinkle with salt and leave to soak for 20 minutes. Fry the eggplant in vegetable oil with garlic. Break two eggs, add salt and cook until tender.
Scrambled eggs country-style. Fat or bacon fry in a pan on all sides. Coarsely chop onion and fine shredded potatoes. Season with salt and pepper. Fry in lard the potatoes and onion, beat the eggs. Cover and cook until tender. Especially tasty this eggs would work in a cast iron skillet.
Scrambled eggs with shrimp. Peeled shrimp must be fried in butter with garlic. Refractory molds grease with oil, pour in each egg and add shrimp. Sprinkle with pepper, grated cheese and herbs. Bake in the oven for 15 minutes.
Fried eggs in bread. White bread slice and remove the crumb. Fry in vegetable oil on both sides, pour one egg into each slice, sprinkle with grated cheese and greens. Cover and cook until until cheese melts. Garnish with finely chopped parsley and dill.
Scrambled eggs with cottage cheese. Whisk eggs until frothy. Finely chop the green onions and parsley. Cottage cheese mix with eggs, add the herbs, fry for 2 minutes in the pan, then put into the form and bake until Golden brown in the oven.