Bake marinated meat with potatoes and cheese
To quickly cook the remaining marinated meat tasty dish with cheese and potatoes, take:
- 10 potatoes;
- 300 grams of any cheese;
- mayonnaise or yogurt;
- 1 kg of marinated meat;
- 1 big onion and fresh herbs, and salt and black pepper to taste.
Peel the potatoes, cut into small cubes and then add salt, pepper and mix. Grate cheese on a coarse grater and chop the onion rings.
Don't add to dish tomatoes or other juicy vegetables, as potatoes are fed with their juice and will not be crispy.
Drizzle a baking sheet with vegetable oil and place on it a layer of potatoes. On top of the vegetables lay the marinated meat (pork and beef) with onion rings, sprinkle with grated cheese, pour a small amount of vegetable oil and mayonnaise for a Golden crust. Put in the oven at a temperature of 210оС approximately forty minutes (in an electric oven for 25 to 30 minutes).
When the dish is covered with a ruddy crust, remove it from the oven and sprinkle finely chopped fresh herbs – dill, parsley, oregano, marjoram or Basil. Fried marinated meat serve hot.
Salad of marinated meat
To prepare the salad of marinated meats you will need:
- 700 grams of meat;
- 250 milliliters of vegetable oil;
- 500 grams of red onion;
- 90 grams of mushrooms;
- 250 grams of fresh salad (lettuce);
- 3 tbsp worcestershir sauce.
Also prepare the spices, salt and ground black pepper to taste. Peel red onion and cut it into neat slices or circles, then wipe the mushrooms with a damp towel and cut the legs from hats.
To the slices of onion stay together during cooking, pierce each side with a sharp toothpick or cocktail skewer.
In a bowl whisk vegetable oil, pepper, salt, spices and worcestershir sauce. Divide the salad leaves and place in cold water for half an hour, then remove stalks and tough ribs, dry leaves and put them in a bowl. Marinated meat put on a grill-rack for roasting, place the onion slices around, drizzle them with sauce and roast for three to six minutes.
The meat is ready slice on the diagonal into thin slices and place them on lettuce leaves, and sliced mushrooms. Remove toothpicks from onions and garnish them with salad. Sprinkle dish with remaining sauce and serve it while the meat gets cold. This recipe was invented by the English hunters, thus preparing the meat of deer or elk.
Advice 2: How to marinate beef
Advice 3: What to cook with pork
Pork
– meat with a sweet, delicate taste. It goes well with sour, salty and even sweet ingredients. Pork carcass can be cooked as a whole or divided into parts. In "business" goes from the snout to hoof. Depending on what cut you make, you should choose the dish you will serve.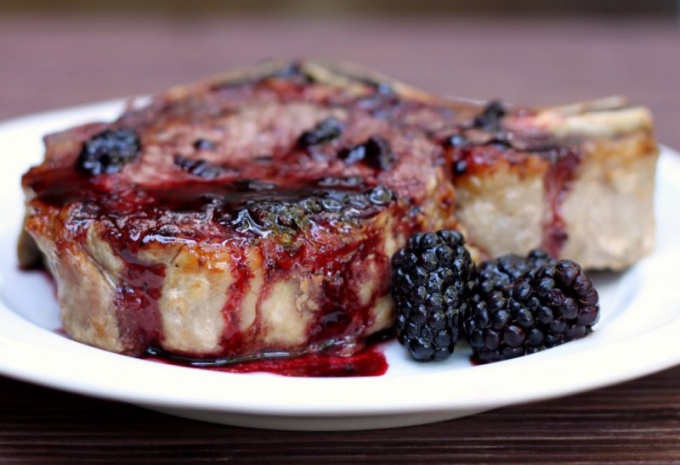 How to cook pork chops
Chops is probably the most popular part of the pig carcasses. They are prepared from the lumbar part of the animal. The larger and medium-sized chops, sold on the bone, represent only a small flesh framed by fat. They make pork chops, beat them and get the scallops, they put different toppings and fold in roulette. If desired, you can saute the chops, pre-fry until Golden brown. Often cook chops on the grill. To chops, cooked in a pan, often served with a sauce obtained by it easier to stir the dish in which roasted meat, wine, balsamic vinegar, Apple cider. In this gravy you can put a little sour cream or butter to enhance the flavor of mustard or herbs.
Dishes from pork fillet
Pork fillet, like many Housewives. Cooking this cut requires minimal effort, though it's a bit to overdo it, the meat becomes juicy and soft, but dry and hard. To avoid this, fillet before heat treatment is marinated using various types of acid – lemon juice, wine, flavored vinegars. Another way to save juice is to seal the fillet, that is, pre-fry it in a hot pan on all sides until Golden brown. Thus prepared meat baked in the oven entirely. You can also slice the fillet into small slices – these are called medallions and fry them as small chops, within a few minutes.
What to cook from a leg
Ham – impressive part of the carcass. It is prepared with ham, casaliva, otvarivaya and bloating over fragrant wood chips. It can be baked whole, pre-pickling, and then spigot pieces such aromatic vegetables like carrots or garlic. Handsome baked ham is a common ornament of a celebratory table.
What to make with pork belly
Pork
belly is one of the most inexpensive parts of the carcass. Chopped into pieces put it in a stew, cook it from the broth, which are particularly suitable for cabbage or soups from legumes. Stew on a slow fire, the breast turns out flavorful and lean, because during this time, you can melt all the fat. Bacon –the ingredient of many delicious dishes. The Italians cook pork belly delicious dish – porchetta for him they thickly strew the cut chopped herbs, rolled into a tight roll, tie with string and leave overnight in a warm oven.
How to prepare blade
Meat from the shoulder part of the carcass contains as much fat as necessary for good meat. It is from ground blades also serves a range of burgers, meatballs, organic sausages and terrines, pie fillings. Cut that meat into pieces, you can put it in stews, casseroles, and various dishes of Asian and Mexican cuisine. Bake the shovel and as a whole, generously pre-lubricated with oil, salt and pepper.
Dishes from other parts of the carcass
Biggest demand is for pork ribs. They are boiled, then pickled, and then roasted on the grill. Sometimes the ribs are fried in a pan or stew, chop into pieces, with various vegetables. Delicious, but the bold part is the neck. This is the perfect meat for barbecue. Pork legs obtained from the nourishing jelly. Especially tasty and roasted pig's head, but this dish is not each owner.