You will need
mayonnaise – 300 ml;
onions – 5 PCs.;
salt
pepper.
Instruction
Chilled pork rinse thoroughly in cold water and dry with a paper towel. Frozen – defrost, drain, wash and dry. Slice the meat with a sharp knife into small pieces and add to the pan of desired size. To pieces the size of cut meat – you decide. But the more they are, the more time it will need for pickling and subsequent cooking.
Add salt, pepper, stir and let stand for 10-15 minutes. Then add the mayonnaise and stir again. Pieces of meat should be evenly coated with mayonnaise, but it does not "wallow" in it. To determine if you put in meat, salt and pepper, try a marinade taste. It needs to be both sour from mayonnaise, spicy from the pepper.
Onion cut into wide rings. Parts of the onions and half the chopped onion mix with the meatM. the Remaining rings are put on top - they will be needed for frying. Cover the barbecue lid and let stand at room temperature for 1-1. 5 hours, then refrigerate and leave to marinate for about 10-12 hours. You can leave it in the fridge, then the marinating time will be 3-4 hours. You can not stand the meat in the marinade, if it is fresh and high quality, it can cook at once. However, the longer the pork will marinate in mayonnaise, so it get softer and ready will be faster.
Place the pieces of meat on skewers, alternating with onions.
Fry until cooked. To determine the readiness of the barbecue, make one from pieces cut with a sharp knife. The meat will stand out clear juice. That pork turned out dry and not burnt while cooking, occasionally watering barbecue water, wine, kvass or beer and turn the skewers.
Advice 2 : Skewers of pork marinated with mayonnaise with lemon juice
Kebab - a dish that is perfect for cooking outdoors any time of year. Recipes marinade for barbecue there is a huge number. With the advent of new spices and products on the shelves of shops lovers
of kebabs
to invent new ways to cook flavorful meat. One of the new options of cooking marinade sauce - mayonnaise with lemon juice.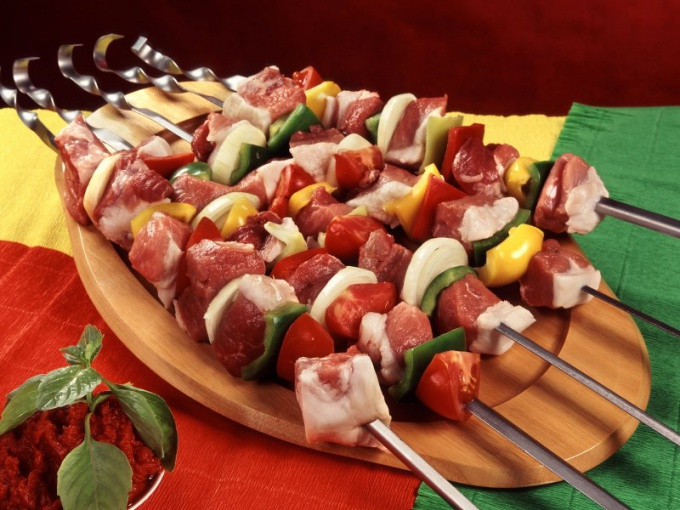 You will need
pork, mayonnaise with lemon juice, 1 onion, a few cloves of garlic, ground black pepper, salt
Instruction
Pork is the most common form of meat, which is most often used for barbecue. This is due primarily to its original tenderness. However, the taste and toughness of meat cooked on an open fire is affected by so many factors. First and foremost is the marinade. The opinions of the lovers of kebabs in this thread disagree. Some people prefer to marinate the meat in its own juice, the other is used as a marinade, a mixture of different. It is believed that lemon juice makes the meat more juicy and tender that is why in recent years have increased the popularity of the mayonnaise with lemon juice to prepare mixture for marinating kebabs.
Many modern manufacturers offer customers various kinds of mayonnaise with lemon juice. For marinating meat, you can choose products from any manufacturer, not just a mark on the lemon juice. Mayonnaise is mixed thoroughly with chopped onions and garlic. To taste add salt and required amount of black pepper. The marinade for the pork is ready.
Pork you need to prepare, thoroughly rinse the meat and dry for a few minutes. You can use napkins or paper towels. Cut
pork
in small cubes better. The meat is then laid in a dish filled with marinade. In a mixture of mayonnaise, onions and spices pork must remain at least forty minutes. To meat soak in the marinade, thoroughly mix the pork slices in the marinade.
After the exposure time of the meat in the marinade expired, pork ready for further cooking. The pieces of meat strung on skewers, if desired, they can be alternated with onions or vegetables. The cooking times on the grill usually does not exceed 30 minutes. Tender pork marinated with mayonnaise with lemon juice will satisfy every lover of camping.
Advice 3 : Skewer in mayonnaise and adzhika
It is difficult to imagine camping without juicy flavorful meat, roasted over the coals.
Skewer in mayonnaise
with the chutney turns out very tasty, it is complemented by slices of bell peppers and tomatoes. Already in front of one flavor is hard to resist.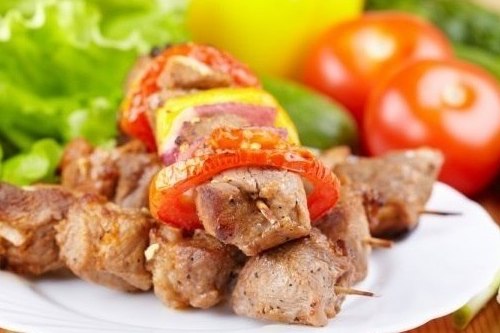 You will need
- 1 kg of pork;
- 2 tomatoes;
- 2 bell peppers;
- 2 bulbs;
- 5 cloves of garlic;
- a bunch of dill;
- 3 tablespoons of mayonnaise and adzhika;
- 1 teaspoon of coriander;
- black pepper, salt.
Instruction
Bulbs and cloves of garlic peel, chop in a blender or mince, if you have it.
Add in onion and garlic ground in the mayonnaise, adjika, pepper, salt, coriander, chopped dill, mix well - the marinade is ready.
A piece of fresh pork wash, cut into small pieces, skewer is convenient. Select a middle ground - large pieces of badly cooked through inside, and a small frying dry.
Put pieces of meat in enamel pan, pour in marinade, leave in a cool place for several hours. Ideally, the meat should marinate overnight.
Gently press the slices of marinated meat, put them on skewers, alternating with pieces of bell pepper and tomatoes.
Fry the skewers in mayonnaise and cheese until done over the coals. Serve right on the skewers.
Useful advice
Shish kebab can be fried at home and in the pan, strung on wooden skewers, or in the oven. Of course, it is not such a flavorful meat, but also very tasty.