Decorating bags beading: materials needed
To decorate the bags with beads, you will need two main materials – accessory and beads. If you want to create a beautiful, memorable design, choose beads of different diameters – this will allow to give relief. Also don't forget about the existence of glass beads.
Beads the beads are different. If you plan to wear the bag as an evening, choose Czech materials. The beads they are smooth, of the same size and color. To work with such a pleasure.
To work be sure to purchase a special needle. Usual for embroidery will not fit due to the thickness. Needle for beads is very thin, sharp, have a small ear. Choose nylon thread or nylon. They are durable and will be virtually invisible. To work with beads suitable fishing line.
Ways of decorating bags with beads
The first popular method of decorating bags with beads, embroidery. It is used mainly for decoration of cloth accessories (silk, denim, cotton, etc.). In addition to beads, you can use rhinestones, coins, ribbons.
The second way of decorating – gluing. It is applicable for leather, plastic, oilcloth, suede bags. You must use only transparent adhesive quick lock. You will also need tweezers and a clean cloth to remove excess composition. After making the decor must set completely, which will take about 2 days.
Of course, the embroidery will be more durable decoration. However, to puncture the leather/suede will take a lot of effort. If you have decided on this experiment, be sure to use a thimble.
Before making a sketch of the future drawing. This is necessary if you plan to use beads of several colors, positioning it in a certain sequence. So you will pre-assess the compatibility and result. If the design is solid and solid/scattered, sketch won't be necessary.
The product looked impressive, follow the rules of color combining. Be sure to consider the tone of the basics, if you do not plan to fully tile it. Beautiful and elegant look clutch bags completely covered by a solid shining beads. Handbag with such a restrained, but striking design perfect for evening wear.
Also the bag can be decorated with appliques beaded. Future decoration is woven separately and then simply bonded/stitched to the accessory. To use this method is if you plan to create a small beautiful accent to the bag in the shape of a flower or a fun picture of the character.
Advice 2: How to make the decor of the bags with their hands
Not every woman can afford to make an individual order and purchase unique purse. With good taste and skill it is possible and customary accessory store to turn into an exclusive thing. In the course can go to the embroidery threads and silk ribbons, beads and rhinestones, extra details like pockets, buckles and straps. It all depends on your imagination. One of the ways to decorate leather bag to sew on her flowers from the same material.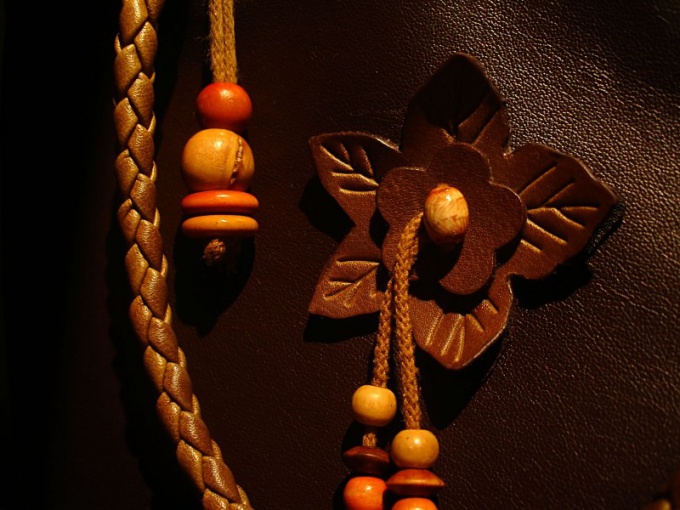 You will need
- pruning of old skin;
- glue for the skin;
- castor oil or vaseline;
- needle and thread under the skin;
- beads, buttons;
pan made of cast iron;
- scissors "zigzag";
- the knife;
- glasses of different sizes (compass);
- stain;
- aniline dye;
- capacity for dilution;
- a fine sieve;
- vinegar;
- hairspray.
Instruction
Collect the pruning of old skin. Raw materials may serve as unnecessary things such as bags, pouches, boots, gloves and other clothing. To make the material presentable, Polish it with petroleum jelly or castor oil and knead well with your hands.
Look closely at real flowers or their images. Consider which details you need to find. Part of a piece of jewellery, it is recommended to do without bending, with the straight sections. So that they began to lohmataya, oscremote leather inside out with a knife and coat the inside of the parts cut the stain.
Draw circles of different diameters by using different-sized glass or a compass. Cut the petals better special tailoring scissors "zigzag". Staple all parts of decor bags a few hand stitches.
In the middle of the flower, you can sew a large bead or to make a leather button. Place on low heat in the frying pan, put it on a round scrap of leather face top and wait until it curved in the shape of a hemisphere. Do not overdo it, especially if it's lacquered – he's "gonna fry" is fast and can gather along the edges with small pleats.
Scratch the wrong part of the hot billet core leather flower heavily sharpened with a knife to give it a rough surface. Now you can gently bend and glue the "roast" button of any adhesive for the skin.
If you wish, you can paint flowers leather using aniline dyes, which you can buy in a specialty store for designers and artists. To prepare the staining solution, read the instructions carefully on the packaging. Usually one packet is enough for 0.3-0.5 liters of water. Dissolve the dye in boiling water, filter through a fine sieve and let cool to 50 degrees.
Macerate parts
of the skin
and carefully apply them to the surface was not a single wrinkle. Add in the paint a little vinegar. Then put the parts of a flower into the solution and soak there until complete cooling of the liquid. Some quilters spray painted leather decoration varnish to secure the new color.
Think about the place where the best will look the application of the skin. Only then sew or glue the flower on the bag.
Useful advice
When working on decor, bags it is possible to combine natural leather with scraps of fur the right color. Would look lovely fluffy edge around the perimeter of the upper edge of the inflorescence and leather with fur on the front middle of the appliance.
Advice 3: How to decorate a jeans bag with your hands
Each woman wants to have a lot of bags that match certain outfits in your wardrobe. However, far from all the girls can afford often to buy new accessories. The output from this is: you can decorate her old, unremarkable handbag, making it stylish, fashionable and interesting.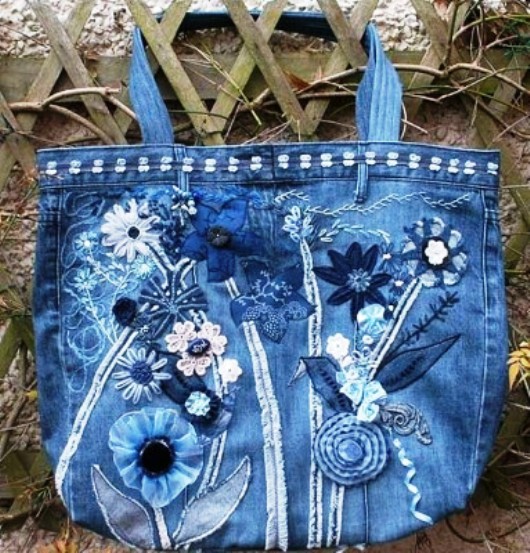 If your bag is made of soft material, such as denim, with the decoration of the problems avoided.
For summer denim bag to decorate in a nautical theme. To do this, simply take pieces of suede or leather, cut out of them in the shape of anchors, fish and the like, wastegate using the embroidery floss sew them to the bag, placing it where you prefer. In conclusion, tie to the handle of the lace cord.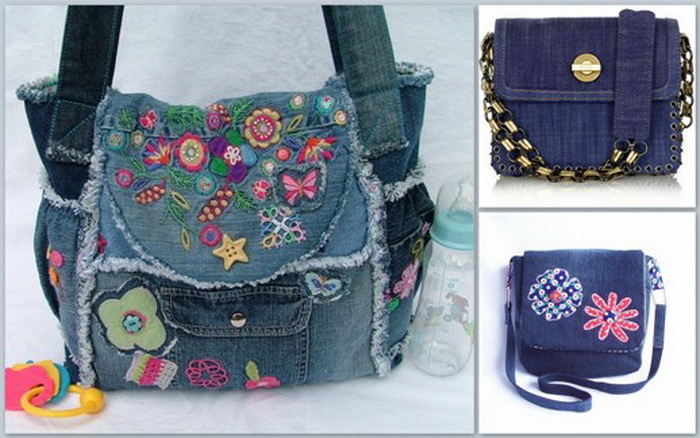 If your handbag from light denim, you can paint them with special paints. To do this, purchase acrylic paint on fabric, inside the bag put the cardboard and draw the outer side of the accessory any pattern at will (at first it is desirable to draw with a pencil). Let the picture dry, then put on a cotton cloth and iron with a hot iron.
The easiest way to decorate a bag to stick to her application. They can be purchased at any fabric store. If you wish to do applique with your hands, then nothing could be easier. Take pieces of felt (or any other material but difficult to spill from the edges), draw on them, like flowers, cut out and glue to the bag using hot glue.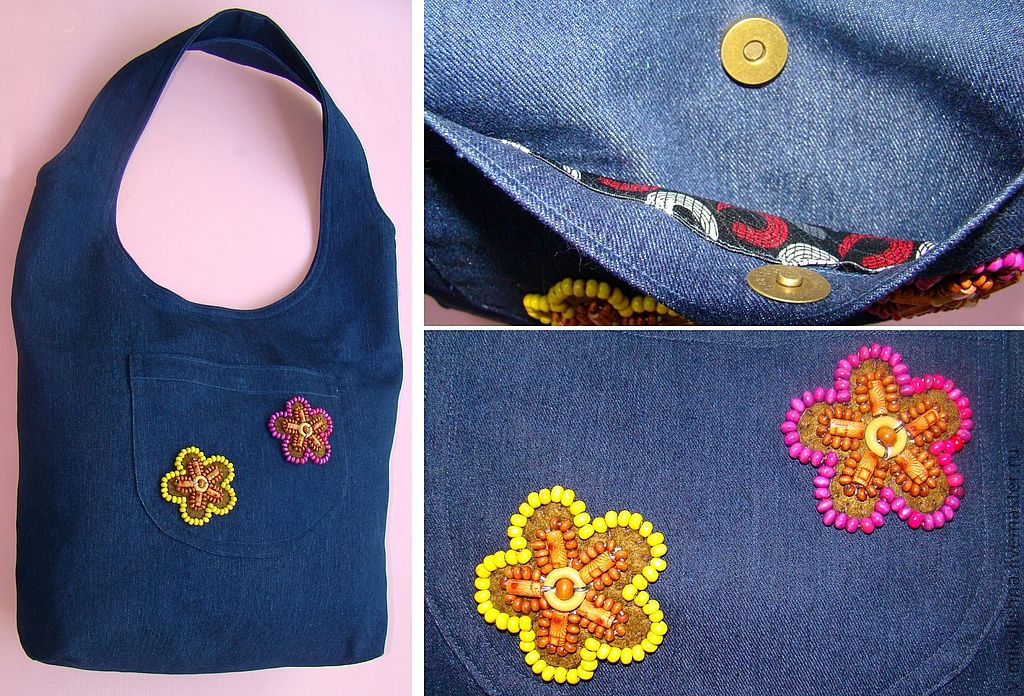 If you have quite a lot of free time, a bag made of denim can be decorated with embroidery of colored threads or beads. For this you need to draw a simple pencil on the bag pattern, and then carefully sew this pattern. Schemes drawings now not a problem to find on the Internet: use them.
Advice 4: How to decorate the bag with their hands
From time to time before every girl there is a question of purchase new, beautiful bag. And a few people think that old handbag can give a second life, adding its boring appearance a bit of bright elements, but in other words, decorating it with their hands.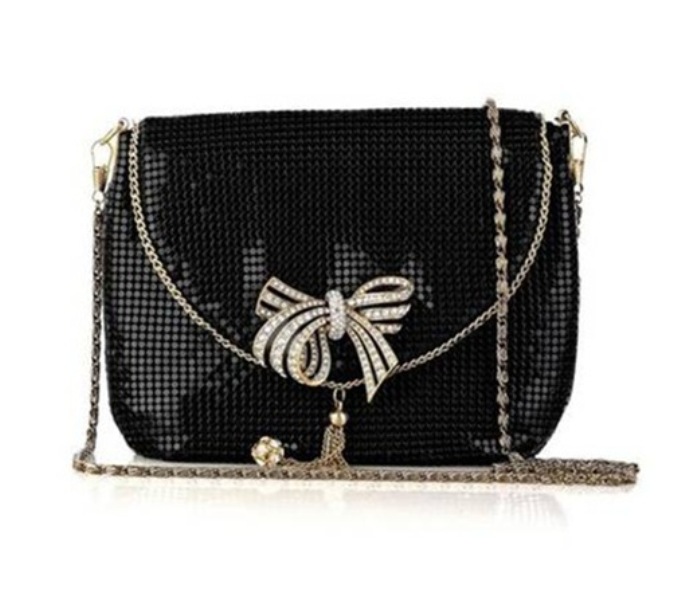 Instruction
Conventional cloth or canvas summer
bag
easy to transform using needle and thread. Draw on the tissue image (e.g., an animal or a flower). Then panel the outline of the image with colored beads or sequins. If you know how to embroider, you will not be difficult to decorate one side of the bags intricate designs, which will be the envy of all my friends, because the products are handmade in our time is very appreciated.
For handbags made of fabric can be also painted with special acrylic paints. Thin pencil guide lines of the future picture, then they start to paint. So you can transfer to a bag to any image, and if there is a stencil that will make it even easier. Just do not forget to put under the side that you paint, cardboard, or the part of the image, saturate, and will be on the second side of your purse.
If you sew well, of residues of non-ferrous scraps stitch a rose and decorate it your pocket if the zipper bags. Such items can also cover up scuffs or otstiryvaniya spots. If you are well knit, a rose can be linked to Pereval satin ribbon. One big flower or several small post – you decide, but maybe you prefer a bouquet of variegated flowers. For leather bags ornament will be various panels and tabs of leather scraps.
Torn handles can be replaced with today's fashionable chains, and the design of pockets this simple detail will play a positive role if one side to attach to the zipper, and the second by the end of the pocket.
If frayed seams of the bags, the connection of the pockets, sew large stitches their beautiful delicate lace or beautiful ribbon. And at the end tie a cute bow from the same ribbon.