You will need
- pork steaks;
- mustard;
Sol.
Instruction
To prepare this dish, select fresh or chilled pork steaks, thickness not exceeding 2 cm Then they will be able to quickly fry in a frying pan and at the same time remain juicy.
Wash the meat under running water and dry thoroughly with a cloth or fabric towels. Then thoroughly coat it on all sides with mustard. It is desirable to cover the steaks are thick, then they are well zamarinuetsya.
Fold the steaks in a deep plate, cover and put in the refrigerator. They should marinate at least 2 hours, ideally 3-4 hours. Half an hour before cooking, remove them to reach room temperature, and then the steaks will not shrivel in the pan.
Using a dry cloth, remove the steaks from the whole mustard and a little add salt to them. Then place them on a hot frying pan, cover and cook on high heat for 3-4 minutes on each side.. Thanks to the marinade of mustard this time is enough to cook a well-done and at the same time, juicy steak.
Ready steaks served to the table still hot. The best side dish will be a salad or grilled vegetables.
Note
During frying between the steaks should remain quite a lot of space, otherwise they will not seize Golden brown
Useful advice
As a marinade it is best to use Russian or Dijon mustard.
Advice 2: How to cook grilled vegetables
For many Russians a trip to the country, or just the nature connected with the preparation of kebabs. Their preparation is a real ritual, but no matter how successfully they are not prepared to truly feel and appreciate the taste of grilled meat is impossible without vegetables. They can also be cooked on the grill while the meat and dogadivaetsya, to make them a delicious snack.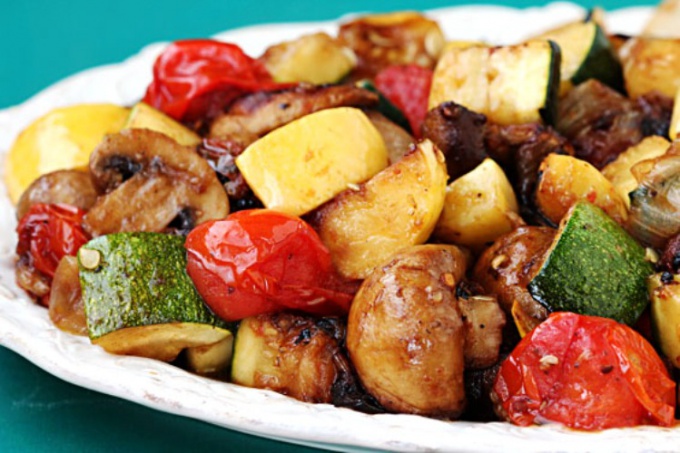 You will need
Tomatoes - 7 pieces;
Pepper Bulgarian – 5 pieces;
Large eggplant - 2 pieces;
Onion large – 1 piece;
Green onions – 1 bunch;
Fresh herbs – cilantro
dill
parsley;
Garlic 3-4 cloves;
Olive oil;
Salt
pepper.
Instruction
Tomatoes, peppers and eggplant wash in cold tap water and dry with paper towel. Grate each vegetable with olive oil, pouring it into my hand. With a fork prick them in several places and place on the grill. Fry them for 20-30 minutes, all the while turning.
When vegetables are cooked through, remove them from the grid and put on 5-10 minutes in a pan under the lid or in a plastic bag to make them easier to clean.
Clean the vegetables. Remove tomatoes and peppers from the skin, remove the stalk. From peppers, remove seeds and partitions. The eggplant cut off the tails with a sharp knife, cut the peel.
Onions clear and finely chop, add to large bowl. Vegetables cut in small cubes, slice the green onions and greens, finely chop garlic with a knife. Put all in a bowl, add salt, pepper, drizzle with olive oil.
If you are outdoors, to cook
grilled vegetables
can be in the home. Wash, grease them with butter and make a puncture. Wrap each in a piece of foil, trying to keep it tightly to their surface.
Preheat oven to temperature of 180-200oC, place vegetables on the grill and cook 30 minutes. Then turn off the oven and leave them to stand a little inside. Vegetable snack of them cook as described above. At home you will be able to cool it in the refrigerator - it will only get better.
Useful advice
In the oven you can bake grilled vegetables in foil using the form on the bottom of which poured a layer of coarse stone or plain sea salt. This allows you to bake them at optimum temperatures. Salt, of course, can be used repeatedly.
Advice 3: How to fry without oil
Fried oil emit carcinogenic hazardous substances, which disrupt cellular metabolism and provoke different diseases. To avoid such negative consequences, it is best to consume food, steamed, and if you really want the roast to cook without oil.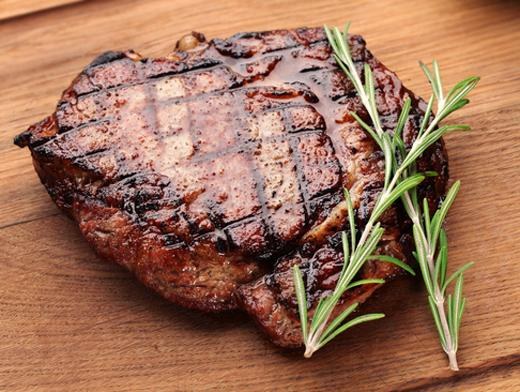 You will need
- frying pan with Teflon coating;
water;
- mustard.
Instruction
To fry food without oil, use
a pan
with Teflon coating high quality. Because of this the food will not stick to the bottom and the pan itself will not release when frying without oil harmful substances. It is easy to prepare some meals such as eggs. Well just calcinate the pan, break the eggs into it and wait for 1-2 minutes. During this time the dish is cooked, but do not have time to burn.
Similarly, you can roast and some juicy vegetables, such as zucchini. Cut them in small pieces or slices, add salt, roll in flour and place on well-heated pan. Fry for a few minutes on each side, turning regularly. Allocated from zucchini from the high temperature, the juice will not allow them to burn in such a short time.
To fry meat, cut it into small pieces and place on a heated pan. In the cooking process, constantly pour a little water to the meat is not burnt. And when it becomes soft, just evaporate all the liquid and allow the meat to fry until Golden brown.
To cook a juicy steak, without the water. To do this, coat each piece of meat with plenty of mustard, put in a ceramic or glass dish, cover and refrigerate at least 3 hours, but preferably overnight.
Before frying remove the excess mustard with a clean cloth, but in any case, do not rinse with water. The sunflower steaks and fry in a hot pan with a Teflon coating for 3-4 minutes on each side. Do it better with the lid closed. Thanks to this simple marinade the steaks are delicious, very juicy and ready in a short time without oil.
Use mustard to cook salmon steak. That's just to handle the fish in this marinade need shorter time – just a couple of hours. And during cooking it can be sprinkle with lemon juice, which will give the dish additional flavor.
Useful advice
For cooking you can also use a grill pan.
Advice 4: How to cook beef steak house
Deliciously cooked beef
steak
surprise your loved ones, family and friends. The main secret of this dish - quality meat. For cooking perfect steak is soft and tender sirloin.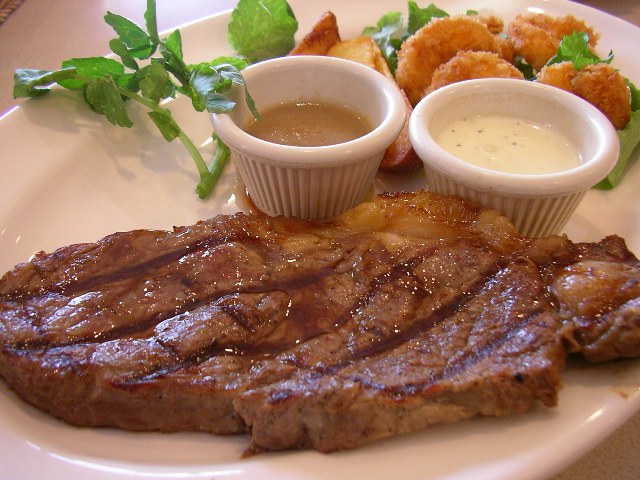 You will need
2 tablespoons olive oil;
seasoning
pepper
salt to taste.
Garlic sauce:
2 tablespoons of sour cream;
1 clove of garlic;
fresh herbs.
Instruction
Fresh meat beef rinse well under cold running water. Dry it on paper or use a special paper towels.
Carefully cut the meat into steaks with a length of 10-12 cm As a rule, from the middle of the beef tenderloin 3-4 turns out beautiful and smooth piece. Remember: the thickness of the steak should be about 2-3 cm in this case, the meat is well cooked through and remains juicy.
Evenly squeeze each piece of meat on both sides in the direction of the fibers. This trick will allow you to cook steaks juicy and tender.
Season the meat with spices. For this you will need the herb, rosemary, dried garlic, a little nutmeg, Basil and oregano. Add salt, pepper. Add to the meat a little olive oil. Mix the steaks, distributing the spices on each piece. Remove the dish with the meat in a cooler for 30-40 minutes.
Place beef steaks on well preheated skillet. Sauté them for 4-5 minutes on each side over medium heat. Therefore, the meat forms a delicious Golden crust.
Preheat oven to 200-220 degrees. Bring the beef steaks until cooked. To do this, hold the meat for 10-15 minutes in the oven.
The finished dish is put into an open dish and garnish it with fresh herbs and vegetables. As a side dish is perfect with boiled rice or mashed potatoes.
Prigotovte garlic sauce to the meat. It adds a special piquancy to the dish and fill with beef steak an unusual flavor. To do this, mix a small amount of sour cream with 1 clove of minced garlic. Add fresh dill and parsley.
The thus prepared beef steaks will surely please your loved ones, family and friends. Note: the tender meat of the beef goes well with red dry wine.
Advice 5: How to cook pork steak
It is believed that the word "steak" comes from old Norse and means "to fry". This thick piece of meat cut from the carcass across the grain. Traditionally, the steaks made of beef, but in Russia is widely used by pork dishes from which it is easier to cook and they turn out softer and juicier.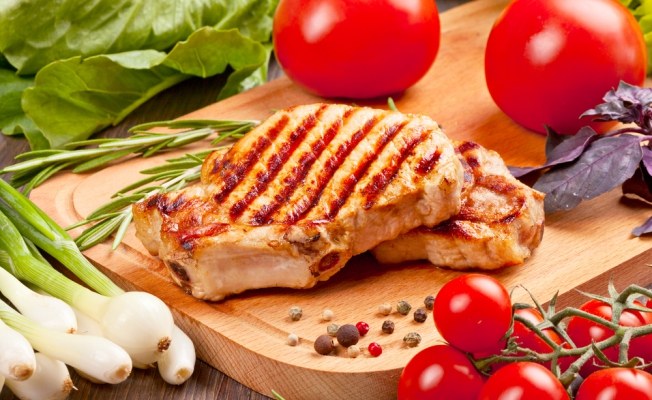 Recipe pork steak in batter


For cooking steaks in batter you will need:
- 2 PCs;
- ½ Lemon;
- 50 g dill;
- pepper;
Sol.
For the batter:
- 50 g of beer;
- 1 egg;
- 20 g of flour.

Pork steaks wash, dry and repel a wooden hammer (convenient to do it through a plastic bag). Then drizzle with fresh lemon juice, pepper and sprinkle with seasonings to taste (dried herbs de Provence, rosemary, thyme).

Prepare the batter. To do this, beat an egg into a bowl, pour in beer and stir in wheat flour. Thoroughly mix all components until smooth.

Dill thoroughly wash, dry on a paper towel and finely chop. Roll steaks in crushed herbs, then dip in the prepared batter and fry on both sides in a frying pan on a well-heated vegetable oil over high heat. The willingness of pork, determine, stabbing a steak knife (an eye-catching meat juices should be clear).


Recipe of cheese steak


The pork steak is possible not only to fry on a frying pan, and bake in the oven. This will require:
- 4 pork steak;
- 1 onion;
- 200 g of cheese;
- 1 liter of tomato juice;
- vegetable oil;
- the leaves of cabbage;
- greens;
- pepper;
Sol.

Steaks wash, dry and repel with 2 sides. Onion and dill or parsley finely chop, add tomato juice and mix well. In the resulting marinade, put the meat and soak for days in the refrigerator.

Then grease a baking sheet with vegetable oil and cover with cabbage leaves. Put them pieces of marinated meat (without clearing from the marinade), sprinkle with salt and pepper. Place in a preheated temperature 220оС the oven for 15-20 minutes. Then turn steaks on other side, pour the remaining marinade, sprinkle with grated cheese and bake for another 15 minutes until tender.


How to cook steak in a slow cooker


To cook pork steak in a slow cooker, it is necessary to take:
- 2 pork steaks (on the bone);
- 1 Cup of milk;
- 1 teaspoon of salt;
- 1 tsp of sugar;
- 1 tsp ground pepper;
- 1 tbsp vegetable oil;
- 3 tbsp flour;
- 1 egg.

Steaks wash, dry and well repel a wooden hammer. Mix sugar, salt, ground black pepper and RUB mixture prepared steaks. Fold the meat in a deep bowl, cover with milk and leave for 3 hours.

Then, pour in a bowl of flour and another egg and lightly whisk it with a fork.

The removable bowl multivarki pour vegetable oil. In control panel, select the baking mode and the time timer for 25 minutes.

Bread the steaks first in the flour, and then dip them in beaten egg. After 5 minutes, when the Cup is hot, put steaks in it. Cover the slow cooker do not cover and cook the pork chops for 10 minutes on each side.
Advice 6: How to cook salmon steak
Salmon – tasty and useful fish. It is very easy
to prepare
, and it is almost impossible to spoil. Salmon steaks are usually baked on the grill or fried in a pan. Ready-made pieces of fish, pour sauce and garnish with lemon.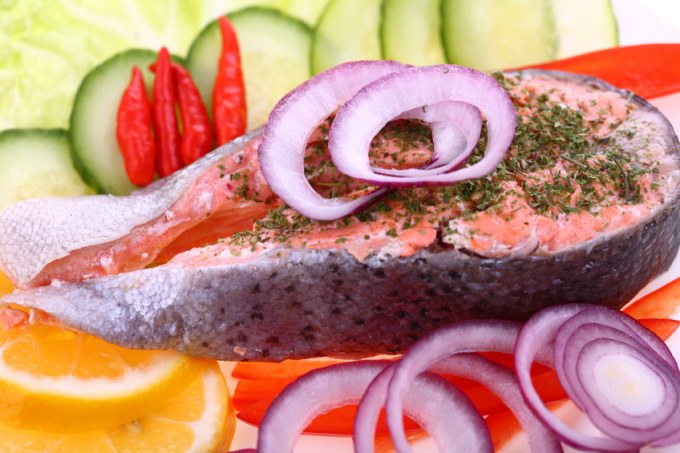 You will need
olive oil;
lemon;
a blend of Italian herbs;
white pepper;
salt;
sour cream.
Soy sauce
Curry
Instruction
Buying salmon at the store, give preference to chilled, as after cooking they will be more juicy than frozen. Instead of steak you can buy a whole salmon and then go home and chop it crosswise into pieces with a thickness of about three centimeters.
Make a marinade. To do this in a bowl, mix lemon juice, olive oil, salt, white pepper and dry Italian herbs mix. This blend of herbs can be purchased in any supermarket or make your own. Typically this will include Basil, nutmeg, oregano, thyme and rosemary. For a pound of salmon steaks usually require the juice of one lemon and two tablespoons of olive oil. To taste add salt and spices.
Each salmon steak spread the sauce, put in a container and leave to marinate in the fridge. The fish in the marinade should soak in for 1-2 hours.
While the salmon steaks are marinated, you can prepare the sauce for the fish. For one piece of salmon of medium size, mix two tablespoons of sour cream, one tablespoon of soy sauce and a quarter teaspoon of curry.
The easiest way to fry a salmon steak in the pan. Pour into the pan some olive oil and heat it well. Lay out the salmon slices and sear each side on high heat for thirty seconds. Then reduce heat and cook for 4-5 minutes each side until cooked. The pieces of fish and turn carefully as steaks can fall apart.
If possible, you can cook salmon steaks on the grill. For this marinated pieces put on the grill and fry until done on each side. Time this should take about 10-15 minutes. Don't forget to water the steaks leftover marinade, until they are baked on the grill. This will preserve the juiciness of the fish.
Prepared salmon steaks serve on a platter decorated with green salad. Fish pour the previously prepared sauce and garnish with lemon wedges.