You will need
needle fir;
- bottle with cap;
- essential oil of fir;
- 100 ml of warm boiled water;
- asbestos sheet;
- 2 flat bottom flasks, wide-mouth;
laboratory (chemical) fridge;
attachment furca;
- allongé;
- 2 rubber hose;
- 96-degree alcohol;
- capacity of dark glass.
Instruction
Take 5 tbsp. of fir needles, finely chop and pour 1 liter of water. Put on the fire until boiling, and then reduce the intensity of heat, and simmer for another 10 minutes. The resulting broth insist 12 hours in a thermos. After this time remove the tape from the essential oil formed on the surface, and strain the liquid through several layers of cheesecloth.
Pour in a bottle of 100 ml of warm boiled water. It drip 3-5 drops essential oil of fir. Close the lid and shake strongly for 10 minutes. Use the resulting fir water immediately after cooking.
Cut the needles and fill them a third flat-bottomed glass flask with a wide neck. Add on top of the water so that the bulb was half full. With the help of tips burza connect the flask with a refrigerator. Put the entire design on the plate.
For uniform and slow heating of the bottom of the flask put under it a small asbestos sheet.
To the upper and lower fittings of the refrigerator connect the rubber hoses. The hose extending from the lower connection, connect with water tap. The hose from the upper nozzle move to the drain hole of the sink. The outlet of the refrigerator by means of allonzh connect with an empty flask in which to collect condensate.
Turn on the stove, then cold tap water. Under the heat action, the water with fir needles, boil, steam will be collected in the refrigerator to condense and become a liquid composed of essential oils and water.
Immediately after boiling, reduce the intensity of heating of the asbestos sheet. Turn off the stove when the water needles will evaporate by half.
Take the flask in which the gathered condensation. Its content is divided into two parts: the top – fragrant (fir) water, lower – essential oil of fir. Drain fir water in a container made of dark glass, add 10-15% of 96-degree ethanol. Store in a cool dark place.
Advice 2: How to cook burgers cabbage
You or your family wanted
burgers
, and in the fridge, no meat, no fish? Prepare cutlets from cabbage! This is a very useful and very tasty dish that, in addition, it is not difficult to prepare.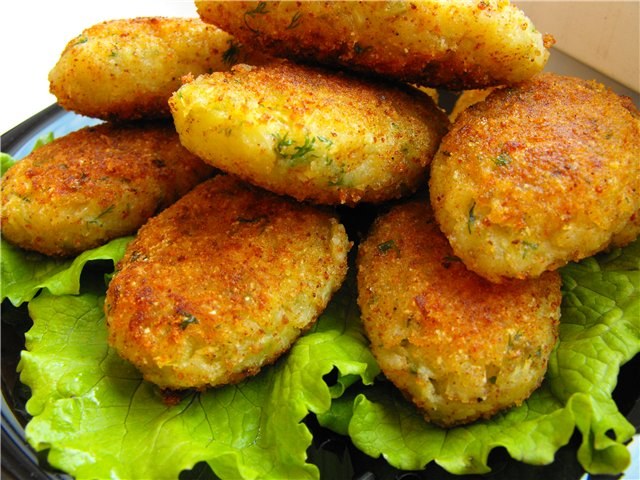 You will need
the half Cup semolina;
3 eggs;
medium onion,;
a piece of butter;
breadcrumbs;
vegetable oil;
salt
pepper.
Instruction
Prepare the cabbage. Wash the cabbage, a little dry. Finely chop the cabbage. You can use a food processor, choosing the appropriate knife, or an ordinary meat grinder. Fold the chopped cabbage in an enamel pan, add water, one tablespoon of vegetable oil, put on fire and cook until soft.
In the boiling mass of stir in gently a thin stream of semolina, while stirring continuously with a spoon. Make sure to avoid lumps. Start to cook on low heat, continuing to stir.
Later fifteen minutes you will see that the weight starts to easily come off from the walls. This means that you can turn off the fire. Then let the mixture cool, add salt and pepper at your discretion. Mix.
Very finely chop onions. Put on the stove a small pan, turn the fire. Melt in it a piece of butter and pour the chopped onions. Fry until pale Golden brown.
Go back to the bulk, break there egg, pour the fried onions. Mix everything carefully.
Next, use your hands to form small patties oval mass. To pieces the so-called "meat" was left on your hands, periodically wet them with cold water. In a separate bowl put the breadcrumbs. Zapaniruyte them each you have created a pulp.
Pour into a large frying pan vegetable oil, fry a pan and put there meatballs. Fry each until Golden brown.
Serve these burgers with your favorite side dish, or separately as independent and self-sufficient dish. In addition, you can serve with any sauce, for example, mayonnaise or ketchup, or simply put a dollop of sour cream.
Advice 3: How to cook fried chicken
Prepare the roast chicken is simple enough, and the result is not bad. But do not forget that chicken can be cooked a real delicacy, it is only necessary to connect the imagination and desire.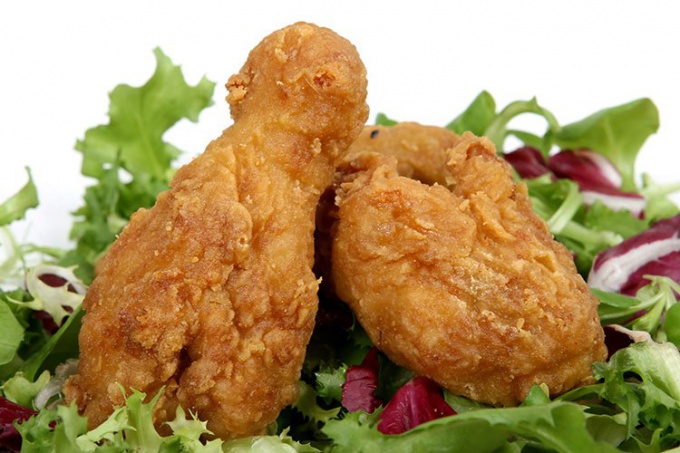 You will need
For grilled garlic chicken:

chicken (about 1.5 kg);
3 cloves of garlic;
2 tsp. of the salt;
1 tsp ground black pepper;
5 tbsp sunflower oil.
For grilled chicken with honey and Cayenne pepper:
1-1. 2 kg chicken;
100 g of liquid honey;
2 tbsp Apple cider vinegar;
200 g flour;
2 tablespoons breadcrumbs;
2 tsp ground Cayenne pepper;
2 eggs;
50 ml low-fat cream;
150 ml vegetable oil;
salt
fresh ground black pepper – to taste.
Instruction
Fried chicken
with casecompare
the chicken
under running cold water, have in pieces: wings, legs and thighs in half, breast into 4 pieces, the back into 3-4 pieces. Cut the fat, but do not remove the skin, you can barely cut it. RUB the pieces with salt and pepper on all sides, tightly put in a bowl and refrigerate for 10 minutes.
Preheat the pan, pour 4-5 tablespoons of refined vegetable oil, wait until the butter starts to boil, and then put into it some pieces of chicken skin side up. Fry on medium heat for 10-15 minutes, check that the pieces are not glued to the pan, move them from place to place so they are not burnt. Flip the pieces skin-side down and fry for a further 10-15 minutes, also stirring occasionally. Turn heat down if chicken starts to burn.
Peel 3 cloves of garlic, crush them in chesnokodavilke or very finely chop with a knife. Garlic oil each piece of chicken and diatomite on low heat under a lid for 3-4 minutes. Flip the pieces, brush with garlic side down and diatomite for another 3-4 minutes.
Fried chicken with honey and Cayenne personnalite into a bowl two tablespoons of Apple cider vinegar, add 100 milliliters of liquid honey and mix until smooth, you can do it with a blender or whisk.
Rinse the chicken in cold water, cut the fat (you can remove the skin if you don't love her). Have the chicken in equal portions, put them in a bowl or pan and pour marinade – a mixture of vinegar and honey. Cover and refrigerate for 3-4 hours. Stir chicken about once an hour.
Sift the flour into a bowl, add the breadcrumbs and Cayenne pepper, stir. In another bowl pour the chilled cream, add two eggs and lightly beat with a whisk. The mixture is supposed to be monochrome, with light bubbles.
Take Tolstoganova pan heat 150 ml of vegetable oil is not higher than 150°C. Remove the chicken pieces from the marinade, dry them with paper towels, dip each piece into the egg mixture and cream, season with salt and pepper to taste, roll in mixture of flour, breadcrumbs and Cayenne pepper.
Put the pieces (first the legs, thighs, wings) in a pan and fry for 5-7 minutes on each side to form a beautiful crust a light Golden color. Reduce heat and cook until tender 5-6 minutes. Then just cook the white meat and the back. Fry them 3-4 minutes on each side, and then on low heat for another 2-4 minutes.