You will need
- preparations against fleas;
- bottle with sprayer;
- tansy, wormwood;
- preparations from rodents.
Instruction
First and foremost, get rid of fleas your pet. For this, there are many different drugs that can be purchased in veterinary pharmacy or store that sells pet products. You can use the shampoo, gel, drops. Currently, there are modern types of tools, allowing to influence fleas, ear mites and additionally destroy the worms, constant companion of fleas.
Treating animals, disinfect all bedding, rugs, carpet, floors. After all the eggs of fleas are around the home and treatment of Pets only will not lead to the desired result. For the impact on carpets, rugs and floors use sprays or vials of fleas or crawling insects. Before spraying aerosol remove Pets, birds, close, or move the aquarium. Spray the aerosol all over the house, walls, carpets, upholstered furniture, curtains. After 1-2 hours air and perform General cleaning.
To use ampoules dissolve the vial 5 ml in 5 liters of water, wash the floors, pour the solution in a bottle with sprayer and spray the whole room.
Clean the basement of debris, spread across the basement room funds intended for the destruction of rodents. If your house does not have Pets, and fleas are still there, it means that in your basement settled colonies of rodents, which were the distributors of fleas.
Lay around the house and basement dry tansy and wormwood. Fleas can not stand the smell of these herbs. In the wild animals rid themselves of fleas that lay in the thickets of wormwood or tansy, and insects from their fur.
Can handle the house with turpentine or kerosene or a mixture of turpentine, kerosene and soap, induced in equal proportions. But the smell of these funds will remain in housing for a long time, so if you do not wish your house smelled like an unpleasant mixture, use more gentle methods.
In addition to all these means you can use the services of specialists from private services for the pest control or cause SES.
To avoid re-infestation of fleas, put on cats and dogs antibiotiky collar, time to get rid of rodents in the basement. Always keep the house broom with a dry tansy and wormwood.
Advice 2 : How to destroy fleas in the house
Fleas
feed on blood of warm-blooded animals and can be carriers of dangerous diseases and infections. To get into the house they can pet hair, or, if the basement mice and rats. Finding a
house
or animal
fleas
, they need to immediately fight. There are a lot of methods and means.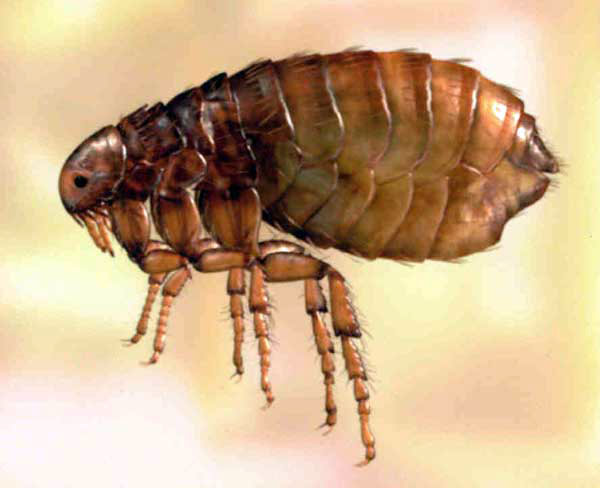 Instruction
The first thing you should immediately wash the animal with a special shampoo and make anthelmintic treatment. The bedding is also treated with a flea shampoo.
The most dangerous is the fact that fleas bite the animal in which they were discovered, but man, causing severe scratching of the bites, redness and inflammation. They lay their eggs in all the crevices of the floor and the baseboards. You need to treat the whole house and only General cleaning is not enough.
For getting rid of fleas, treat all floors, carpets, baseboards spray against crawling insects that you can buy at any hardware store. While processing remove from home animals, people, birds, fish, carefully pack the product, close tightly the Windows and doors. 1-2 hours produce in the apartment cleaning and clean all accessible and inaccessible places with a soap solution. If necessary, treatment repeat.
Can make a strong infusion of sage and cleanse the entire floor of the house. These small insects just can't stand her smell.
Effective is green soap with the addition of kerosene. Dissolve a pack of soap in 5 liters of water, add 200 gr. kerosene and treat all surfaces, paying special attention to the cracks.
To combat fleas, you can call SES or private service for combating insects. They will produce an efficient treatment of the entire house of modern drugs have a long period of protection.
In order to prevent get in the house from rodents, treat Pets drops from fleas and put them antibiotiky collar.