You will need
1 kg of raw ROE of burbot,
2 tbsp. boiling water,
150 g of water,
120 grams of salt,
3 peas of black pepper.
For pate fisherman:
1 liter of liver and ROE of burbot,
3 black peppercorns
3 peas of fragrant pepper,
2 Bay leaves,
salt
ground nutmeg
cardamom
ground cloves.
For the pate, caviar and liver:
1 liter of liver and ROE of burbot,
2 liters of water,
salt
Bay leaf
allspice
black pepper
carnation,
1 onion,
1 carrot.
For sandwich spread:
250 g salted ROE of burbot,
250 g blanched in the liver oil of burbot,
6 tablespoons mashed potatoes
bow used
ground black pepper.
Instruction
Caviar
Take raw eggs burbot: a sharp knife, make an incision along the belly of fresh fish, try not to damage the film in which there is ROE, and not to touch the gallbladder to prevent jaundice.
Put the eggs in the film in a colander and pour over boiling water. The film is removed easier, caviar becomes softer after scalding. Remove the foil and place the eggs in a deep glass dish.
Boil brine of water and salt, add pepper, cool to 60-80oC, pour brine caviar. Proclivity eggs in a cool place at temperatures between +2 ° C to +8 ° C, it will be ready in 2-3 days. Put the eggs in a glass jar, cover and store in the refrigerator.
Pate fisherman
Clear from films of the liver and ROE of burbot, mash them in a bowl and lightly season with salt, add spices, stir. Pour the mixture in a two-liter glass jar, cover with a lid.
Take a large saucepan, put in it a jar, fill the pan with water to the level of mass in the Bank, put on the fire, after boiling, cook on gentle heat for 2.5 hours. Remove from heat, try to salt, dosolit, if necessary. Cool the paste, close the lid and put in the fridge.
Pate of liver and ROE
Take the liver and ROE of burbot in the film, wash under cold water, place in a saucepan, cover with water, add salt, Bay leaf, allspice, black pepper, cloves, carrots, and onions. Put the saucepan on the fire, after boiling, simmer for 20 min.
Drain the boiled liver and caviar in the film in a colander, let cool, remove the foil from the eggs, mix liver and eggs in a blender or mash with a spoon.
Sandwich paste made of liver and caviar
Mix the salty caviar and livers of burbot in a blender or mash them with a wooden spoon, add the ground black pepper. Take 6 tablespoons of mashed potatoes and mix them with the fish mixture. Serve the pasta, spreading on crackers or bread, garnish sandwiches, sprinkled chopped chives.
Note
Should not eat fish eggs without preliminary heat treatment - this can lead to poisoning.
Advice 2 : How to cook liver of burbot
The liver of burbot , delicious product that is very popular in Europe, especially the liver is revered in France. If it is properly prepared, clearly guided by the recipe, it will turn out extremely tender and tasty.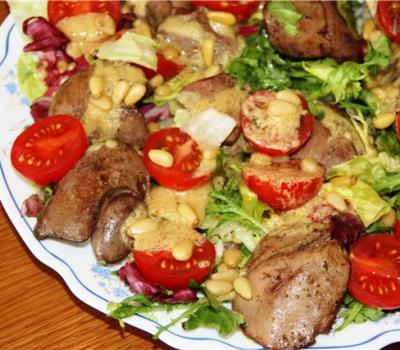 You will need
The liver of burbot in Yakut:

500g liver
1 Cup flour
spices to taste
2 tablespoons vegetable oil
The liver of burbot marinated:
300 g liver
1 teaspoon vinegar
200 g of water
2 Bay leaves
spices to taste
Liver of burbot:
300 g liver
100 g mushrooms
100 g fresh herbs (parsley)
5 g of nutmeg (spices)
5 g black pepper (spices)
Instruction
The liver of burbot in Yakut. The liver of burbot rinse and clean the bile. Season with spices. Pour vegetable oil into a frying pan and place on low heat. The liver of burbot , cut into serving pieces and roll them in flour. Fry the livers in a pan on both sides until Golden brown. The dish: serve on large platter garnished with fresh herbs and vegetables.
The liver of burbot marinated. The liver thoroughly under cold running water and clean from the bile. Cut into pieces a La carte. Water put on a slow fire, add salt. In boiling water put the liver slices and boil for 10-15 minutes. Ready liver drain, after which put it in a glass jar. In the remaining broth, add the vinegar and pour the resulting solution of the liver. Put in a jar Bay leaf and spices. The liver is marinated in the refrigerator for 1-2 days.
Liver of burbot. The liver of burbot rinse and clean the bile. Cut the liver into small pieces and boil in small amount of salted water. Mushrooms also boil. In a blender, chop the livers, mushrooms and fresh herbs. Pepper, add nutmeg and mix well. The finished paste should be stored in the refrigerator no more than 5 days.
Note
When buying the liver of burbot, pay attention to the appearance of the product. The liver must not be present whitish plaque and other damage is a clear sign of the disease.
Advice 3 : How to cook eggs of carp
Carp caviar – a true delicacy which is almost impossible to spoil. Well cooked eggs will become the main decoration of the table on any occasion. Today there are a huge variety of recipes that you can surprise your friends and relatives.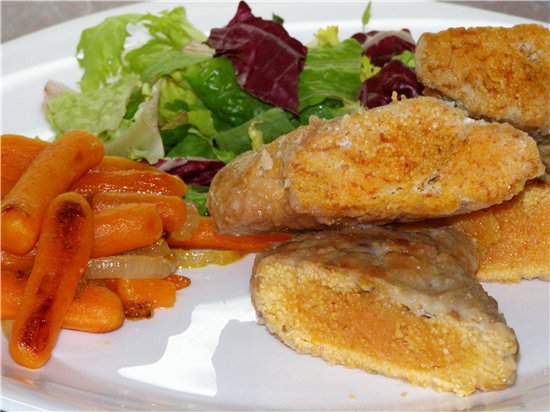 You will need
500 g calves;
1 liter of water;
50 g of salt;
1 tablespoon vegetable oil;
50 g green onions.
Pate caviar carp:
500 g of caviar carp;
2 eggs;
½ Lemon;
spices to taste;
0.5 kg of potatoes;
breadcrumbs;
fresh herbs;
50 g butter.
Pate "Ordinary":
300 g caviar carp;
100 ml vegetable oil;
50 g of lemon juice;
2 bulbs;
spices to taste.
Fried eggs carp:
500 g of caviar carp;
1 Cup flour;
100 g of vegetable fat;
spices to taste.
Instruction
Salted ROE of a carp. Caviar carp wash, dry, and free from film. Wipe it through a sieve or a meat grinder. Prepare the brine: in water dissolve the required amount of salt and bring to a boil. The brine cool and pour the eggs for 30-40 minutes. After that, the eggs, strain through cheesecloth and season with vegetable oil, garnished with chopped onions. Caviar, prepared thus, stored in the refrigerator for 2 days.
Pate caviar carp. Caviar carp wash, dry, peel from the film and mash with a fork. Add raw eggs, season and mix well, add lemon juice. Potatoes wash, peel and boil in salted water for 30-40 minutes. Mash it to a puree. In a greased pan put layers: bread crumbs, eggs carp, mashed potatoes and bits of butter. Bake the pate in the oven at medium heat for 20-30 minutes. The finished dish is put on a wide flat dish, garnish with fresh herbs.
Pate "Ordinary". Caviar carp wash, dry and peel off the film. Season with spices and put in a cooler for 3-4 hours. Then in a small enameled saucepan, place the eggs and whisk well with a mixer. Add the lemon juice and a little vegetable oil. Continue to whip to form a white foam. Onion peel and chop. 5 minutes until cooked add it to the eggs.
Fried eggs carp. Caviar carp wash, dry and peel off the film. Cut it into serving pieces and season with salt. Remove the eggs for 2-3 hours in a cooler, it should proselytise. In a pan melt the fat. Each piece of caviar, roll in flour and fry on slow fire from both sides in 10-15 minutes. Fried eggs can be served with mashed potatoes and sour cream sauce.
Advice 4 : How to cook perch eggs
Perch is a very common fish in most cases Ikryanoye. Caviar perch healthy and nutritious because it contains large amounts of protein, lipid, folic acid, potassium and phosphorus along with omega-3 fatty acids. From the eggs of the perch , you can cook very tasty dish – iranic.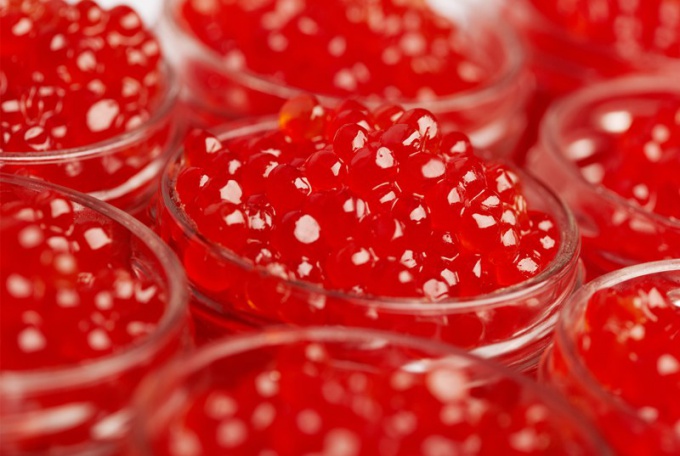 You will need
eggs – 2 PCs;
flour – 3 tbsp;
semolina – 3 tbsp;
salt
pepper to taste;
a little sunflower oil.
Instruction
Gently wash
the eggs
under a gentle stream of cold water below it has not collapsed. Clean
caviar
from the films. To do this, use a narrow and very sharp knife.
Place in a clean container and sprinkle a pinch of salt. Put long for salty caviar in the fridge for 1.5 hours.
Remove the eggs from the refrigerator and place it in the bowl of a blender. Within 30 seconds, beat blender, selecting the minimum speed.
Add in spawn eggs, salt and pepper. Again beat with a mixer the resulting mass.
Gradually pour the flour and semolina, carefully mixing the dough with a spoon. Blender you no longer need.
The consistency of the batter should be like regular pancakes, even a little more liquid.
Pour into the pan a little sunflower refined oil. A little rascality her.
Lay the dough on the pan with a spoon, bake like regular pancakes.
Ekrandaki fry the two sides until, until they become a delicious Golden color.
Ikryanoye put the finished pancakes on a beautiful dish and serve. As a complement to a dish you can prepare sour cream sauce. Note that ekrandaki very high in calories, and if you watch your figure, then you can spice up this dish with sour cream is not necessary.
Note
Very carefully and gently wash the eggs. Don't spend time on it. Because the eggs can be small particles of blood veins that needs to come off necessarily.
Useful advice
If you want to ikranite turned out not only delicious, but also very tender, then add to the dough a tablespoon of sauerkraut. Don't be surprised. Because the eggs in the frying time tends to become harder and harder. And here comes to the aid of sauerkraut, which Ikryanoye softens the dough and makes ekrandaki gentle. The taste of sauerkraut you feel, it combines very well with caviar perch.
Advice 5 : How to cook fish SIG
Whitefish is a valuable commercial fish of the salmon family. This small fish (40 -60 cm) inhabits the Northern seas, rivers and lakes. The meat of this fish has a delicate flavor and fat, so it is widely used in fillings for pies. No less tasty fried, boiled and smoked whitefish.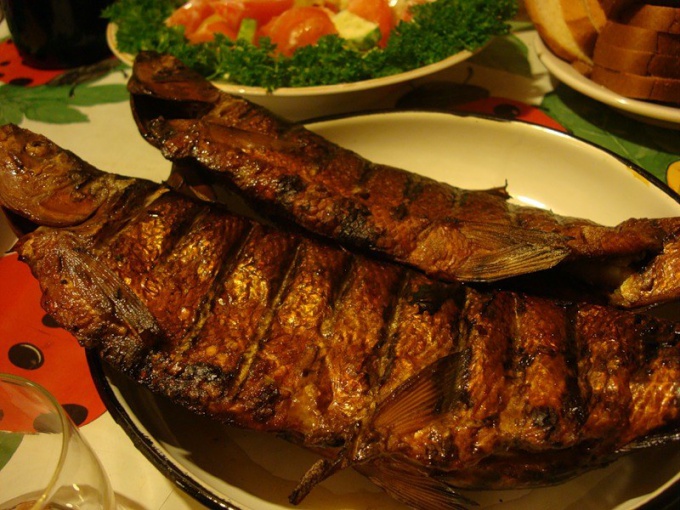 You will need
For whitefish in sweet and sour sauce:

700 g of the SIG;
1 tbsp vegetable oil;
2 tbsp sugar;
200 g of green onions;
150 g of fresh mushrooms;
2-3 potatoes;
1 tsp. vinegar 6%;
parsley
salt.
For SIG in starobinski
1.5 kg whitefish (2 carcasses);
150 g of salt;
1 tablespoon of sugar;
2 tsp. ground white pepper;
1 big bunch of dill.
For soups with sour apples
4 cups sauerkraut;
2-3 sour Apple;
4 tbsp. butter;
1 onion;
600 g of roasted whitefish;
parsley
dill;
Bay leaf
salt
pepper.
marinated mushrooms
pickles for decoration.
Instruction
Whitefish in sweet and sour sauce

Clean the fish, wash, dry wipes, heat the pan with vegetable oil and sear the fish until a crust on both sides. Clean the mushrooms, rinse and cut into thin slices (dried mushrooms, 50 g, pre-soak for two hours). Peel the potatoes, wash, cut into slices, green onions finely chop.
Connect the mushrooms and the vegetables, season with salt and simmer until soft, at the end of the stewing, pour in the vinegar. Melt in a dry pan until the sugar becomes brown, pour the burnt sugar into the mix of vegetables with mushrooms, stir. Place the fish on a dish, put the sauce, sprinkle with herbs.
SIG-starobinski

Gut the whitefish, the scales are not to scrape, wash of mucus, cut off the head. Wipe the fish dry with a napkin, divide it in half along the abdominal incision, remove the bone, but the skin connecting the two halves, do not break. In a wide dish, sprinkle coarse salt and place whitefish, skin side down.
Sprinkle the fish on top of salt, sugar, crushed white pepper and chopped fresh dill. Have a second fish in the same way as the first. Put it on top of the spices, skin side up, meat side down.
On top sprinkle the carcass with coarse salt and dill, put the fish on top of a light load, so he pulled the carcass towards each other, but not squeezed juice, and leave for a few hours.
Solyanka with sour apples

Finely slice onions, saute in oil. Sauerkraut soak, cut the apples, remove the seeds and chop, mix cabbage with apples.
Put in a saucepan sequentially: the number of cabbage with apples, some fried fish, some onions passerovannogo. On top sprinkle with herbs, pepper, put a Bay leaf. Cover and braise until tender, garnish the finished dish of pickles, marinated mushrooms, olives.
Advice 6 : What to cook with the cod ROE
Traditionally, cod ROE is used for sandwiches or stuffing eggs. However, there is an interesting recipe that allows you to prepare from the eggs of the original cakes.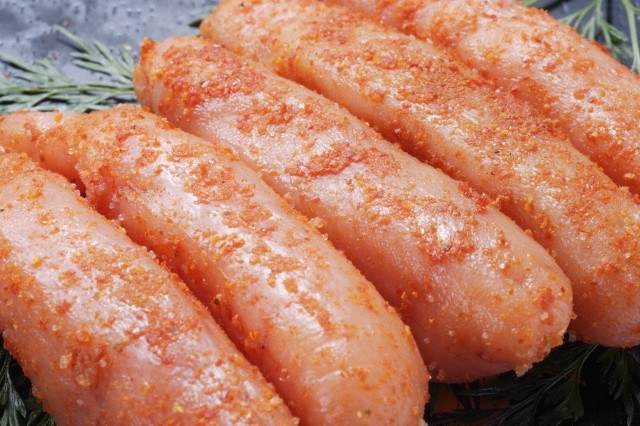 You will need
- cod ROE – 250 grams;
- wheat flour – 150 grams;
- ground crackers – 4 tablespoons;
- the stems of green onions – 8 pieces;
- garlic – 2 cloves;
- ground cumin – teaspoon;
- a bunch of dill;
- a bundle of Basil;
- a bunch of parsley;
- ground black pepper;
- olive oil.
Instruction
Ground breadcrumbs should be soaked in cool water. After about 20 minutes the water is drained, carefully pressing mass. If we treat the procedure without due diligence, the beef patties will be too watery, and the finished dish will not keep shape.
Basil, parsley, dill and green onion finely chopped and add to the soaked breadcrumbs. Do not use for chopping greens in the blender. Better self cut it in small pieces.
Garlic peeled. The teeth rubbed through a fine sieve. To use press is not recommended, as it crushes the garlic quite unevenly, which can adversely affect the quality of meat.
All the prepared ingredients put in a bowl. They added fresh or canned cod ROE. Stirring the meat, it gradually introduce whole wheat flour, caraway seeds and add to taste ground black pepper. Usually, dishes with salted cod ROE not, as there is enough natural salt.
Cooked minced form small meatballs. On request they can roll in the breadcrumbs. The pan is heated over medium heat, and pour into it the 1-2 tablespoons of olive oil. Cutlets alternately stir fry with 2 sides until Golden browned.
Dish with cod ROE is traditional in the Mediterranean. In Italy, for example, cod ROE added to salads or fried in the form of small sausages. The best garnish for the cutlets will be boiled vegetables, salads with olive oil and lemon juice. Before serving cakes decorated with fresh greens. The dish is served for lunch or dinner.
Note
Do not skimp on fresh herbs. It is thanks to her chops cod purchase incredible taste and aroma. Eggs may have a slightly bitter taste. A large number of green it perfectly camouflages.
Useful advice
Cook patties preferably from fresh eggs. You can use canned if you rinse it in cold water to get rid of the excess salt.