You will need
Dried nettle herb, garlic, vinegar.
Instruction
In the case of premature greying of hair help take this infusion of nettle. To do this, take 10 grams of dry powdered herbs and pour a glass of boiling water, then steep for 15 minutes, take 3-4 times a day before meals for a third Cup, and so within a month. This course can be repeated 5-6 times a year. Contraindications to the administration of infusion of nettle serve gynecological diseases.
You can prepare a mask, which prevents the loss of melanin – coloring pigment responsible for the color of our hair. This mask is easy to prepare and does not take much time. So, we will need a little bit of garlic, of which it is necessary to prepare a slurry. Then, for an hour before washing hair, massage into the scalp this garlic pulp and wrap head with a towel and then thoroughly wash hair. This mask perfectly strengthens the roots of hair and prevents the formation of gray hair. The course of treatment – 2 months, two months can be repeated.
If graying of hair make sure that, whenever possible, to avoid adverse external effects on the entire body in General and hairin particular. Not necessary to make frequent use of intensive coloring chemicals, dry hair, s hair dryer, expose them to direct sunlight, etc. Try to give up bad habits such as Smoking, excessive alcohol consumption, avoid stress. The nervous system quite strongly affects the appearance of your hair.
There is a recipe of traditional medicine against graying hairas rubbed into the scalp infusion of nettle with the addition of vinegar. To do this, 50 g of dry grass to insist in 0.5 liters of hot water for 20 minutes. Then add in the infusion of 0.5 liters of 6% vinegar, boil the mixture for 30 minutes. The resulting broth rubbed into the scalp every day for weeks.
At the onset of graying of hair, pay attention to your diet. It is believed that foods rich in copper such as parsley, walnuts, wheat germ, help to prevent gray hair. A sufficient amount of vitamins and minerals helps to normalize metabolic processes in the body, and, therefore, will suspend and graying. It is best if you will take complex vitamins courses several times a year.
Note
Genetic factors play an important role in the manifestation of the first signs of aging, including gray hair. If in your family there were cases of premature greying of hair, you should be more attentive to preventive measures for preventing early graying.
Advice 2 : How to prevent graying of hair
A gray hair occurs due to the loss of the pigment melanin. Gray hair is often seen after 35 years, but often it is found in young people under thirty. Because to stop this process is almost impossible, one should be concerned about how to delay the appearance of gray hair.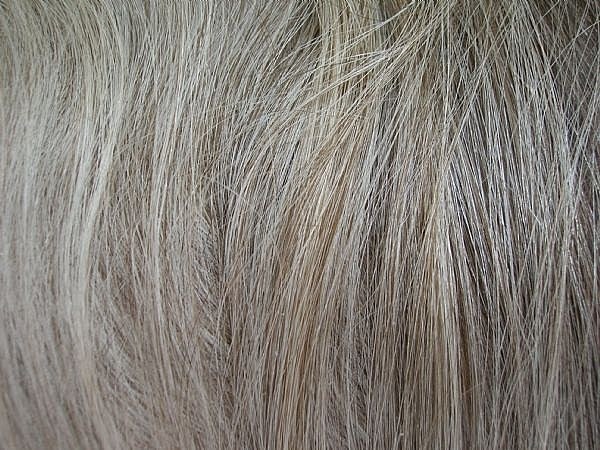 You will need
- mint;
- lavender;
Melissa;
- sprouted wheat;
- parsley juice;
- nettle broth.
Instruction
One of the main reasons why hair loses its pigment, are stress. To avoid them in the modern way of life is almost impossible, so you should learn to maintain composure in any situation. This can help yoga and meditation. Learn to relax and forget about trouble: often travel on foot, it happens in nature, communicate with friends and family. Make time for a hobby is a favorite pastime of well to get away from problems. It will be useful to take a day of soothing warm bath with essential oils – peppermint, lavender or lemon balm.
Early ongraying can trigger some diseases: thyroid disease, nervous disorders, metabolic disorders. So at risk are those who have the appropriate diagnosis or genetic predisposition to those diseases. Such people should be carefully monitor their health and to fulfill all the requirements of a doctor.
The reason for premature graying of hair can be lack of nutrients: b vitamins, E and folic acid, and iron, zinc and selenium. It follows that trigger premature graying can a strict diet, which should not be abused. Follow a balanced diet, take multivitamin preparations. Delay graying will help certain foods in your menu should include beef and eggs, fish, walnuts, spinach, berries (cherry, cherry) and herbs.
Folk medicine advises to eat sprouted grains of wheat: 1 tablespoon of sprouts a day can not only prevent graying of hair but also slow down the already started process of the loss of hair melanin. Great benefit and parsley juice: it should be consumed within one month at 25-30 g per day.
To prevent the graying of hair will help regular use of folk remedies. One of the most effective in this situation – nettle broth, which is recommended for rinsing hair, and regularly rubbed into the scalp.
Useful advice
Thus, to delay the graying of hair is possible with the help of a balanced diet, rich in vitamins, healthy lifestyle and traditional medicine. However, you need to understand the timeframe and the pace of graying a genetic and inherited. If it is started early and is quite intensive, it makes sense to consult a trichologist.