Instruction
To the sugar is turned into caramel by dropping a spoonful of sugar into a saucepan and put it on the fire. Sugar gradually melts and thickens. In the process of cooking a gamma of shades of color of burnt sugar a few times changing: first, the sugar becomes a light amber color, then Golden, then brown. Accordingly, each of these stages corresponds with increasingly complex texture. Most importantly, do not overdo the sugar on the fire, not wait until he gains a black color, otherwise you have to start all over again.
To evenly distribute the liquid sugar in the pan, turn during cooking pan around its axis. And to stop the cooking, pour it into a cold pan, or better put the pot with the syrup in a large size container filled with cold water. If you want to save the resulting caramel liquid, after removing the pan from the heat, add the butter and stir to dissolve the caramel liquid, for example water or cream.
Burnt sugar can be used for coloring sauces, soup and various cakes. Pour into the pan 1 tablespoon of water and pour there 4 tbsp fine sugar. Put this mixture on fire and when sugar will melt and change color, stir it until the color turned out more smooth. Once the sugar is completely browned to brown, pour in 1 Cup of hot water and allow to writing a rolling boil. Then drain, cool and pour the punch in a bottle. Cap it and store in a cool place in reserve.
For coloring "punch" creams, dough, fondants, fillings-you can use another recipe. Put into a pan 4 tablespoons of sugar and pour 1 tablespoon of water. Stir constantly until the fondant (on low heat) wooden shovel till a deep brown color. To this mixture when heated not foamed much, add no more than 1% of the sugar mixture melted butter. Strain the prepared burnt sugar through cheesecloth, folded in several layers, and pour the punch in a glass dish.
Burnt sugar is perfect for adding traditional black coffee instead of regular sugar. And it also has its own niceties. While coffee is still warm, you can add burnt sugar, prepared in a peculiar way. Put sugar in a teaspoon, pour the cognac and then ignite. When the flame goes out, pour the burnt sugar from a spoon in the coffee and stir. For an even more exquisite flavor of coffee you can add a little cinnamon to taste.
Finally the easiest recipe of burnt sugar. Take 2 teaspoons or tablespoons. One of them pre-grease the inside with butter to pour the caramel that you make, and put this spoon in the saucer with a small amount of cold water at the bottom. Then pour the sugar second spoonful, add 1-2 drops of water and then keep the spoon on low heat.
When the sugar melts and will acquire a rich honey or amber color, pour it into the second spoon. Because of the cold water it will solidify faster and will turn into a Lollipop. You can also put in sugar a lot a small wooden stick (like a toothpick), then you get a Lollipop. And to get the finished frozen caramel, flip the spoon caramel down and lightly tap it squarely on the table. Thanks a buttered surface, the sugar caramel will easily separate from the spoon. And you don't have to spend a lot of time on washing up teaspoons of burnt sugar. This Lollipop is also a great remedy for dry cough.
Advice 2 : How to cook sugar
Fried
sugar
– a treat from childhood. Easy to prepare, caramel is not only delicious, but also useful. Love lollies help with dry cough and bronchitis. And if a little dream and add to the fried
sugar,
milk and ground nuts, then you could end up with sherbet.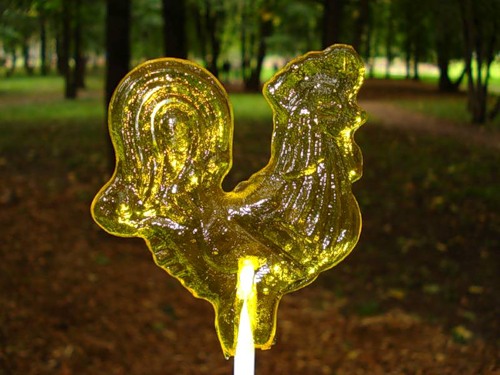 You will need
water
a little vegetable oil
a slice of lemon
milk
nuts.
Instruction
For fried sugarand you'll need water and sugar in approximately equal proportions. In a pan or in the pan put sugar, add a little water and place on high heat. It is important to continuously stir the syrup and not to miss a moment of burning sugar. When the water slightly and boil the syrup has reached the desired color, it can be removed from the fire. To give the lozenges form, syrup can be poured into molds greased with vegetable oil or baking paper. If neither one nor the other, it is your regular spoon. Once you have filled fried sugar in shape, you need to put it under cold water.
The second way. In a small saucepan, pour 100 g of sugarand add a few drops of lemon and a little water and butter or sunflower oil. Heating the mass on fire, don't forget to stir constantly. As soon as the caramel will occipit, put in her wand (preferably plain wooden) and wind the weight. Then dip in cold water.
The third way. If you want sweeter and tastier, instead of water, add sugar milk. Fire it is advisable to do a little, stirring occasionally and give the milk to boil away (not forgetting to stir). Then sugar will become crumbly and full cooling can be break into pieces. If you add a little nuts, you get a kind of sorbet.
Note
Color sugar choose according to your desire. From Golden to dark brown. The main thing - do not overdo it and not to burn the sugar.
Useful advice
Fried sugar easy to eat straight from the teaspoon, so you can just pour the syrup on the spoon and enjoy the caramels when they are slightly cooled down in cold water;

If you don't have special moulds, and you don't want to eat with a spoon, you can use simple plain paper, impregnated with sunflower oil. It is quite pour the hot syrup and wait until it cools down.
Advice 3 : How to cook boiled sugar
The boiled sugar–a delicacy from my childhood. It is not difficult to prepare, and cost almost no, you can cook even on the water. And every time (if desired) you will have different flavors.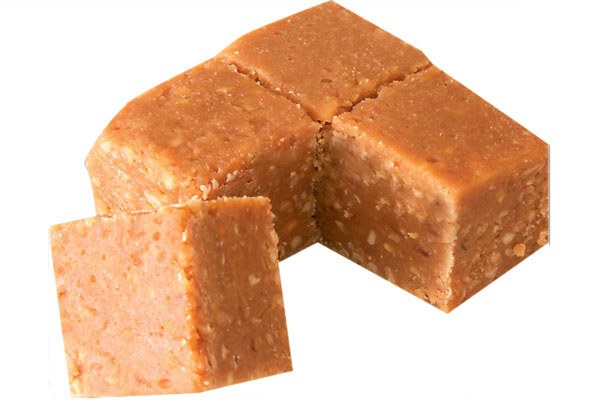 You will need
Sugar – 1 kg; milk or cream – 0.5 cups; butter – 1.5 tablespoons; orange peel

nuts
raisins
cocoa as desired.
Instruction
Boiled sugar can indeed have a different taste and aroma. You can cook it with milk, cream or water (vegetable), and you can use different fillers.
First, decide what kind of sugar you will be cooking. As a filling you can use orange zest, walnuts, peanuts, sunflower seeds, raisins or cocoa.
Orange rinse well, remove it from the skin and finely chop. Make sure it is not bitter, because it might spoil the taste of the finished Goodies. If you use nuts or seeds, then peel and chop them. Raisins rinse well and dry.
Do not take a deep frying pan, fill it approximately ¼ Cup of milk. If desired, add 1.5 tablespoons of butter. Brewed so the sugar will have a more delicate taste and pleasant aroma.
Put the pan on a low heat. Pour the sugar into the milk, bring the milk-sugar mixture to a boil. Do not forget to periodically stirring.
After boiling, simmer the milk–sugar syrup until complete evaporation of the liquid. At this stage, the sugar has a crumbly structure. He then begins to melt and becomes of a brownish color. Intensively stir to melt it evenly.
Pour into the pan of remaining milk. Mix well and add the filler – nuts, raisins or orange peel. You can add a little cocoa. In this case, you get brown sugar.
Without ceasing to stir, cook the mixture until complete evaporation of milk. It is very important not to overcook the sugar. To determine the readiness drip a little on a plate. Cooling drop should be solid
Grease a bowl with vegetable oil and pour it finished sugar. Leave until fully cured. Frozen sugar smash into pieces.
Advice 4 : How to heat the sugar
To prepare the caramel, different kinds of sauces and some other culinary treats you may want to melt the sugar. The procedure itself is easy, but its possible unpleasant consequences often spoil all the fun of cooking. A few simple steps to help avoid having to clean the stove and washing the pan.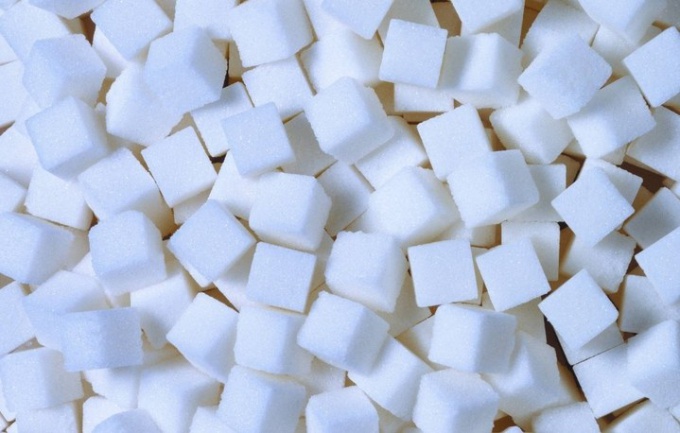 Instruction
Choose the way that will drown sugar, depending on the product that you require. In some cases you may need additional ingredients – cream, butter, water. Often this is stated in the recipe, but not always. Not to be mistaken, having met the prescription the phrase "melt the sugar", try to ask the author what he meant. If this is not possible, as a General rule, first melt the sugar without any additional ingredients. Then add orange juice (for sauce), butter or cream, water. If secretariats sugar, continue to heat it until dissolved.
Take the time to melt the sugar. The fact that this procedure requires the attention, you will have to closely monitor pot. The sugar melts rather reluctantly, and only patience and constant monitoring will allow you to obtain the result desired light brown liquid mass.
Choose utensils that will not be a pity to throw away, if you never heated the sugar. There are two kinds of kitchen utensils, which is often made caramel experienced hostess: this aluminum dishes or products with a thick bottom and non-stick coating. If the latter is the invention of modernity, with the help of aluminum cookware even your grandmother happy children homemade candies.
Pour the sugar evenly on the surface. Turn on medium heat and watch carefully as the sand begins to melt. Do not stir it, otherwise it secretariats. After a large part of the mixture will be watery, you can start a little stir it, but better to just tilt the pan from side to side to the future the caramel is not burnt. If possible, avoid these actions so you will get the most clean and clear the congestion. Once the sugar becomes liquid and Golden, turn off the heat.
Add in the saucepan the milk after I poured out the melted sugar and a little warm on the fire, to not have to scrub the walls of the pan. The milk dissolves the remains of the hardened caramel, and it, in turn, gives it a nice sweet taste. This caramel milk happily drink any child.