You will need
The list of required ingredients for French fries in the oven:

purchase frozen French fries;
salt.
The ingredients list for French fries in a deep fryer:
package frozen French fries;
salt;
sunflower oil.
Instruction
French fries in guchokipanya recipe cooking potatoes has several advantages: first, it does not require oil, and secondly, you don't have to stand and wait by the stove until it cook a few batches of potatoes, thirdly, once you put it in the oven – your hands absolutely free. And potatoes cooked thus, it is simultaneously crunchy, and is dietary.The process of prigotovlenija the 1st step preheat oven to a temperature of 190-210 degrees. Prepare a baking sheet and put in it frozen potatoes. Coat a baking sheet with no need.Next, put the pan in the hot oven. Need oven until tender, about 20-25 minutes. In the process of cooking the potatoes , you can stir or shake a couple of times. Eventually, you should get the ruddy potato. Inside it will be soft like a potatopuree ing. Serve with both sauces and as a garnish. Before submitting optionally sprinkle a small amount of salt.
French fries in frityurnitse you have a fryer, so why not use it to make fries. The cooking method is very simple and fast.Process prigotovlennoe a rule that must be followed when cooking chips – it's absolutely immerse all ingredients in the fryer must be dry. Otherwise, oil can burn you, as it will splatter.So, in order for you to make delicious fries, you need to Pour into the deep fryer sunflower oil and wait until it warms up. Set the temperature 180 degrees on the thermostat, of course, if there is one. After heating the oil, you are ready to roast potatoes. Fry potato fries for 10 minutes.Ready potatoes lay on a dish, decorate as desired and salt to taste.
Serve the potatoes better than the chicken or fish. In the UK, for example, is a traditional dish: fish and chips (fried fish and potato fries) or chiken and chips (fried chicken and potatoes).
Note
However, in order to freeze the potatoes, it should be subject to pre-processing. To freeze potatoes, you will need: a potato, a grater with large holes, saucepan, deep bowl, colander, tight bags or containers for freezing. Method of freezing potatoes.
Useful advice
Frozen vegetables can also be offered in a variety of mix options. Frozen mushrooms are a separate sub-segment of the market of vegetable freezing. In the category of "frozen potatoes" are semi-finished products for making chips, French fries, potato wedges home-made", etc.
Advice 2: How to cook French fries in a deep fryer
Cooked in a deep fryer potatoes will be called French fries. It's Golden crispy and appetizing smells. Perfect as a garnish, and as a separate dish with any sauce. For its preparation you need to know a few simple rules.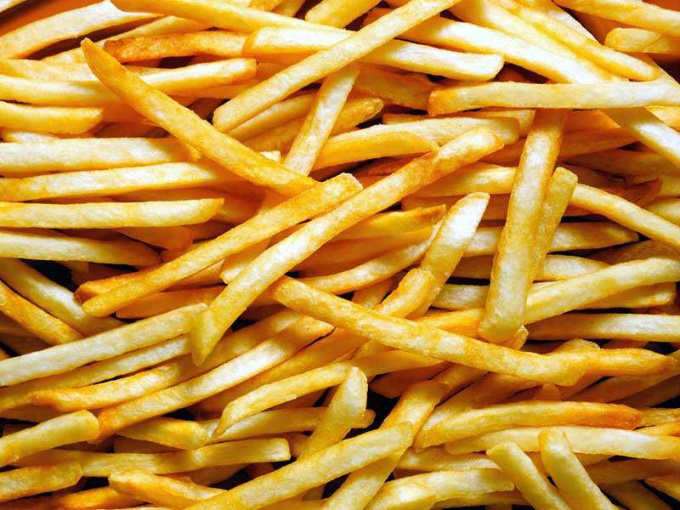 You will need
oil for deep frying;
salt to taste.
Instruction
Prepare the potatoes. Wash, peel, cut into strips. Better if there's a special knife. Then the wedges to be the same and roasts evenly. Drain the potatoes on a towel or paper towels to soak up excess liquid. The potatoes should be as obsahom. Excess moisture can ruin the taste of the finished dish. French fries may not sfruttati.
Prepare a deep fryer, fill it with vegetable oil. There is one secret. Mix the oil of different brands. The result of this procedure, the oil will foam, and the potato slices will remain oil foam.
Preheat the deep fryer to a temperature of 160-180 degrees. To determine the degree of razogretoe oil can, throwing him a piece of potato. The oil should boil around the potatoes, but not too much.
Place the sliced potatoes in a strainer for frying. Don't put too much at one time. So potatoes don't stick together. It is better to fry parts.
Put in the fryer for 6-8 minutes. Time depends on what sort of potatoes you use. Imported winter varieties are much tougher native
potatoes
. The fries will be ready when is Golden brown.
Use store-bought French fries. Advantage of this product is that it is already cut into neat strips, so you can save time on the preliminary preparations. Thaw potatoes is not necessary. Small portions and deep-fry them for 6-8 minutes.
Vysypite ready crispy fries on paper towels to soak up excess fat. Add salt fine salt.
Note
In hot oil on potatoes immediately formed a crust, preventing absorption inside the product the rest fat.
Useful advice
Oil fried it is better to use once. After cooling, it is considered unfit for human consumption.
Advice 3: The best recipes of French fries
French fries are small wedges of potato that are fried in a large amount of vegetable oil. The use of cooking fryer. At home you can cook French fries in a pan or in a deep saucepan.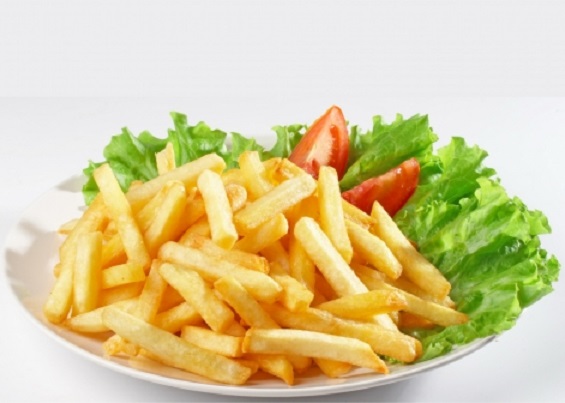 At home it is easy to prepare French fries. You need to clean the potatoes peeled, cut into small cubes, wash or soak in cold water.

Then take a deep pan, pour oil in the quantities that the potatoes have swum in it. Ready potatoes should be retrieved using a slotted spoon and spread on paper towel to remove excess fat. Salt the fries right into the plate before serving.

French fries – preparation of all ingredients

To the potatoes turned out tasty and crispy, you need to choose the right potato. It must be a great and Mature fruit. Of young potatoes delicious fries will not work, as it lacks the necessary density and taste. Also, do not take the potato, which contains a large amount of starch, as when frying it will quickly soften.

Preparation of a potato begins with a visual inspection of the potatoes, it should be smooth, have no defects and damage. Potatoes are washed, cleaned, peeled and cut into wedges. Potatoes ready for roasting.

The best recipes of French fries

1) a Classic recipe
French fries on this recipe turns out is exactly what you can buy at McDonalds.

You will need:
- 7 potatoes;
- 300 g of oil;
Sol.

Method of preparation
You need to wash and peel the potatoes, cut it cubes and dried with a cloth.
Pour into a deep form of oil and heat it.
Place the potatoes in oil in small portions and fry until Golden brown.
To get with a skimmer, lay on a plate and season with salt.

2) French fries with egg white
These potatoes can be given to children. Potatoes turns out very tasty and ruddy.

You will need:
- 7 potatoes;
- 2 protein eggs;
- salt and seasoning to taste.

Method of preparation
Wash the potatoes, peel and cut into small cubes, with a thickness of 1 cm.
Beat egg whites with salt and seasoning. Potato wedges to put in the protein mass so that each is well soaked.
Preheat oven, line a baking sheet with parchment paper and arrange the potatoes. Place in oven and bake until Golden brown.

3) Dietary fries
Potatoes this recipe is useful for those people who used to count calories and lead a healthy lifestyle.

You will need:
- 1 kg of potatoes;
- 50 g of vegetable oil;
- 50 g of breadcrumbs;
paprika, salt and pepper to taste.

Method of preparation
Potatoes wash, peel and cut into 6 equal parts. Put potato wedges in a bowl, pour oil and stir.
In another bowl mix the breadcrumbs, paprika, salt and pepper. With the mixture roll the potatoes.
Baking tray lay parchment paper, put potatoes and place in a pre-heated oven. Periodically flip. Fry until Golden color.

Tip: Salt the potato is best prepared, otherwise it will not turn crispy. The best option is to salt before serving.
Advice 4: What meals can only be cooked in the Russian oven
The one who at least tried the dish cooked in the real Russian furnace, hardly will forget its special taste and aroma, evoking pleasant thoughts about caring hands of a loving grandmother who lives in the village.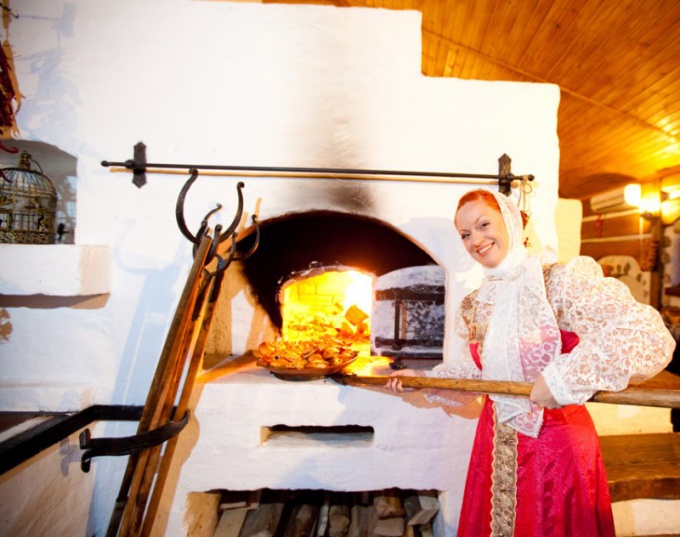 Food, with special flavor


Indeed, the real Russian furnace now can be found only in the provinces where the people of the old school continue to honor the tradition, to love and respect the native Russian cuisine. And how many amazing meals you can cook in this stove! Crumbly boiled potatoes in the pot, pancakes with different fillings, pies, ruddy, nourishing porridge with butter, sour soup, rustic varenets and more.

The secret of the unique taste and magnificent aroma is the fact that the food is cooked in ovens, in contrast to the food on the electric stove, not boiling, and languished, gradually revealing notes of each individual ingredient. Have patience, because the process is lengthy, however, it's worth it. As a result of this Ordinance, the food acquires a special intensity.


What to cook?


The traditional option, the most simple, but very useful and tasty, porridge is cooked in the oven. To do this, take grits (you can use any, for example, millet), washed clean in a deep Cup. Then place it in a pot and pour the milk definitely is best fresh, rustic. The proportions should be observed in this order: 1 Cup millet for 8-10 glasses of milk. It remains to add a tablespoon of sugar, salt to taste.

The stove must burn and wood to turn into embers. After which she still needs to stand for 2-3 hours. Once oven is ready, you must place it in a pot of porridge and cover it. In about an hour, the porridge will need to prevent. After 5-6 hours of simmering in the oven, the dish will be ready.

It turns out delicate, airy, creamy porridge with baked milk flavor, eating it is a pleasure. And how much it uses! Products used for cooking, not boil and not digested, and through longing to reach the desired condition. This means that such food will not lose its beneficial properties, as it usually occurs as a result of warming temperatures over 90 degrees.


Varenets village


Cooked in the oven, this delicious fermented milk product to taste will vary greatly with the fact that people are accustomed to buying in stores.

For its preparation you will need: rustic milk high content of fat ‒ 3 liters, and the rustic sour cream ‒ 250 g

Milk should be poured in a cast iron pot that is then place in the oven on all day or night. During the period that it is there, the milk will be ghee. After that, milk should be cooled to approximately 35 degrees. That is feels it must stay warm, but not hot or cold.

It remains to add sour cream to start the fermentation process. The dishes with the future varenets cover with a towel and leave in a warm place for 12 hours. Cooled varenets is ready for serving.

You can paint the dignity of dishes cooked in the Russian oven, but until you try yourself, you never know. But it's worth a try! Experience culinary delight is guaranteed.