You will need
eggs 2 pieces,
mineral water 30 grams
flour,
vegetable oil,
salt,
spices
the soy sauce.
Instruction
Milk before cooking should be thawed and rinsed. The size of the milk depends on how big was the fish from which they were removed, so if they seem too large, cut them into portions. To improve the taste of the pre-ROE marinate in mixture of soy sauce, black pepper and dried herbs 1.5-2 hours.
Then prepare the batter for which you whisk the eggs with mineral water. You can use regular water, but on the basis of the aerated batter is more delicate. Whisk it until smooth with a mixer or a regular fork, then add salt and flour. The amount of flour should be such that the consistency of the batter was reminiscent of thick cream. If it is too liquid, it will flow with milk before roasting, not forming a crust. Overly thick batter does not spread, but ready he has a very dry taste.
Before how to cook salmon ROE, put on the fire pan, pour vegetable oil and heat it to high temperatures. Each milk dip it in the batter and place in hot oil. If the pan is hot enough, the batter will simply melt. Fry over high heat on one side, turn over ROE to the other side. Then reduce the heat and cook the dish for 10-15 minutes until tender.
Note
Dishes made from salmon ROE is useful because of its content. They practically do not have in their composition of carbs, while are in their fatty acids essential for healthy functioning of the body. Data omega – 3 acids have a beneficial effect on the cardiovascular system and profilaktirujut the occurrence of heart attacks, strokes and atherosclerosis. However, for all its usefulness, milt considered to be highly allergenic, so children up to three years to give them is not worth it.
Advice 2 : How to cook fish, baked with milk sauce
Fish baked in milk sauce, diet food and is recommended to those who adhere to therapeutic diets or wants to lose weight. It is not only useful, but also tasty.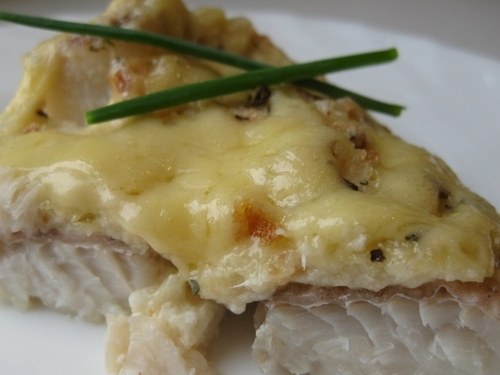 You will need
fish fillet - 1 kg;
salt
ground black pepper
dried dill - to taste;
tomatoes - 3 PCs.;
sweet pepper - 1-2 PCs.;
pickles - 1-2 PCs.
For the sauce:
milk - 300 ml;
eggs - 2 PCs.;
mustard - 1 tsp.
Option 2:
fish fillet -1 kg;
salt
ground black pepper
dried dill - to taste;
onions - 2 PCs.;
cheese - 100 g
For the sauce:
milk - 300 ml;
eggs - 2 PCs.;
mustard - 1 tsp.;
flour - 1.5 tbsp
Option 3:
fish - 300 g
flour - 2 tbsp;
butter - 80 ml;
egg - 1 PC.;
milk - 0.5 cups;
cheese - 60 g;
dill
parsley
nettle
salt - to taste.
Instruction
Clean the fish. Have it in pieces. You can buy ready-made fillet of hake, cod or Pollock. Salt each piece and pepper.
Grease pan or baking sheet with sunflower oil and place the fish. Cut salted or pickled cucumber slices, and bell pepper strips. Put the cucumber on the fish and top it pepper. Cut fresh tomatoes in slices and place it on the edge of the pan.
Prepare the milk sauce. To do this, whisk the eggs, add salt, mustard, again all whisk thoroughly. Pour in the milk mixture and stir.
Pour the milk sauce to fish, sprinkle the dish with dill (can be dried). Preheat the oven to 180oC. Put the fish in the oven for forty minutes.
To prepare fish baked in milk sauce second recipe, lightly simmered fish, that is a bit will cook it in a small amount of liquid (water, milk, fish, vegetable, mushroom broth). To do this, put it in a saucepan, cover with liquid so that it covers the pieces on a third. When the water boils, cook the fish for five minutes and remove.
Prepare the milk sauce, as in the first recipe, only add the flour. Saute the onion in vegetable oil until Golden brown and put it in the sauce. Bring the milk sauce to a boil, pour it over the fish.
Sprinkle the dish with grated cheese and place in oven for twenty minutes. Garnish with fish, baked in milk sauce, serve boiled potatoes, mashed potatoes with milk, boiled rice.
While at the cottage, picnic or fishing, cook the fish in milk sauce, baked on coals. Mix milk with egg and flour. Clean the fish, salt and pepper it, then dip into prepared sauce.
Sprinkle the fish with grated cheese and finely chopped greens of dill and parsley. Scald with boiling young nettle leaves, wrap them in fish. Tie the bundle with string. Then wet the paper you wrap fish with nettle.
Bury the bundle in the hot coals. Can be there to put the potatoes. Turn a bundle every fifteen minutes. When the fish is ready, remove it from the paper and let cool. Her perfect roast potatoes and bread, toasted on the fire.