You will need
- ready solid wax;
- shellac (resin);
- turpentine;
- cinnabar (or other dye to your taste);
- magnesia (talc, chalk, gypsum or other fillers);
- turpentine;
- essential oil (optional);
- capacity for melting;
- tin plate;
- spoon;
printing;
- fat.
Instruction
Choose the right Souvenirs letters and gifts, it will save you from many troubles associated with the preparation of sealing wax at home. Are usually sold sets (both domestic and imported) with wax sticks of different colors and brass seals. Convenient to use special candles – simply light the fuse, and the molten liquid drip on the sealing surface.
Buy a pre-packaged lump of wax, if you need to prepare a lot of mixture. These raw materials (like wax sticks) would have to melt. You can buy a special heater–surgeoncy and act according to the instructions. For melting sealing wax also use household utensils; recommended Turk from stainless steel with heat resistant handle or enameled cast iron.
Try to make a mix for wax. First you need to melt in a suitable container shellac, turpentine and vermilion in the ratio of 12 parts, 8 and 9). Constantly stirring the mass until it becomes mushy and smooth. Then enter in the small portions a mixture of magnesia and turpentine (3 and 2 parts). In a homemade wax can be entered and other additives: finely crushed chalk, gypsum, talc or heavy-spar; dear shellac is permissible to replace the more affordable rosin.
Wait until the surface of the molten homogeneous mixture bubbles appear. Once everything is thoroughly stirred. Next you need to take with a spoon a sample of the resulting wax. Drip it on a piece of tin – substance hardens quickly, and you will be able to evaluate its color and density. If necessary, the hot mass is possible to add the dye, to increase the number of fillers and drip some essential oil. Try wax paper. If it is quality, it should not bounce off the surface, spread out and penetrate through the structure of the sealing material.
Remove the wax from heat and let cool slightly. Now you can do print. You can use the special souvenir brass seal with a handle, which is recommended to lightly grease. Making the stamp, sharply lift the seal. If you need to seal a large number of items, dip them into a viscous mass.
Useful advice
Instead of cinnabar for color printing typically use the ochre, umber, white zinc, and other mineral or organic dyes. You can experiment with a palette. For example, if you mix vermilion with the Paris blue, then you'll have wax beautiful purple color.
Advice 2: How to make a wax seal
The word "wax" is familiar to many, but most often it is associated with parcels and mail. Previously wax seal kept the secret of correspondence, was a symbol of wealth. Recently wax print is experiencing a rebirth: it began to be used for decorative purposes, when creating a vintage style. Beautiful wax print looks great on the card, scroll invitation, as decoration, etc.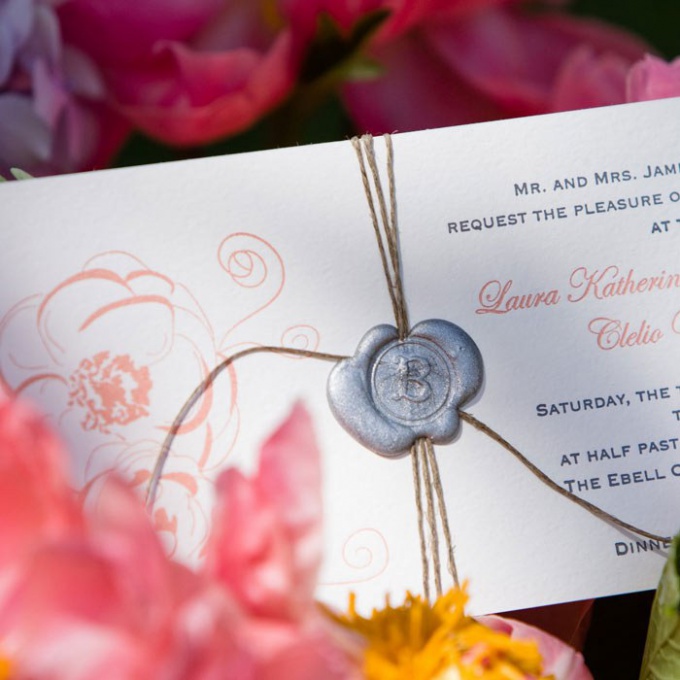 You will need
- sealing wax;
- capacity for melting;
- wooden stick;
printing;
- fat.
Instruction
The wax is painted a mixture of resins. On sale occurs the lump of wax with a wick in the granules. Before all the wax seal was only a brown color, and now the industry is pleased with the many shades. Sell ready-made kits with wax sticks for making wax seals.
Melt the wax on low heat in a metal container, stirring with a wooden stick, but do not boil. For heating sealing wax sell special heaters – surgeoncy. At home to melt the wax to the consistency of sour cream at any metal household items (in Turku) or in adapted containers.
Check the quality of material by using the droplets of molten wax on the metal surface: it must not spread out. To improve the quality of the wax in the hot mass, you can add dye or some essential oil.
Remove the wax from heat, let it cool slightly, and then make a print - carefully pour the cooling wax place print and attach for a couple of seconds on top of a special gift print with brass (cream) that is sold in stores. Is store you can use the interesting pieces of home storage plastic button or metal leg, which had stood in jeans.
Lubricate the seal with grease to it when the print did not stick to the wax. Fat (you can use cold water) creates a print original film, which does not allow print to stick together and the wax.
Impression do strongly, that the stamp was imprinted clearly. If you have to make a few seals, dip the seal in grease before each imprint on the wax. Take away the stamp from impression fast, but not up and to the side (as the protective film with double-sided tape). If your wax is a little bent after separation of the press, correct it pressed to a flat surface.