Instruction
Askorutin strengthens blood vessels, regulates metabolic processes, compensates the deficiency of vitamins C and P in the body, thereby strengthening the immune system. The drug is most often appointed by doctors when thrombocytopenic purple, hemorrhagic diathesis, rheumatism, radiation sickness, hypertension, glomerulonephritis, and infectious diseases such as influenza, measles, scarlet fever and typhus. When taking anticoagulants, and acetylsalicylic acid are shown prophylactic administration Askorutin.
Drink Ascorutinum after eating, drinking pills is enough liquid. However, it should be remembered that alkaline water, in particular mineral water, prevents the absorption of vitamin C (ascorbic acid).
Askorutin take in a daily dose of 1-2 tablets, if he is appointed as a preventive measure. The children in this case, you can not take more than one tablet a day. The duration of treatment is determined individually, therefore, before the use drug consult a doctor.
Increase the daily dose is 3-6 tablets in three divided doses if the medication is prescribed for medicinal purposes. Children's therapeutic dose is 1.5-3 tablets per day taken also for 2-3 times. According to indications, the dosage may be increased, but this decision should be taken by a qualified technician. The average duration of treatment is from three weeks to a month.
Stop taking Ascorutin, if there were side effects from the treatment. The most common manifestations of intolerance to the drug are headache, increased blood pressure, nausea accompanied by vomiting, and sleep disturbances. Chronic administration is also possible the development of kidney stones.
Advice 2 : Ascorutin: indications, structure and side effects
Cardiovascular diseases arise when the blood vessels become fragile, porous, easily damaged, and slowing the bloodstream. Dramatically worsen their condition, bad habits, stress, poor diet. Particularly affected are small blood vessels, capillaries. However, they can be helped by a preparation "Ascorutinum".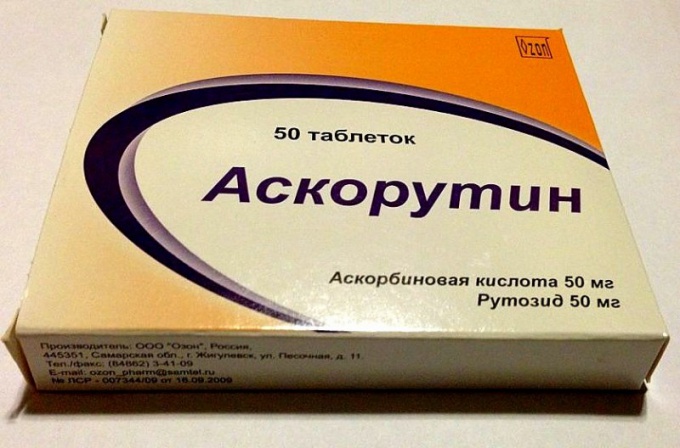 Indications "Askorutin"


Capillary permeability is enhanced in many diseases. It's infectious and viral diseases: measles, scarlet fever, dysentery, hemorrhagic fever, SARS, influenza. "Askorutin" shown in septic endocarditis, hypertension, sciatica, gout, allergies, hemorrhagic diathesis.

Strongly affects the capillaries and varicose veins. Especially at the stage when there's significant swelling, ulcers, or occurs severe venous insufficiency. "Askorutin" strengthens the walls of the affected vessels, reduces inflammation and prevents blood clots.

This drug is not intended for emergency stopping of internal bleeding, but it helps eliminate their root causes – weakness of blood vessels. Therefore, it is effective in treatment of nasal, shaky, intestinal and hemorrhoidal bleeding.

If menstruation is too profuse, long-lasting, is also necessary "Askorutin". But this should be made only after the conclusion of the gynecologist. When excessive menstrual bleeding due to hormonal imbalance, one "Askorutin" not – needed hormones.

The disease is especially unpleasant for women: rosacea. The capillaries dilate and show through on the face. The cheeks, nose and sometimes the forehead, chin are covered by a grid of red blood vessels. In this case, "Askorutin" taken internally, and externally the skin is treated, for example, a lotion-tonic with calendula, which tightens pores and capillaries.

"Askorutin" is recommended in the treatment of drug, irritating the mucous membranes of the stomach, primarily aspirin. It is also useful, if poorly clotting blood, long time to heal wounds, disturbed carbohydrate metabolism, a weakened immune system.

Ophthalmologists prescribe "Askorutin" people with retinal degeneration. The drug, strengthening the capillaries of the eyeball, improve their nutrition, but also helps prevent bleeding in the retina that can cause blindness.

Children may be given "Askorutin" from the age of three. His technique is particularly recommended, when starting a flu epidemic. The drug strengthens the immune system of a child organism. It is proved that if children accept "Askorutin", then get the flu three times less.


The drug


"Askorutin" is a combination of two vitamins: C and P, taken in equal proportions, 50 mg. Ascorbic acid is one of the main vitamins that regulate metabolic processes, a powerful antioxidant. The vitamin P or rutin (rutin) bioflavonoid that protects mainly the capillaries and veins.

"Askorutin" should be taken after food swallow the tablets whole. If they chew, ascorbic acid will destroy the enamel of the teeth. It is impossible to wash down tablets with mineral water, because it partially neutralizes askorbinku.

There is an analogue "Askorutin" – "Profilactic". He's got the same composition, only the proportions are different: vitamin C twice as much, and vitamin R half. It is, as its name indicates, a preventive drug, for the treatment he is weak, in this little routine.


Side effects


Very rarely due to hypersensitivity to ingredients Askorutin" nausea, pain in the stomach and intestinal spasms, diarrhea. Sometimes allergic reactions, high blood pressure, insomnia.

Long-term use "Askorutin" or larger doses can cause the formation of stones. In addition, the drug may threaten the pregnancy, so it is impossible to use in the first trimester.

"Askorutin" is contraindicated in increased blood clotting, thrombophlebitis, kidney stones and bladder, gout, diabetes.
Advice 3 : In some cases, to take "Askorutin"
Known vitamin preparation "Ascorutinum" now undeservedly forgotten, despite the very low price and excellent effects on the human body.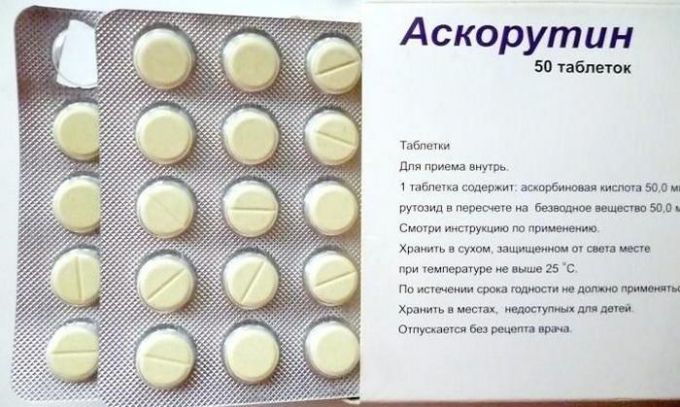 "Askorutin" is a complex drug, which was well known to doctors and their patients even during the Soviet era and has earned a good reputation. In the "Askorutin" only two components - askorbinki (vitamin C) and rutin.
Indications "Askorutin"
- lowered immunity,
- lack of vitamin C, P (beriberi),
- diseases accompanied by increased vascular permeability, capillary fragility,
- treatment of vascular lesions due to the use of anticoagulants and prevention of such conditions,
- prevention and treatment of colds, flu, etc. up to aid in the treatment of radiation sickness.
Tip: women should pay special attention to that "Askorutin" could slightly reduce the amount of blood released during menstruation and its duration. Thus, in this period, "Askorutin" should be taken only if necessary.
How to make "Askorutin"
Despite the fact that this drug is a common vitamin complex, the need, dosage and duration of its administration should be determined by the doctor. However, General recommendations are as follows: in the treatment of diseases "Askorutin" it should be taken during or after meals 1-2 tablets 2-3 times daily for prevention technique "Askorutin" can be 1 tablet 1-2 times a day. These vitamins it is better to take the course, its duration is approximately two to three weeks. For kids dosage "Askorutin" even less.
Drug side effects and contraindications
Problems with taking "Askorutin" are rare, but still noted individual drug intolerance, headache, trouble sleeping, nausea, heartburn.
With caution the drug is prescribed for problems with the gastrointestinal tract, increased everywherethe blood, diabetes, high blood pressure, pregnancy.
Attention! I do not advise to self-medicate even with vitamins.