You will need
egg – 1 PC.
flour – 4 tbsp
sugar – 2 tbsp
vanilla – to taste
salt – 1 pinch
soda – 1 pinch
butter
Instruction
Crush with a fork the cottage cheese. Add the egg, sugar, vanilla, salt and soda.
Mix well. Add the flour and stir again. Leave on for 10-15 minutes.
Cheesecakes fry in a pan with heated oil.
Note
Instead of flour you can use semolina. Soda put not required (for an Amateur). And fry in vegetable oil in a frying pan or bake in the oven.
Useful advice
Option - the curd (cottage cheese pancakes) with apples.
400 g of cottage cheese
2 apples
200 g of sugar
200 g flour
2 eggs
50 g of dried apricots
sunflower oil for frying

Mash the cottage cheese. Add the granulated sugar. Beat in an egg. Add the flour, leaving little to obvalivanie, and carefully stir. Apple peel and cut into small pieces. Wash and slice apricots. Apples and dried apricots add to the dough.
Cheesecakes roll in flour and fry in sunflower oil in a well heated pan.
Advice 2 : How to cook cheesecake
You bought fresh cheese, but no one wants to eat it? You can make a fairly simple but very tasty dish – the cheesecake, which can be diversified by adding berries or some lemon zest. Amazing vanilla scent coming from the pastries will undoubtedly bring all households to the table.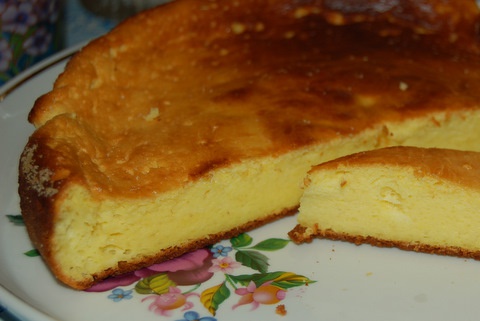 You will need
100 gr. butter,
2-3 eggs
2 tbsp of semolina
salt
sugar
vanilla sugar
cinnamon,
breadcrumbs,
berries (to your taste and discretion)
Instruction
Eggs are good wash and smash in a bowl.
Add sugar (to taste, if you like sweet, then ½ Cup) to the eggs and carefully whisk until frothy.
There add a pinch of salt, vanilla sugar and a little cinnamon, whisk.
Put in a bowl the cottage cheese and 2 tbsp of semolina.
Melt the butter in a saucepan over very low heat, allow to cool and pour into a bowl. All mix thoroughly until a uniform thick paste without any lumps.
Prepare a baking pan, previously greased it with butter and sprinkled with breadcrumbs. Put the prepared mixture in the baking dish. Put the berries and slightly push them into the ground.
Put in preheated to 200 degrees oven. Bake until Golden brown. Before serving, cut into portions. Serve with condensed milk, jam or sour cream, whipped with sugar.
Advice 3 : How to make curd
The famous chef William pohlebkin was noted that the curd, that is quickly prepared products made of curd and flour (another name for pancakes), it is important that the mass of the baking was elastic. And feeding the curd he recommended with sour cream, syrup, fruit puree or marmalade...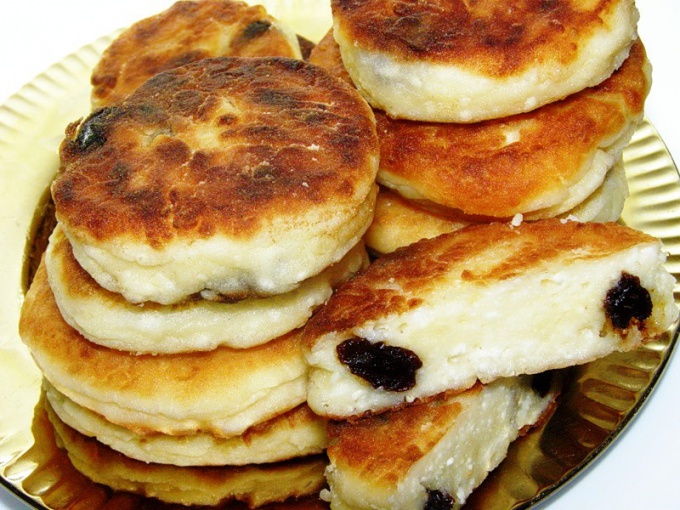 You will need
400 g (2 packs) dry cottage cheese fat content 9%;

2 tablespoons flour;
1 - 2 eggs;
2 tablespoons of sugar;
vanillin;
salt;
raisins
dried apricots
Instruction
Cheese put in a bowl and mash. Add to it the sugar. Mix everything carefully. Separately, beat egg whites and yolks. To proteins while beating, add a pinch of salt.
Mix with curd yolk, flour and vanilla (or vanilla sugar). Then add to the mass of the protein and gently mix it all together.
The result is a homogeneous, dense, thick mass.
Dried fruits to be soaked in boiling water for 10 minutes. In order not to violate the consistency of the finished mass, of raisins and dried apricots need to remove the water. This will need to spread the dried fruit on a napkin and DAB on top of another napkin. After that dried apricots should be cut into pieces. Dried fruit stir in the mass of curd.
You can start modeling! For this you Need to spoon the cheese, roll this portion in flour, slightly flatten and place on parchment. The pan with the curd is put in the oven for 25 minutes at a temperature of 180-200 C.
Note
The curd can be cooked in the oven, and vegetable oil in a frying pan.
Useful advice
In ancient times people noticed that the heat treatment of the proteins in the cottage cheese makes it difficult to digest. Therefore cheese to make one of the most beloved Russian, Belarusian and Ukrainian dishes - curd - steel grind through a sieve. The curd become lush and supple! You can also try to grind cheese or do you choose in the shop to prepare the curd soft and dry variety.
Advice 4 : How to cook cheese cakes from cottage cheese: secrets and tips
Cottage cheese cheesecake is a traditional Russian and Ukrainian delicacy which is very easy and simple to prepare. A major component of cheesecakes — cheese, is composed of protein, milk fat, vitamins and the amino acid methionine to prevent liver disease and strengthen the human body.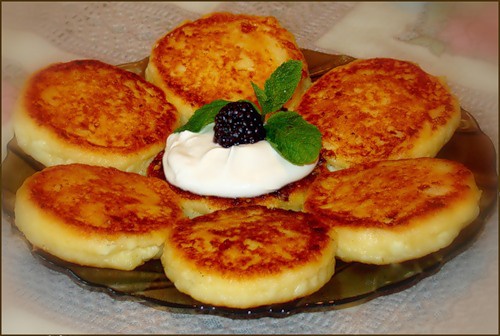 Taste cheesecakes appreciated in ancient times. Thus, according to one legend, an Arabian merchant kanan, take a trip, only took food and milk. In the evening, when kanan wanted to drink milk, he saw that in the container formed whey and a lump of white color. Kanan was very upset until I tried it. Since the Roman nobility and the poor in high esteem was cheese and cheese products.
Cooking cheesecakes from cottage cheese
Cheesecakes can be cooked on a frying pan and bake in the oven. In order to prepare the classic cheese cakes from cottage cheese, you'll need:
- 300 g of cottage cheese;
- 5 tbsp flour;
- 5 tbsp vegetable oil;
- 2 tbsp of sugar;
- chicken egg — 2 PCs.
In a bowl put the curd and mash it well with a fork. Next, add eggs and sugar, mix all ingredients. Cheese and flour and mix thoroughly until smooth.
Heat a pan on medium heat and heat vegetable oil.
On a table or Board, sprinkle a little flour, make cheese ball and dip in flour, then lightly prelucrate and place on the pan.
Fry the cakes need 2-3 minutes on each side until Golden brown. Serve cheesecakes from cottage cheese hot together with sour cream, jam, jam or jam of your choice.
The secrets of delicious cheesecakes
Your cheesecakes will turn out very tasty and successful, if you follow the following rules:
1. Use not too wet curd, otherwise the pancakes will fall apart. Dry cottage cheese will make the cheese hard.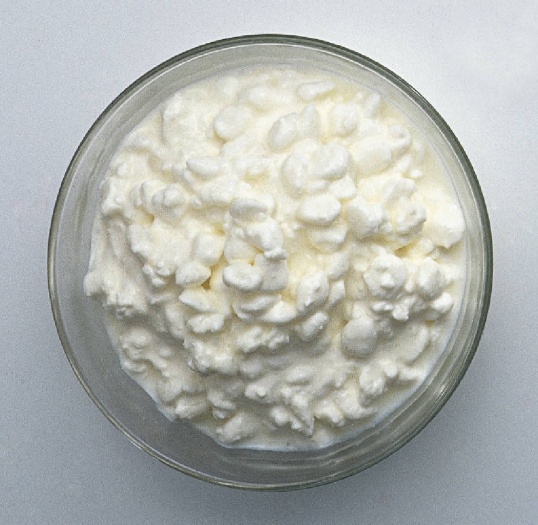 2. Wipe the cheese through a sieve or blender — this will make the cheesecakes air.
3. A greater quantity of flour will make the pancakes hard, and less tender.
4. Do not add a lot of sugar in cheesecakes, since the excess sugar they do not keep their shape.
5. As an original component of cheesecakes you can use greens, tomatoes, boiled potatoes, etc.