You will need
- funds to purchase equipment and office equipment (computer, printer);
- order forms or contracts with customers for maintenance and repair of equipment in a printed or electronic version;
- office space with access to transport;
- private car (if the wizard will leave for the house;
- racks for storing tools and equipment;
phone;
- Internet access
Instruction
Contact the tax office for registration of the enterprise or other form of ownership. Order your seal or stamp of the organization (done only after formally registration of a legal entity). Possibly open a Bank account, as cooperation with legal entities (e.g. companies) will pay for your services via Bank transfer.
Rent office space or purchase of non-residential space for service center. It is desirable that the office was well lit, as the work with small parts requires a large stakecentertion of attention and vision.
Organise good access to the service center. If your company will repair large household appliances, customers will be brought by car. If master plans to go to the house to clients, you will need your own car, as the technique may require "hospitalization" to the service center.
Purchase a minimum set of equipment (oscillography, frequency meters, generators, power supplies, screwdrivers). As a rule, the wizard can require the acquisition of additional equipment, without which it is impossible to fix a particular technique. You will also need a computer with Internet access for making orders online and the phone to communicate with the client. The printer may need to print out order forms or contracts for maintenance and repair of equipment.
Hire qualified staff. For the effective operation of the service center will require the presence of at least two artists who have had a technical education and experience in the field of maintenance and repair.
Decorate the room with racks, equipment, appliances. Service center is ready to work.
Useful advice
The organization of the service center may involve the opening of the office, which will be made only repair certain models of household appliances and electronics or office, where the wizard will be able to take to repair any model of any equipment.
Advice 2: How to organize a service center
Repair services for household appliances in Russia have a specific character, which is not affected even by the fact that already a dozen years in the local market and work with the biggest manufacturers of this technology, providing its customers with warranty repair. Even if the shop is authorized, it operates most likely at the good old artisanal principle, when the master is set to perform almost any job.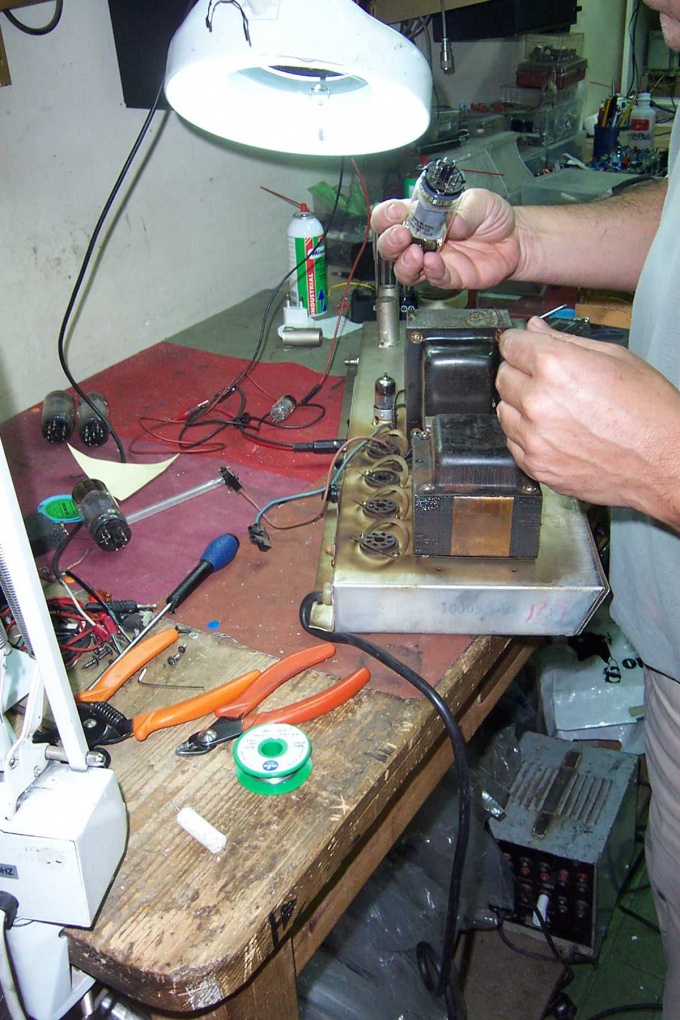 You will need
1. The room is equipped with shelves and large furniture;
2. Database of suppliers of spare parts for household appliances (if your center is not authorized);
3. The tool required to operate appliances;
4. Master (or assistant foreman), the telephone operator.
Instruction
Decide whether you want to work with a specific manufacturer, or will not limit yourself to attached to one brand. This choice for masters with experience is often not worth it – specialization simply doesn't pay, and direct cooperation with the company occurs on terms unprofitable for you. That is why the authorised service centres are not all manufacturers, some of them are satisfied with the agreement with a small workshop somewhere on the outskirts of the city.
Arrange for your service center "base," which will be able to receive calls and answer customer questions. In the room you need to maintain the relative order spare parts for home appliances, you are going to repair, not lost. This is especially important if you plan to repair a variety of devices – clutter in the workplace and outbuildings should try to avoid as much as possible.
Find as many universal parts suppliers for the most diverse home appliances and make their base. How fast can you find the required part, depends on how quickly you complete the order. And in the conditions of competition several service centers that specialize in the repair of home appliances, it will be a weighty argument in your favor.
Get the tool that you may need in the most cost workshops that can easily be found in any garage). Experienced master, who will work for you, and knew that he would need, and I'll tell you about it. And the owner of the shop, as a rule, he was one of its masters. It remains only to decide who will perform the function of telephone operator – not to be distracted from the work itself, it can be charged to any of the female relatives.
Useful advice
Have at their disposal vehicles suitable for the transport of large household appliances (refrigerators, stoves, washing machines) independently to deliver such a device in the workshop will not every client.

Invest some money in advertising – print and distribute in your neighborhood flyers, post ads, give in, and after some time of your workshop will know already all the surrounding residents.