You will need
To obtain 1 kg of cheese:

10 liters of milk (cow
goat
sheep's or Buffalo)
1 g of pepsin (sold in pharmacies or specialized stores)
1 Cup of milk to ferment
Instruction
To get the leaven, dissolve 1 gram of pepsin in a Cup of milk at room temperature.
Strain the milk through gauze or a fine sieve. Then put on the fire in not enameled cookware and pre-heat to 30 degrees.
In warm milk add yeast and leave for half an hour in a warm place.
After 30 minutes place the milk back on low heat. As the mass will collapse, it will need to collect to one side of the dish. It will take you about 5 minutes
The resulting lump press out the excess whey and place in a shallow bowl. Then drain in a colander and let it drain.
Leave cream cheese to ferment in a small amount of serum for a few hours in a warm room.
After a few hours check to see if the young cheese for further processing. To do this, cut a strip of cheese and dip it in warm water for a few minutes. If the strip of cheese easily stretched, but not torn, so you can continue to prepare pork.
Cut the cheese into strips with a thickness of two centimeters. In a saucepan heat the water to 80-90 degrees. Cut the cheese down into the water below it to melt. The resulting mass simmer and stir with a wooden spatula in one direction.
When cheese is melted, remove the pan from the fire. Cheese mass to form into a ball, remove from the pan and shape of the circle. Just be careful not to forget that cheese is very hot. Then the resulting cheese will cool by immersing it in cool water. Suluguni is ready.
Useful advice
Feta is used in salads, sandwiches, omelets. With it turns out very tasty cornmeal porridge - Mamaliga. Pork is smoked. To make fresh cheese for several days, smoked and dried to obtain a brown crust.
Advice 2 : How to cook cheese Suluguni
The first thing that comes to mind at the mention of
pork
is khachapuri, bread with
cheese
. But this cheese is suitable not only for a filling for cakes, it is possible to prepare a lot of tasty and, most importantly, to do it quickly.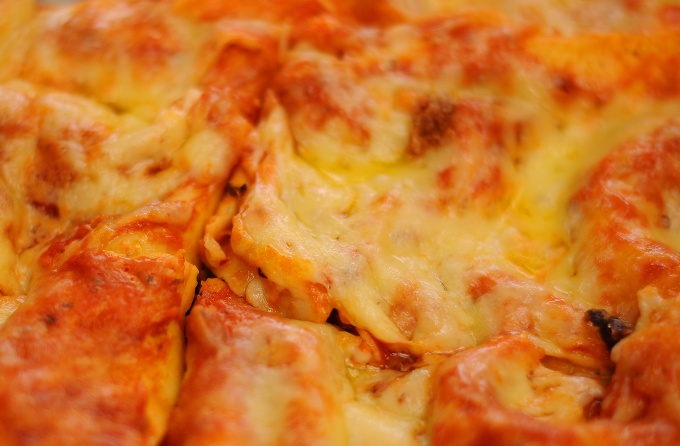 You will need
vegetable oil;
flour;
dill;
cilantro;
parsley;
eggs;
beer;
tomato juice;
bell pepper;
package frozen puff pastry dough;
garlic.
Instruction
The easiest way to cook pork is a simple and austere it is to fry. To do this, grate the cheese into portions of a thickness less than a centimeter. Roll pieces in flour.Quickly fry the cheese in hot oil first with one then with the other hand. Before serving, sprinkle feta dill, cilantro or parsley.
If you have time, you can cook the pork in batter. To do this, grate the cheese into slices with a thickness of half an inch and put in the freezer.Prepare a batter of one egg, five tablespoons of flour and beer. Beer pour in as much batter to make the consistency not too thick sour cream.Heat a frying pan with vegetable oil. Roll the frozen cheese slices in flour, dip in batter and fry on both sides in a preheated frying pan. Serve, sprinkled with chopped greens.
For variety, you can prepare a simple version of fried pork with sauce. In order to prepare this dish, cut the cheese into slices with a thickness of two centimeters. Whisk the raw egg. Roll chicken in flour, in beaten egg and again in flour.Preheat the frying pan and quickly fry the cheese to the vegetable oil so that it does not have time to spread. Before serving, pour the fried Suluguni sauce thick tomato juice, sweet bell pepper and chopped greens.
This method of cooking chicken will require a little more time. Defrost puff pastry. Lay both seam on the cutting Board and roll it out. Lay out one layer of dough on the pan, greased.Four hundred grams Suluguni cheese grate on a coarse grater. Beat in the grated cheese, four eggs, add a crushed clove of garlic. Evenly arrange the filling on the dough. The second layer of dough prick with fork, place on top of cheese and zasypnica the edges of the cake. Bake in the preheated oven for half an hour.