Instruction
How is the employer to verify the authenticity of sick leave? For starters, you should know that sick leave is a document of strict accountability, so it is illegal to obtain or almost impossible to buy. And if the doctor and hospital will give you the "secret", he most likely will not make his data into the database.
The document should be the established sample. July 1, 2011 sick leave has completely changed. And it's not just color or form. Now sick leave is a A4 format instead of the old A5 (i.e., the size of it coincides with the familiar to us typewritten sheet) has a multi-stage protection, including through the barcode with a unique combination of 12 digits blue color with a light yellow fields to fill. Graphs of a leaf of invalidity should be filled in capital block letters with a black gel or fountain pen, or filled in on computer technology. This requirement is called a need to scan and convert the hospital to electronic form. In addition, the sheet has a watermark and colour shading.
Also on sick leave, the additional fields appear where you must enter a number, patient medical card, tax card number of pension insurance. In addition, the new form of the sick-list contains the fields filled out by the employer. Forge of innovation is rather difficult. Sign the form of sick leave from the employer will now not only chief accountant but also a leader. If an employee after July 1, 2011 will provide the sick leave record of an old sample it will be considered illegally issued.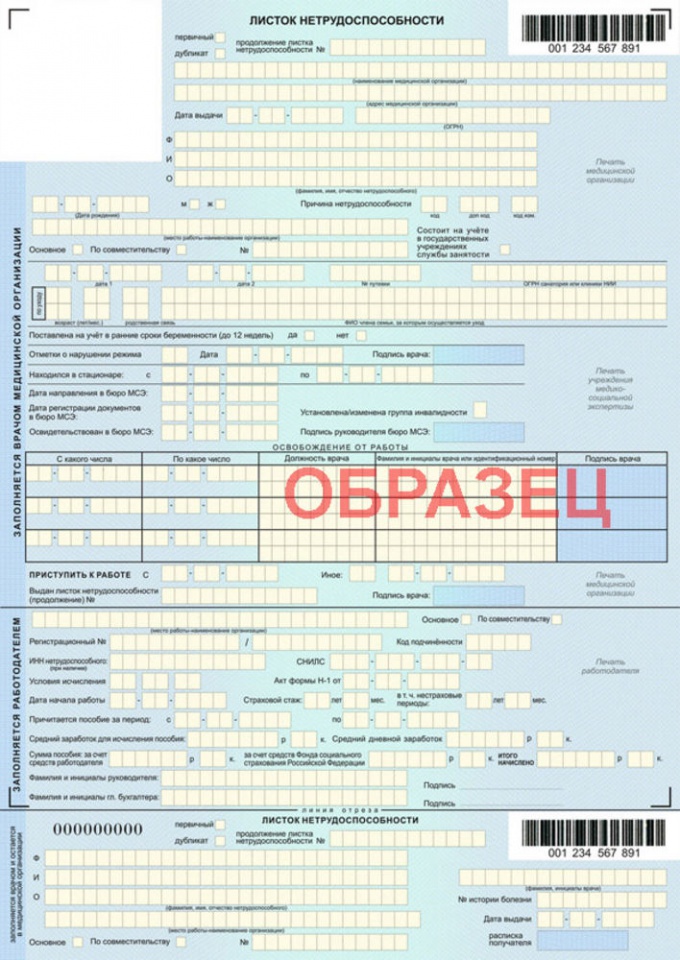 The sheet should be issued by an authorized organization (a physician).
Send employee to the clinic, which was discharged to sick leave. In the database, be sure to retain all the information.
Send a written request to the clinic with a request to confirm the authenticity of the issuance sheet of disability. Example text of such a request: "Please confirm the authenticity of a leaf of invalidity no...., the App: 1 l Signature."
Write an application to the Fund of social insurance by area, region, city. This structure is validated in the clinic and to establish the legitimacy of issuing the sick list.
To contact the security company. In most cases, its employees have connections in law enforcement, but they definitely can obtain any information in a clinic or hospital legitimate way. At the same time the intimidation of the question.
If the violations - write the application in Prosecutor's office. Remember that counterfeiting not only leads to financial losses. For forgery and sale of false documents, the sentence of imprisonment up to two years. And for the use of forgery – penalty to 80 thousand roubles, corrective works till two years or arrest for six months.