Instruction
Draw the plan of your future "child". Pay special attention to the design of the system of roads and trails that are for aesthetics and comfort will strengthen flat stone, sprinkle fine gravel or lay paving slabs. In this case, they will not become soft in rainy weather, are comfortable and well maintained.
Create a small decorative pond – swimming pool or pond, Put it around the perimeter of a large stone-naked and more small fish (she will cope with the rapid flowering of standing water). And if possible, plant on the shores of moisture-loving plants, they will reduce evaporation from the pond surface. The presence of the reservoir softens and moisturizes the microclimate of your site.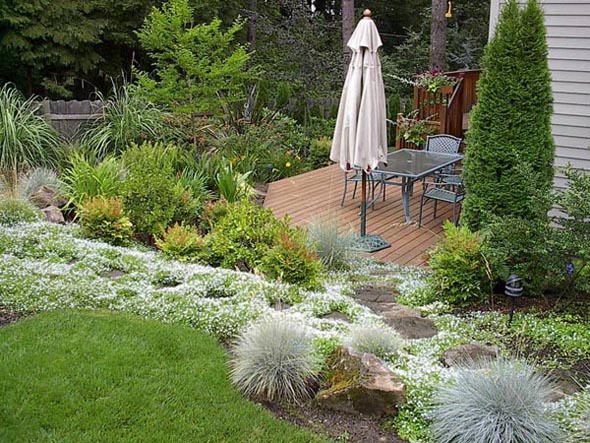 Pay special attention to the development of recreational areas. It can be a beautiful pergola, twined round a creeper or wild grape. In her shadow will be nice to meet family for lunch, tea or a family holiday. Close to the gazebo for convenience, the pitch or barbecue grill and put the sun beds, country chairs and swings for little gardeners. For kids build a wooden sandbox with cover from the sun. Or buy a plastic sandbox with a special lid that covers the sand from animals. Stick to one style of your designer finds.
Decorate your house with flowers and flower arrangements. Especially the modern landscape composition, combining the rigidity of the architectural elements of stone and the delicacy of flowers and ground plants. Remember, the main thing is to place the flowers so that they may through September passed each other the baton of bright flowering. Around the perimeter of your Hacienda planted ornamental shrubs or fruit culture. When choosing varieties of plants be sure to consider the climatic features of your area.