You will need
8 tablespoons with slide sugar
or 8 tbsp of condensed milk.
Instruction
What cream to use for decoration? There are several basic recipes that you can decorate a cake. They are easy to prepare and very tasty.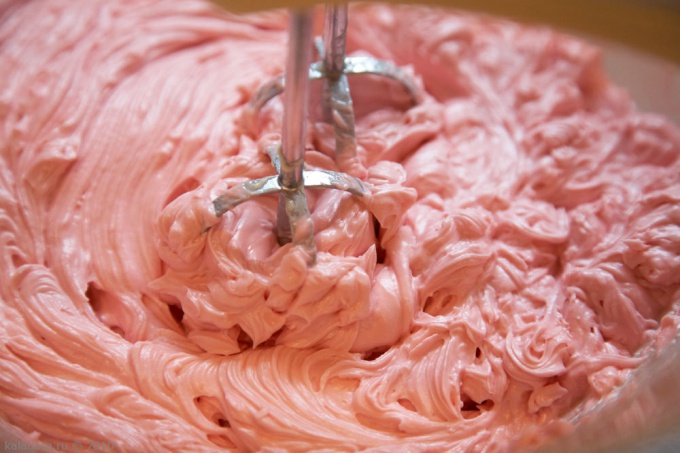 The most popular and easy to create – basic butter cream with the icing sugar. For him, we'll need 200g butter and 8 tablespoons (heaped) of powdered sugar.
Oil in advance remove from the refrigerator - it should be room temperature. Whip it with a mixer and, gradually, one spoon, add the powdered sugar. This cream is suitable for decoration, and as a base for paste. For drawing shapes, leave it for a while in the fridge it hardens, and the figures will come out better.
The following cream main oil with condensed milk. Ingredients: butter - 200 g condensed milk - 8 tablespoons. Take the oil (not cold, but softened), beat by hand using a metal whisk or a wooden spatula, until a homogeneous mass of white color lush and supple. Continuing to mix, add a tablespoon of condensed milk. And continue whisking until a homogeneous air mass, somewhere 10-15 min If the milk sugar, it can boil and allow to cool to room temperature.
When decorating with warm cream shapes are glossy, shiny, not sculptured. If you use chilled cream - they are matte and textured.
Ganache is one of the creams based on cream and chocolate. It is also used for drawing ornaments. Sometimes black and white ganache, depending on the chocolate you use.
Recipe No. 1. Warm hot cream (fat content of 36%) for the ganache 300g milk chocolate (or black), 2 cups chilled whipping cream.
Recipe № 2. 200g hot cream for the ganache (fat content of 36%), 200g. white chocolate, 1 Cup chilled whipping cream.
Bring to the boil the cream, designed for the ganache, pour the chocolate, melted in the microwave or on a steam bath. Stir thoroughly with a fork until the chocolate is completely dissolved. After that, cool it in the fridge (you can leave overnight). The next day sleduet beat until fluffy mass remaining cream. Then whip the chilled cream and chocolate to a thick state. And gradually, gradually, add in whipped cream, turn the mixer on speed 1-2.
The cream is very thick, sweet, like soft ice cream.

If you have a special syringe to draw it doesn't matter. Turn the bag from baking paper, put it in the cream, and draw on health.
You need a thin line? Cut the tip diagonally with scissors. For lines thicker do more cut. To obtain the wavy lines on the sides
of the cake
, you can use a knife for cutting bread or cheese.