You will need
The fabric is 1.5 meters with a width of 110 cm
Wide braid or ribbon trim 3 meter
Paper for patterns
Instruction
Transfer the pattern on paper and cutting the fabric. Parts A, b and D need to carve out at two. Both parts And you can carve out the whole piece. Don't forget to retreat to 1.5 cm from each edge is a seam.
If the items And two, then sew back seam. Fold the front and rear cloth Bathrobeand half-and-half, mark the shoulder line at the armholes. Fold in half along the short line In detail, this sleeve Bathrobe. Mark the middle and attach it to the marked shoulder line. Pristrochite sleeve in the armhole both sides of the line of the shoulder. Repeat the steps for the other sleeve.
Detail D fold in half lengthwise, wrong side of the fabric to the outside, this belt Bathrobe. Prostrochite it, turn, iron and attrocites in the region. Set a place at the side seam where it will be in the band, baste it to the front panel manually.
Fold the gown inside out fabric out and stitch the sleeves and side seams with one stitch on the right and left side.
Detail: fold in half and pristrochite the hood to the neckline, astrocyte top seam. All seams are smooth and handle from the inside. If the fabric is Terry, they can simply defer on two sides along each seam, they will not puff up and RUB your baby's delicate skin.
Finishing tape will attrocity hem and floors Bathrobe. It can embroider some bright suitable if it is solid.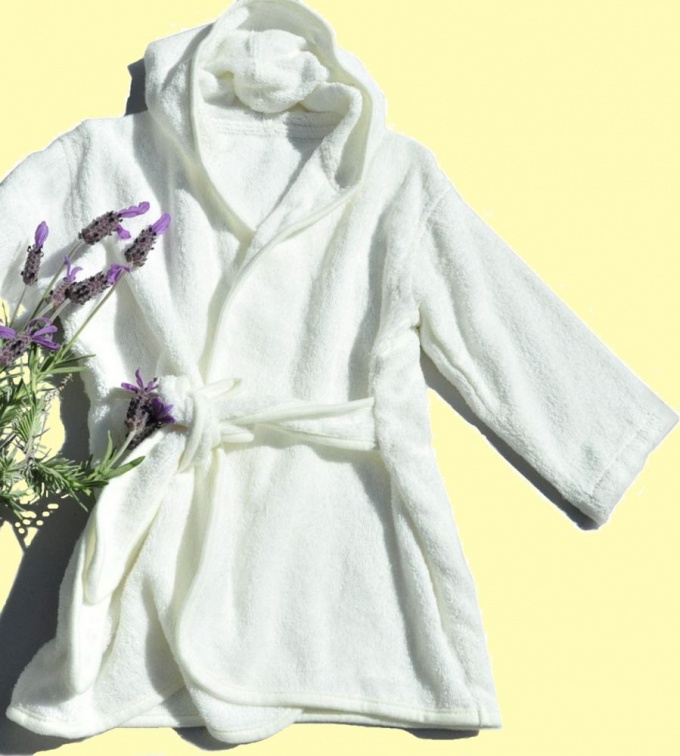 Note
Pattern child Bathrobe – process a lot of fun. To stitch baby Bathrobe it is possible to use simple models of patterns. An additional incentive can be considered, and that the child will be very grateful if a loving mother will personally sew him a comfortable and stylish robe.
Useful advice
It is known that after a long swim when you exit the bathroom the child is subjected to sudden temperature changes, which is why today we will look at how to make a children's Bathrobe. Style to Build the pattern of his robe for a child is quite simple. First of all, you need to define the style.