There is no one recipe for how to cook millet. For the preparation of powdery or semi-liquid cereals using water or milk as well as fruit, bacon, pumpkin.


What to consider before you cook millet?


Before cooking millet rinse it in several waters. After separation of the debris and dirt from grains, the water will become transparent, and the millet loses its natural bitterness. The last of the water should be hot, which will slightly steam the rump.


To properly cook the millet in not enameled saucepan with a thick bottom and on low heat. In this case, the porridge will not burn and will maintain their true taste.


While cooking grits increases in volume several times, so you need to use cookware the appropriate capacity.




How to cook millet?
Cooking millet is easy. It all depends on what you want to loose, viscous or semi-liquid porridge. In the first embodiment, the ratio of grains and liquid is a glass of cereal and a half Cup of liquid. For "nincompoop" 3 cups of grits takes 3.5 cups of liquid to viscous consistency meals will need 2 of millet to 2.5 cups of liquid.

Cook millet porridge in two stages. First rump pour water and cook on a semi-finished state for about 15 minutes. After which the water is carefully decanted, added to cereal in the hot milk, cook it until thick already. Then add the oil and allow to steam in a warm place, for example, in the preheated oven.


How to cook millet with pumpkin?
Delicious millet porridge with pumpkin. To prepare it, you will need slices of fresh pumpkin, cleaned of seeds and peel. The vegetable is filled with water and blanch no more than 15 minutes.

Then, in pumpkin broth poured the washed millet, cooked for 20 minutes, occasionally stirring it. Then the pan with the thickened mixture cover tightly with a lid, allowing it to popret for half an hour.

This mess can be cooked with milk. Oil is fed to it separately.

Millet goes well with prunes, the peanut butter, so the mess from it are often added and these ingredients.



How to boil millet gruel?

Porridge is a tasty, nutritious, useful. Its preparation is not difficult. In boiling salted water, put the millet and cook until almost fully cooked. And then in the liquid mixture add the potatoes, cut into cubes, and boil another half hour. At the end of cooking porridge put onion and bacon fried together, infuse the dish for 5-10 minutes.

When giving on a table soup sprinkled with herbs.
Advice 2: How to cook millet
For nutrition in the diet must include meals from cereals, including porridge. One of the most useful is the millet – porridge from ground millet, rich in vitamins and trace elements. To prepare millet, a delicious and nutritious Breakfast in several ways.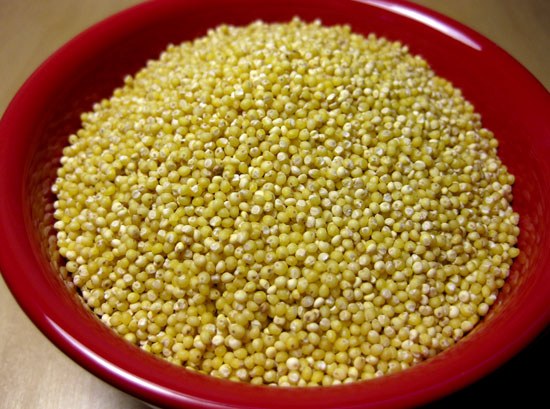 You will need
3 cups of milk or water;
1 tablespoon of sugar;
½ Tsp salt;
1 tsp. butter;
500 g pumpkin.
Instruction
Loop cereal to clear it from the remnants of flower films, fruit shells, stones and other debris. Millet can be very dirty, so thoroughly and repeatedly rinse it in cold water, rubbing hands until the water becomes clear, and for the last time in a hot to eliminate the bitterness.
Place the prepared grits in a saucepan, cover with boiling water, stir and drain the water. Then pour the millet in boiling salted water and cook for 5-8 minutes. Again quickly drain the water, add the porridge hot milk, sugar and simmer 20 minutes, stirring occasionally. Wrap the pot in a towel and place under the pillow or warm blanket for uprawiania.
You can
cook millet
porridge with pumpkin. To do this, cut the cleaned pumpkin into small cubes, place in a saucepan, cover with boiling water or milk and cook for 10-15 minutes. Then add the washed and pre-boiled until half-cooked millet, stir, cook for another 20 minutes until thick and put to aprivate in a slightly heated oven for 25-30 minutes.
Simple crumbly mess will happen if in 2 cups of millet to take 3.5 cups of water, and the sticky – out 5 cups of water or milk. In any case, the rump should be made to cover to boiling liquid and cook over low heat, stirring from time to time.
For children under one year boiled cereals in water, wipe through a sieve or grind with a blender, then add milk, sugar, salt, wipe again and cook for 5 minutes until thick, stirring lightly.
Millet porridge can be cooked in a microwave oven. Prepared grits, cover with water and cook on full power for 4-6 minutes. Drain the water, add milk, sugar, salt and cook for 2 minutes. Be careful that the milk does not run away. Then warm the porridge on medium power for 3 minutes, cover and let stand 10 minutes.
Prepared millet porridge, you can serve with cottage cheese, fruit, raisins. The millet, boiled in water without adding milk and butter, becomes a good Lenten dish for the table.
Advice 3: How to cook porridge "Friendship"
Milk
is the best Breakfast for a child, but unfortunately, this dish quickly becomes boring, and some children and completely refuse to eat it. If your child is also cranky during Breakfast, try to cook milk porridge "Friendship" millet and rice. The time spent in its preparation, will pay a special taste and aroma, which give the dish welded together cereals.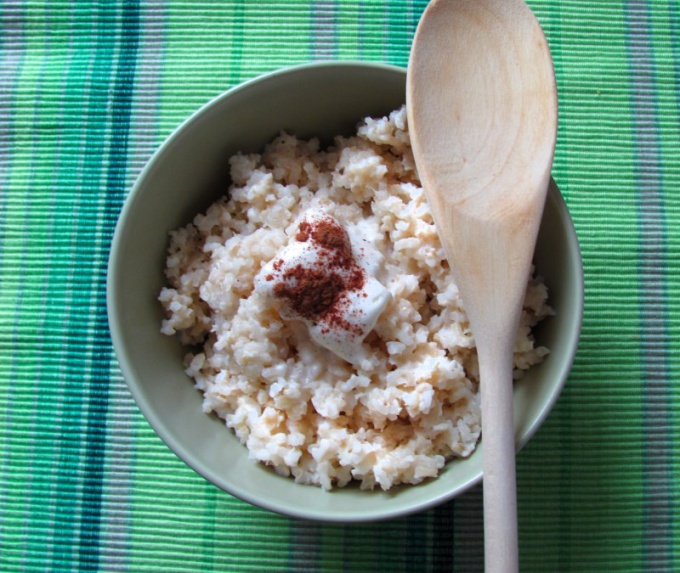 You will need
0,5 glass of rice;
3 tbsp. milk;
1 tablespoon of sugar;
0,5 teaspoon of salt;
0.5 glass of sour cream or butter to taste.
Instruction
Thoroughly rinse the millet and short-grain rice, not mixing them. Put the millet in a saucepan, pour 1 Cup of water and bring to a boil. When grits sauce to boil for 5 minutes, remove the pan from the heat and rinse the millet with cold water, otherwise it will taste bitter and spoil the taste of the finished porridge.
Mix in a saucepan with a thick bottom of the prepared millet and rice and pour milk or mixture of milk and water. Put on the fire.
Stirring occasionally, bring the porridge to boil. Immediately after this, reduce heat and add salt and sugar. Cook until until the grains will not fall apart.
In the finished porridge add the butter or sour cream, mix gently and cover pot. Porridge "Friendship" have to stand at least for 15 minutes. But it is best to wrap the pot in a thick towel and leave for an hour. Then you will get tender, flavorful porridge.
Even more delicious porridge "Friendship", cooked in the oven. Rinse groats, millet, pour over boiling water (this removes bitterness). Put the rice and millet in the ceramic bowl, add milk, salt and sugar. Don't forget that in the process of cooking porridge seethe, so do not put cereal in the pot to the brim. Mix well the contents. The edges of the pot butter, this will prevent "runaway" of milk. Place the pots in a cold oven and heat to 180-200 degrees. At this temperature, the porridge needs to languish for hours. Periodically check that does not evaporated milk. If it does boil over, lower the heat and remove the pot cover. When cooking in the oven the porridge "Friendship" can be served as soon as boiled soft wheat. In the finished dish, add the butter.
Advice 4: How to boil the milk millet porridge
"Cabbage soup and porridge - our food", - says a Russian proverb. The best Breakfast for kids and adults is a mess. It is nutritious, well saturates, has a beneficial effect on the stomach and well absorbed. For its preparation you need quite a bit of time. There are a variety of recipes. How quick and tasty to cook
millet porridge
?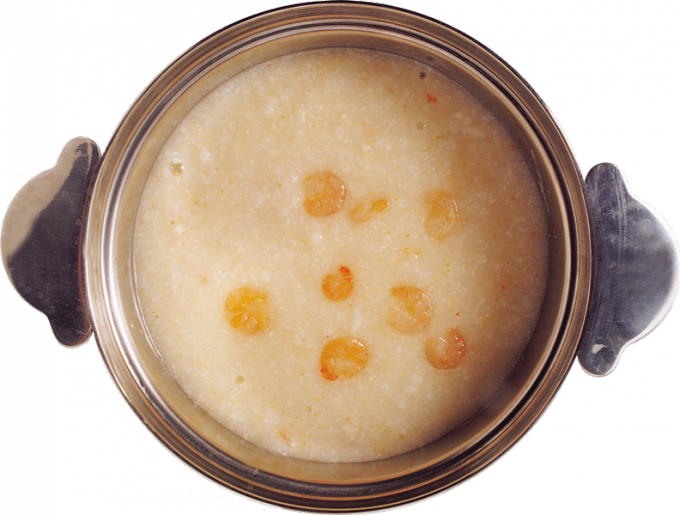 You will need
2 cups of water;
2 cups of milk;
salt
sugar to taste;
3 tablespoons butter for the filling;
pan or ceramic form;
spoon;
bowl for washing the millet;
pot for heating milk.
Instruction
Millet porridge can be cooked on the stovetop and in the oven. The first way is faster, but in the oven, the oatmeal has a special taste and aroma.

On the stove millet porridge is prepared as follows. Sort through the millet. Rinse it 6 or 7 times, preferably with boiling water until the water after washing is clear.
Pre-heat the water. Pour the millet in hot water, put on fire, add salt, add sugar, remove the foam.
Do not cover the pan with a lid to let the water have time to evaporate until the millet is not seethe.
Preheat
the milk
. Pour hot milk into a pot of porridge, reduce heat, cover pot and simmer until thick.
In the finished porridge put the butter and mix.
Can be added to millet porridge pumpkin. For this 1 kg pumpkin peel from skin and seeds, cut into small cubes and place in a mess at the beginning of cooking.
For the preparation of millet porridge in the oven, use the following method. After rinsing the millet, boil water, add salt and sugar, pour the millet. Learn that when using this method of cooking water should be 5-6 times more than millet.
Cook the millet in boiling water for 5 minutes, then drain the water and put the cereal in a ceramic form. Add in the form of milk, butter, stir and close the lid. The form put in a preheated 180 degree oven. Simmer for one hour. Then remove from the oven and leave for 5-10 minutes. On the table the porridge can be served in ceramic pots.
Note
Choosing millet, note its color. From over yellow grits porridge will taste better. Darker millet porridge turns crumbly, lighter - nincompoop.

Millet is not subject to long-term storage, grain starts to become bitter.
Useful advice
You can add ready milk millet porridge prunes. To do this, rinse it thoroughly, scald with boiling water and soak a few minutes in hot water.