Instruction
Mustard. Coat the meat with mustard and leave from 30 minutes to several hours to marinate. The longer the marinate the meat, the softer it will be.
Mineral water. Use when marinating mineral water ensures the softness of the meat.
Lemons. Lemons or lemon juice used for marinating, greatly increases the softness of the meat during the cooking process. One kilo of pork, 2 lemon.
Kiwi. The mechanism of action of kiwi on the meat the same as lemons, but only for marinating the fruit taken from the 500 g per 1 kilogram of meat.
Sugar. If in the process of cooking meat dishes, you will add a teaspoon of sugar, the meat will be much softer.
Vinegar
. Pickling using vinegar is a well-known technique to obtain soft meat. Vinegar you can use either: wine, cider, balsamic and more.
Brandy or wine. Brandy or wine added when the dish is cooked, also contribute to the preparation of soft pork.
Pre-roasting. Pre-roast the meat until a crust develops will keep all the juices in the process of further cooking.
Flour or starch. Roll the pork pieces in cornstarch or flour and fry the pre-fried, then the meat can be fried or baked. Starch and flour form a crust which will keep all the juices inside.
Advice 2 : How to cook pork easy
Pork
lung contains a small amount of proteins, but a large number of collagen and elastin. In this regard, it belongs to the category of low-value byproducts. However, skilful hands of craftsmen are able to cook pork easy a variety of delicious dishes.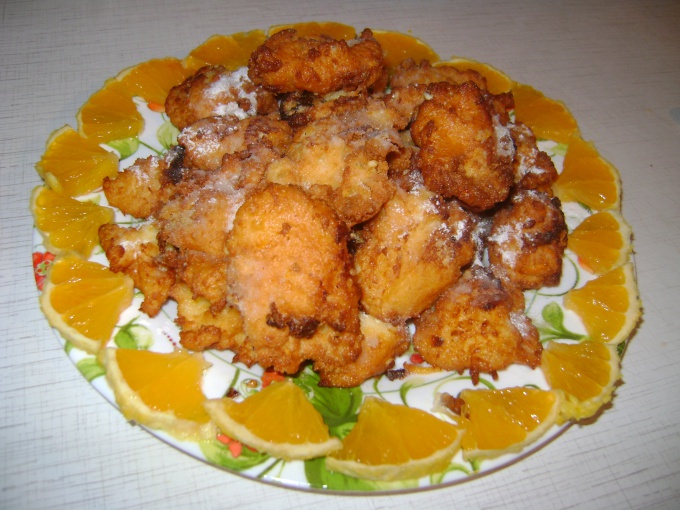 You will need
the liver birds
onions
soy sauce
carrots
mustard
spices
eggs
green peas
mayonnaise
greens.
Instruction
Clean pig's lung from all the excess. Rinse thoroughly.
Soak in water for two hours. Repair film. Wash. Cover with cold water, add one onion and put on fire. Cooking time is 2.5 hours. More slight salt and cook for another half an hour.
Finished pork lung slice, pour the sauce from the pan, garnish with greens. As a garnish you can cook the potatoes.
Special taste has a salad with pork lung. Easy to cook, and cut into cubes. Add pre-spasserovannye carrots and onions. The number of light should be twice more than frying.
Soy sauce, dilute with a dining mustard. Season the salad. Optionally, the gas station, you can add one tablespoon of French mustard. This will make the salad more flavor.
Rice, pasta, potatoes and buckwheat porridge can be cooked zazharku. Boil pork and
beef lung
. Cut into pieces. Also chop the liver birds.
Components fry gently in a little oil or butter with the addition of onions. Onions should be cut into rings. When the liver with onions formed Golden brown, add the broth, pepper, salt, Bay leaf and allspice. Simmer until the dish is completely cooked. Also on the taste, you can add your favorite spices.
For the salad: boil 0.5 kg of pork lung and finely chop. Boil three eggs. In oil saute one medium chopped onion. Eggs are also cut.
Fold the ingredients in the bowl. Add green peas or corn. Add salt, pepper. Season with mayonnaise and mix thoroughly. On top decorate with chopped herbs.
Advice 3 : How to cook pork easy
Cooking
pork
easy takes a lot of time because this byproduct is necessary to cook. But with the right combination of seasonings and other ingredients the result will be worth the effort.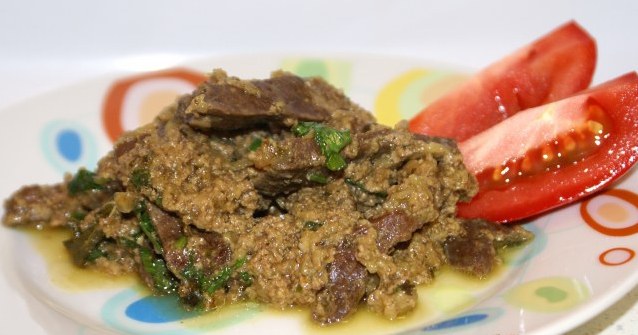 You will need
pork lungs;
rice vinegar;
soy sauce;
garlic;
dried dill;
black pepper;
cloves;
cinnamon;
coriander;
Basil;
star anise;
eggs;
flour;
bow;
cabbage.
For the second recipe:
pork lungs;
bow;
salt;
black pepper;
vegetable oil;
flour;
Bay leaves;
tomato paste.
Instruction
For preparation of byproduct in Chinese style 1 kilogram of boiled lungs cool and cut into thin long strips. Drizzle with 2 teaspoons of rice vinegar and 50 grams of soy sauce.
Five cloves of garlic run through a garlic press and mix with light. Add one pinch of dried dill, black pepper, cloves, cinnamon, coriander and Basil, 4 stars of anise, and then put in the fridge to marinate for 2 hours.
Two eggs beat to a froth with a pinch of salt and add to the marinated products. All ingredients stir and sprinkle one dessert spoon of flour. Mix again and sprinkle the same amount of flour. Repeat this procedure two more times.
In a deep frying pan, fry until transparent chopped onion one. Then add light and increase the heat to maximum. Stirring constantly, fry the by-product for 5 minutes. Serve warm on a sheet of Chinese cabbage.
Cook-pork-lung stew. To do this, 1 kg by-product boil until tender, cool and chop in large cubes. Two large onions clear and finely chop. Light good salt, and season with ground black pepper and fry in a pan with vegetable oil until crisp.
A by-product of sprinkle one tablespoon of flour, add the onion, stir and fry over medium heat for about 5 minutes. Then the contents of the pan, place in a pot, pour two cups of broth from under the light, add 2 Bay leaves and 2 tablespoons of tomato paste.
Pot, close the lid and leave to languish in heated to 180 ° C oven. After 20 minutes remove the pot from the oven, wrap a towel and after 15 minutes the dish is ready to eat.
Advice 4 : How delicious to cook pork heart and lung
Offal such as lungs and heart, in the hands of skilled Housewives can turn into culinary masterpieces. Pies with filling of the lungs, heart potatoes or meat salad with boiled heart – is only a fraction of what it is possible to prepare the family dinner in a normal kitchen.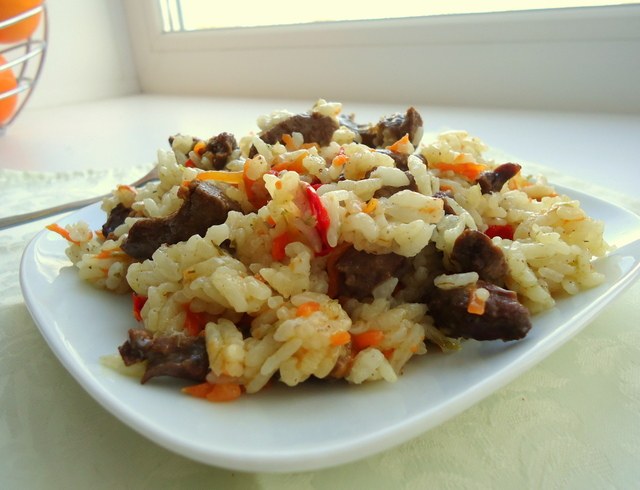 Potatoes stuffed with heart and vegetables
To prepare this hot dish you will need the following products:
- 1 pork heart (1 kg);
- 8 potatoes;
- 1 big onion;
- 1 carrot;
- 3-4 cloves of garlic;
- 100 grams of sour cream (or yogurt);
- parsley;
- dill;
- turmeric;
- sunflower oil;
Sol;
- thyme.
Onions and carrots need to clean, rinse and chop. You then fry the vegetables in sunflower oil.
Pig"s heart
must first be cut into chunks and cover with water for a while, so got out all the blood. After that, you can grind it with a blender, or chop as small as possible. Shredded mass should add to roasting vegetables and stew.
Not only can you fry pork heart with vegetables, but just half it to open, and then connect with passerovannym vegetables and also fry them. Simmer the vegetable mass necessary 40 minutes, until the heart is tender. Add the thyme, turmeric, a pinch of salt and stir.
Potatoes for this dish you need to choose the smooth and of the same size. It should be rinsed, boiled in their skins and then cool. With cold root vegetable should be peeled and cut in half. Then in each half using a small spoon to make a recess, removing the excess flesh. With the opposite hand for stability you can cut off the bottom.
Each potato half need to fill out the roasted filling and pour into pan. Pour sauce and bake in the oven for 15 minutes. Ready stuffed potatoes carefully place them on a dish, sprinkle the optional chopped herbs. To the table, this dish can be served together with pickles.
Chopped parsley and dill for the sauce must be mixed with a crushed garlic and sour cream.
If necessary, the sour cream you can substitute unsweetened yoghurt.
Cooking light stuffing for pies
To get a delicious stuffing, you should take:
1 kilo pig's lung;
- 5-6 large bulbs;
- 2 raw eggs;
- ground black pepper;
Sol.
Pork easy it is necessary to pre-soak a bit, then drain and put to otvarivanija in fresh salted water. The finished product need to cool and grind in a meat grinder together with onions, then prisolit and pepper, add raw eggs and stir the filling.
When cooking light strong increase in volume, so it is recommended to boil in a large pot, not filling it to the top.
For making pies, you can use ready-made yeast or puff pastry. Pies with this filling you can fry in a pan under the lid or bake in the oven in the usual way.
Salad hearts with onions and mayonnaise
Another recipe for making delicious meals. For its preparation you need to take:
- 500 grams pork heart;
5-6 white bulbs;
- 150 grams of mayonnaise;
- ½ Cup Apple cider vinegar;
- ground black pepper.
Pig's heart must boil until fully cooked, then cut into strips. White onions should also be cut into strips and pour the vinegar to eliminate the bitterness. To hold this bow for 20 minutes, then drain the vinegar and put the onion strips in a salad bowl.
Conventional bulbs can be replaced with leeks, it is more tender and not as sharp as onions.
Add the onions to the cooled strips from the heart, to flavor the ground pepper and pour over the mayonnaise. Tasty and simple salad is ready.