You will need
1 head of garlic;
100 g of mayonnaise;
50 g of mustard;
1 tablespoon salt;
spices;
a garlic press or mortar with pestle;
oven and other kitchen utensils.
Instruction
Prepare chicken legs. Rinse them and dry. You can, of course, put them in a bowl or dish, but it is better to dry use a piece of cotton or linen fabric.
Legs need to marinate. To do this, until they dry, take the garlic mixture for lubrication. Have a not very large head of garlic, peel it. Wedges crush pressure. If you do not have such, you can chop the garlic and grind it in a porcelain mortar.
Put the garlic in a small bowl. Add the 1 tablespoon salt and spices. There's a mix. The amount and composition of spices depends on your taste. The dish and without them it's rather sharp. The fact that you got brush all over chicken legs and leave them to marinate for about four hours. Mixtures do not regret, cover the legs fully and fairly thick.
Preheat the oven to 170°C. Take a dry pan, put on his legs. Pour some water. Put the dish in the oven and bake until soft. It will take half an hour or a little more.
For filling take 100 grams of mayonnaise 50 grams of prepared mustard. Mayonnaise can be anything, but best of all is the classic "Provansal", without any supplements, especially if you marinated the chicken with lots of spices. Mustard from a tube or from the jar.
Remove the pan from the oven. Legs lubricate the thick layer of fill. Put all of it back in the oven. Bake the dish at the same temperature until done, that is approximately a quarter of an hour.
Put chicken on a dish and serve hot. As a suitable side dish boiled potatoes, mashed potatoes, roast and steamed vegetables. Can be cooked in a similar way fried chicken to take along on a picnic. For this it is best to wrap it in foil. They, of course, a little cool, but still remain very tasty and juicy.
Advice 2: How to cook chicken legs in the oven
Broiler chicken meat, which today are in abundance offered by the shops, well the fact that you can choose those parts of the chicken carcass, which you like more, they are prepared quickly and the dishes they make are very tasty. You can cook
chicken legs
in
the oven
, almost no effort from you is not required, and the time it will take a little if you marinate them in advance.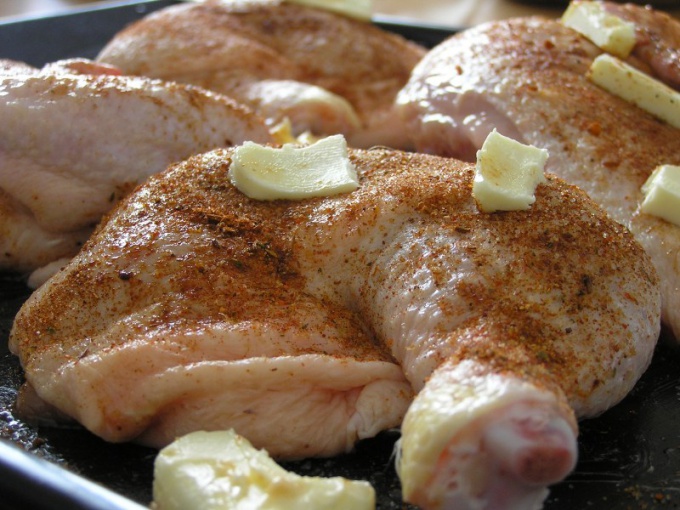 You will need
Chicken legs chilled – 1 kg

Cheese durum -100 g
Garlic - 3 cloves,
Prepared mustard 1 tablespoon
Basil
dry oregano by half a teaspoon,
Salt
pepper.
Instruction
Rinse chicken, place in a bowl, add salt, pepper, sprinkle herbs and crushed garlic, add the mustard and mix. Close the bowl with cling film or a lid and leave the meat to marinate. If you eat chicken legs right, leave them to stand at room temperature for an hour and a half, if you plan to dine them, then marinate in the morning and put the bowl to the refrigerator.
Preheat the oven to 200oC. Legs place on oiled baking sheet, place in oven and cook 30 minutes. 5 minutes before end of cooking remove the chicken legs and sprinkle them with grated on a large grater cheese, then put the pan in the oven.
Turn off the oven, allow the meat to stand still within 5 minutes, because the baking process is still ongoing. Then remove the chicken legs, place them on a dish or the plate, sprinkled with fresh chopped herbs.
Useful advice
For baking you can use only the fresh or chilled legs.
Advice 3: How to cook delicious chicken legs
Chicken legs - wand of the mistress. Quick to prepare, hearty, affordable. They are suitable for use as a festive dinner, and everyday. According to doctors, the chicken meat should be eaten twice a week. Vitamins and minerals contained in the legs, good for skin and hair, improve the nervous system and metabolic processes in the body. Cook chicken legs in the sauce, delicious dish.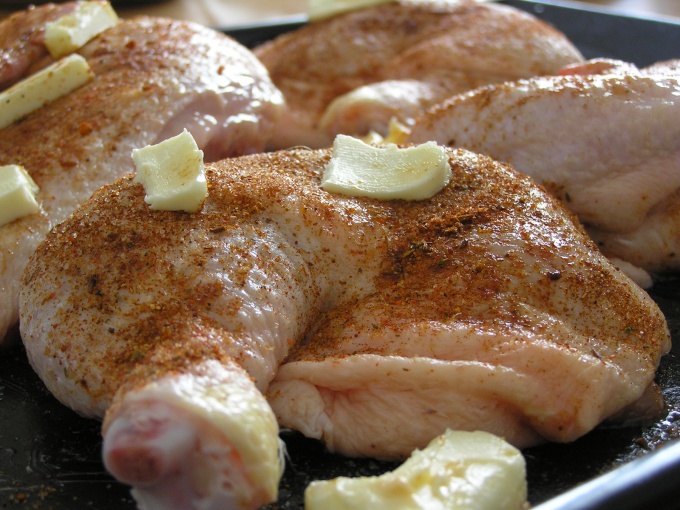 You will need
2 bulbs;
1 tablespoon of flour;
1.5-2 cups of water;
1 tablespoon tomato paste;
3 cloves of garlic;
black pepper;
Bay leaf;
salt;
2 tablespoons of 9% vinegar;
vegetable oil for frying.
Instruction
Inspect chicken legs. Remove them all penechki of feathers left over after processing. Excess fat is cut away, for cooking you may not need it. Rinse the chicken legs under running cool water. Gently Pat dry them with paper towel and cut each into three parts.
In a pan heat the vegetable oil. Fry the chicken
legs
from both sides until Golden brown. Do not put meat on a cold pan. In this case it will be less juicy. Roasted chicken legs fold into a thick-walled pot.
2 onions onions clean, wash and cut into half-rings. Brown onions lightly in vegetable oil. Put it in the pot with the meat.
On a clean dry frying pan fry 1 tablespoon of flour to the appearance of a brownish tint. Flour cool. Then dilute it with half Cup cold water, mix everything until no lumps of flour. Put 1 tablespoon of tomato paste, 3 crushed cloves garlic, 10 peas black pepper, Bay leaf and, stirring, bring everything to a boil.
In the pot with the ham and onions pour hot sauce from the pan, add 1.5 cups of hot water and leave to stew on medium heat until cooked meat. 10 minutes before end of cooking pour 2 tablespoons of 9% vinegar, stir contents of the pan.
On a plate put the garnish and chicken pieces. Pour all fragrant sauce and serve hot. If desired, sprinkle the dish with chopped greens.

Bon appetit!
Note
Buying legs, pay attention to the skin. It should not be sticky, undamaged and odor free.
Useful advice
For a side dish to the chicken legs in the sauce, serve mashed potatoes, boiled rice, pasta or buckwheat.
If you want a more dietary dish, skin the legs before cooking to remove.
Advice 4: How to cook chicken legs in the microwave
Microwave or microwave,as usually called her at home, has become an indispensable helper of many Housewives. The big advantage is the speed and ease of cooking. Offer to cook your favorite many chicken legs in the microwave for their school-going children or husband, and they have their signature dish, which they will indulge you.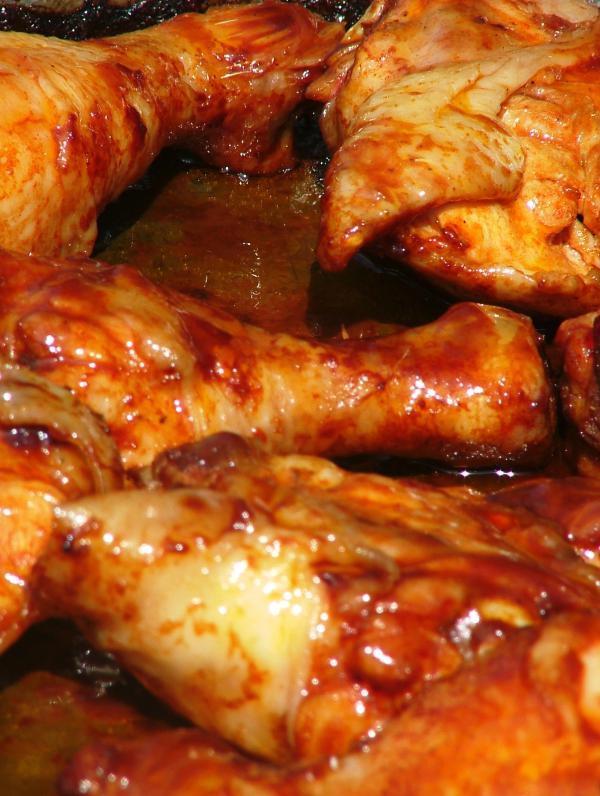 You will need
5 cloves of garlic
salt
pepper to taste
2 tomatoes
1 cucumber
0.5 red onion
200 g lettuce
vegetable oil for filling
Instruction
Prepare chicken legs. Rinse well, if you love eating chicken in small pieces, cut them in half, separating the thigh from the leg. Cover with spices according to your taste. You can prepare a mayonnaise-garlic sauce. Finely chopped garlic, mix with mayonnaise, seasoned with salt and pepper. However, as a rule, the microwave does not give a solid crust, so the capacity with legsmi pull out a few times during cooking from the oven and drain the excess fluid.
If you want to leave yourself time for example, for a great side dish, cook chicken legs in the microwave without any sauce.
Clean several cloves of garlic. Garlic is a common seasoning for chicken, it gives the chicken meat a unique flavor. You can garlic cloves cut into halves and making the skin small incisions in several places, lard legs.
Fold the ham in a fireproof dish. If the mode "grill", set a bowl of chicken legson special delivery. In the presence mode "convection", use it — should get a good tasty crust. If these modes is not just calculate the time it will take to cook chicken legs in the microwave. On average, at a power of about 700 watts to cook a kilogram of chicken will take 30 minutes. One large chicken weighs about 350-400 grams. Calculating the time, run the oven.
You have some time to prepare side dishes. Legs — quite a hearty dish, it can use any vegetable salad. Wash two medium tomatoes, one large cucumber, half a red onion Yalta and a few salad leaves. Coarsely chop the vegetables, add salt to the salad and drizzle with vegetable oil.
Look in the glass of the microwave. If you see that in the tank of accumulated liquid from chicken, remove the bowl from the stove and drain the unnecessary water and fat. This will help create a delicious crust on legsH. the cooking time of legs you have two or three times to check it that way.
Advice 5: How to cook chicken legs in foil
Baked chicken
leg quarters
in the oven in various ways. Previously they can be marinated or rubbed with a spice mixture and garlic, just to lay out on a baking sheet or put in a sleeve for baking.
Cook chicken
legs
in
foil
is a great dish for a family dinner.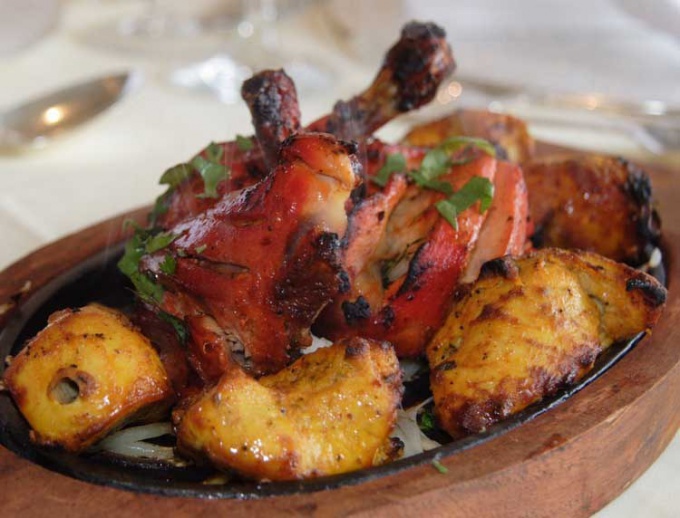 You will need
4 chicken legs;
1 Cup of walnuts;
0.5 Cup of pitted prunes;
1 bunch of greens of parsley;
1 onion;
salt;
black pepper;
cream.
Chicken in honey marinade:
2 legs;
3 tablespoons tomato paste;
3 cloves of garlic;
1 tablespoon of honey;
1 tablespoon vegetable oil;
salt;
ground black pepper.
Instruction
Stuffed chicken legs4 Rinse chicken legs in cold water. Dry them with a paper towel.
Make a circular incision around the bone and remove chicken skin stocking.
Separate the chicken meat from the bones and remove all sinew.
Mince meat 4 chicken legs, 1 Cup walnut kernels, 0.5 cups prunes, pitted, 1 bunch of parsley.
Carefully stir the minced meat, season with salt and ground black pepper to taste.
Add in minced chicken peeled and grated on a fine grater onion. Mix the ingredients and, if desired, a little dilute cream.
Fill the skin of chicken prepared with minced meat are not very tight.
Wrap each stuffed chicken legs with foil, lay them on a baking sheet. The top layer of the foil should fit snugly to the chicken skin.
Place baking sheet with chickenin oven and bake for 40-50 minutes. For a few minutes until tender, remove legs from the oven and carefully unwrap the foil. Continue to bake chicken legs until Golden brown.
Serve stuffed chicken legs on the table hot. Garnish with your choice.
Legs in honey marinedepot 2 chicken legs under running cool water, gently Pat dry and cut each leg quarter into 2-3 pieces.
Make a marinade. Mix 3 tablespoons of tomato paste, 1 tablespoon of honey, salt and ground black pepper to taste. Mix all until a homogeneous mass.
Peel and grate 3 cloves of garlic. Mix it with tomato-honey mass. Add the 1 tablespoon of vegetable oil.
Pour the mixture for the marinade in a bowl with the chicken legsand mix well.
Marinate chicken for 1 hour, stirring occasionally them.
Cover the pan with a big piece of foil. Put the marinated chicken in center of foil. Podnimite the edges and close the legs from the top.
Bake chicken in foil in a preheated oven at 180 degrees for 35-40 minutes.
Remove the baking sheet with the finished legsmi from the oven, unwrap the foil.
As a side dish cook the potato or pea puree, boiled pasta, rice or buckwheat. Next, place pieces of chicken. Pour garnish with the sauce obtained when baking. Serve to the table hot.
Advice 6: How delicious to cook chicken gizzards
Tired of the monotony and you want to please their households delicious dish? Then it's time to cook interesting meals of chicken gizzards, which are not only healthy, but very tasty. Fill your home with the inviting aroma of prepared dishes.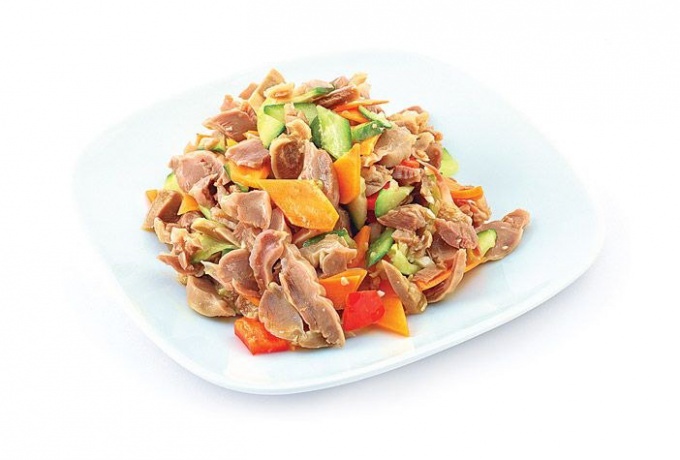 You will need
bow;
carrots;
vegetable oil;
garlic;
ginger;
sour cream;
hell;
pickles;
salt;
pepper;
seasonings;
canned mushrooms;
olive oil;
potatoes;
butter;
greens;
cheese.
Instruction
Take a pound of chicken gizzards and rinse thoroughly under running water, peel off the yellow film. Put the gizzards in a saucepan, cover with water and bring to a boil on a slow fire for forty minutes, don't forget to salt the water. Ready stomachs cool and cut into small pieces. Peel one large onion and shred carrot RUB on medium grater. Preheat the pan with vegetable oil, saute crushed garlic clove and a small piece of fresh ginger (then remove from the oil). Put the cooked gizzards in a fragrant oil and fry together with the onions and carrots for ten minutes, stirring occasionally. Add a hundred and fifty grams of sour cream, two tablespoons of horseradish and two finely chopped pickled cucumber. Add salt, pepper and leave to stew on medium heat for another ten minutes. Serve the prepared dish with a side dish.
Clean and wash chicken gizzards and bring to a boil until fully cooked (about an hour), the sunflower is a good choice. Peel two medium onions and slice arbitrarily. Take two hundred and fifty grams of canned mushrooms and slice (if the mushrooms are small, leave them whole). Carrot peel and grate on a fine grater. Heat a pan with three tablespoons of olive oil and lightly fry onions, add sliced mushrooms and cook three to four minutes. Then there also send the grated carrots and sauté for three minutes. Put in a pan chicken gizzards, salt, add seasoning and simmer a few more minutes. The dish is ready, serve with boiled rice or mashed potatoes.
Chicken gizzards (half kilo) wash thoroughly and peel off the film and cook for an hour in salted water. Boil four medium tuber potatoes in their skins until soft, peel and cut into circles. Place the potatoes in a pre-greased with butter or oil form frying, salt and add seasonings. Potatoes place a layer of fried in butter and onions on top of boiled and sliced stomachs. Pour the sauce Cup sour cream mixed with finely chopped herbs and three garlic cloves. Put in the oven for forty minutes, five minutes before readiness sprinkle the dish with grated cheese.
Advice 7: How delicious to cook chicken chops
Chicken chops at first glance easy to prepare. But not every owner can boast a juicy and tender dish. Often they turn out dry and hard. To avoid this, one should know the secrets of cooking of chops, which will help to keep the juice and soft meat.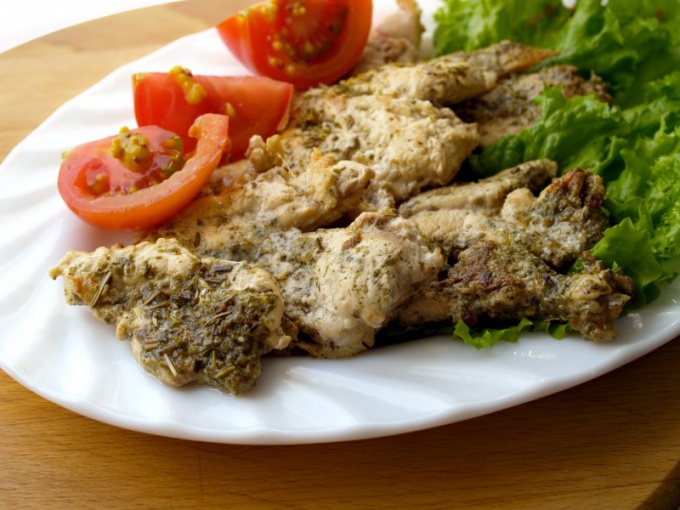 You will need
chicken breast - 3 pieces;

egg - 2 pieces;
potatoes - 2 pieces;
salt
pepper - to taste;
mustard - a pinch;
garlic - 2 cloves;
vegetable oil;
tomato;
lettuce.
Instruction
Wash the chicken Breasts and allow to drain water. Before cooking dip them with a napkin or towel. Removing excess moisture is an important condition to preserve the juiciness of the meat. Liquid during frying reduces oil temperature and prevents quick formation of crust. Resulting in the Breasts losing their juice.
Whisk meat hammer until tender. Here the main thing not to overdo it as from chicken breast muscle soft. In the end chops fillet shall not show through.
Mix in a bowl a small amount of vegetable oil (2 tablespoons) freshly ground pepper, a pinch of mustard and finely chopped garlic. Brush this mixture of chicken. This will give chops a savory flavor and aroma when frying will keep the juice inside the meat.
Peel and grate the potatoes.
In a bowl break 2 eggs and whisk thoroughly with a whisk.
Dip chops in egg, then in grated potato. Fry on a very well heated pan. She must be so hot that the meat has cooked on each side for 2-3 minutes.
Salt chops frying on each side after the formation of the crust. If the salt to use in advance, the meat will lose a lot of juice and get dry.
Serve chops to the table, garnished with sliced tomato and lettuce.
Note
When using frozen meat chops will be dry and hard. So prepare a dish of fresh fillet.
Useful advice
Hot chops, you can sprinkle with grated cheese.
Advice 8: How to cook chicken wings in honey
Chicken
wings
glazed in honey, the dish is not only delicious, but also beautiful. Honey gives a surprisingly appetizing Golden crust, aroma and similar taste. There are many recipes for these wings as a bit sharper and closer to the classical taste.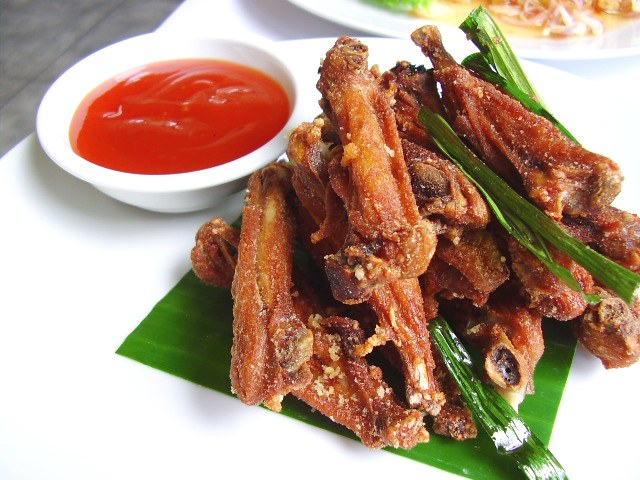 You will need
2-3 kg of chicken wings;
2/3 Cup of liquid honey;
2/3 Cup Dijon mustard;
1/2 Cup of lemon juice;
1/2 Cup of vegetable oil;
salt
ground red pepper.
Spicy Thai marinade
1/2 Cup liquid honey;
3 tbsp dark soy sauce;
3 tbsp fish sauce;
1 lime;
1-2 chili pepper;
4 garlic cloves;
1/2 tbsp of ground coriander.
Instruction
Chicken wings thoroughly under running water and wipe dry with paper towel.
Classic marginalspalte marinade of honey, mustard, oil and lemon juice, add a little salt and pepper. Pour this mixture into the container, immerse in her wings, close the lid and shake well so that the marinade has coated all the chicken. Put the container in the fridge for 1-2 hours. Can marinate the wings more, but several hours is enough. You can cook marinated chicken wings on the grill, but if you do not have this possibility, fit and ordinary oven.
Preheat the oven to about 250 C. Take a baking dish and drizzle with vegetable oil. Take the wings from the container and put in the form one by one, in single layer, shaking off excess marinade. Cover the wings with foil and bake for about 45 minutes.
Pour remaining marinade in a saucepan and bring to a boil. Remove the wings with foil and grease with silicone cooking brush each on both sides of the hot brine. Bake for about 5-10 minutes. Remove wings and brush with marinade again. Bake for another 5-10 minutes. Repeat the same operation for the third and last time.
Spicy Thai will marineprotected and chop the garlic cloves. If you want to make wings burning hot, just slice the chili peppers in rings, with seeds. If you want less "hot" marinade, clean the peppers from seeds. Lime squeeze the juice. Mix the honey, soy and fish sauce, garlic and pepper. Marinate the wings for 30 minutes to 24 hours. Cook spicy Thai chicken wings on the grill.
If you for some reason do not want to have your wings were crispy crust, you can just boil them until tender. From Apple cider vinegar, honey, mustard and passed through chesnokodavku garlic, mix honey gorchichny sauce. Place warm wings in a container, pour the sauce and prokaryote 15-20 minutes. You will get a honey taste and aroma, but without baking or roasting.
Advice 9: How to cook swallow's nest
Swallow's nest — the so-called "prefabricated" natural origin that is used for cooking various dishes. This product consists of fish-vegetable components and contains various trace elements.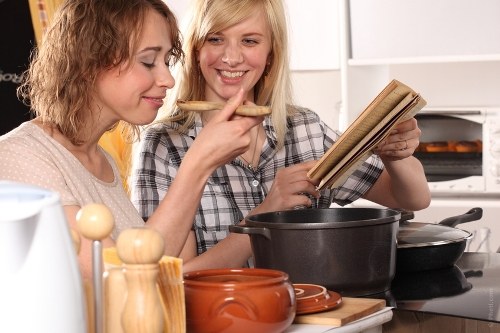 You will need
Chicken broth;
dried swallow's nest - 10 g ;
glunat, sodium - 10 g,
rice wine - 10 g;
ginger - 10 g;
salt - 1 g
Recipe 2:
dried swallow's nest 4 g;
chicken fillet - 100 g;
rice wine 10 g;
egg protein is 1.2 units;
glutamat sodium 10 g;
salt 1 g
Instruction
Swallow's nest contains proteins, carbohydrates, calcium, phosphorus, iron, iodine. It is believed that the food, including this cake mix, can rejuvenate the body.
Before cooking the semi-finished handle — remove the pebbles, pen other impurities. Dried swallow's nest, fill with oxide of barium — followed by the alkaline reaction. Then they should be washed periodically changing the water. Rinse in cold and in warm water.
The product is then, pour boiling water and let stand in water for five hours, water change. During this time, the pieces are prefabricated will increase by 8-12 times.
Swollen swallow's nest should be whitish-yellow, gray or reddish gray color, resemble hemisphere. It can be applied in various ways.
Prepare regular chicken broth. Fill rice wine, extract of ginger. Pour into a deep plate or a bowl. Finished the swallow's nest serve separately, spreading the pieces on a small plate.
Cook the minced chicken. Take the fillet and pass it through a meat grinder with fine screen. In minced add egg whites, glutamat sodium and mix well. Prepared swallow's nest press from the water and add the minced chicken.
Mixture mix thoroughly. Ready pour the chicken broth into the pan, bring to a boil. Then lower to his balls from minced meat, and bring to boil again.
During boiling remove the foam, then pour the broth into a bowl or deep soup plate. Broth with meatballs made from swallow's nest is supposed to be transparent, and the meatballs themselves white.
Note
Birds living on some Islands in the South China sea, do not build nests out of sand and grass, and more accessible material – juvenile fish such as saury, edible algae, fish eggs, seaweed.
Useful advice
Glunat, sodium serves as a catalyst for the aroma and taste. In China it is used everywhere. For the preparation of swallow nests at home use it is optional.

Ginger is a traditional Chinese spice. Just added to dishes, used in marinades, of a jam. It is almost the main national product. The alcohol used in the preparation of soups, sauces, and marinades. In addition to soju used wine and brandy.