You will need
- buckwheat or flour;
water;
- a blender or coffee grinder;
- measuring utensils;
a small saucepan, metal bowl or mug.
Instruction
Select cereals. Better if it is top grade and enough light, because the dark can be bitter. Try buckwheat, removing debris and husks. Cereals should be thoroughly rinsed not less thoroughly dried.
Porridge for a small child it is necessary to cook from milled cereals. This is more convenient to use a blender. You can, of course, be satisfied and grinder. Of course, provided that it is clean and doesn't smell no coffee, no spices. It is preferable to purchase a separate grinder for cereals. The aroma of coffee is retained for a very long time, it's nice for an adult, but the child may not like it. Crunch buckwheat until then, until it becomes manifest to a cross between semolina and flour — smaller first, bigger second. Homemade buckwheat flour beautifully stored in a glass or porcelain dish, so nothing bad will happen if suddenly you will be more than you planned.
For infants rather than 1 teaspoon of milled buckwheat. To cook is quite liquid, 5% cereal, on this amount of grain requires 100 ml of water. If you have no measuring utensils, use of improvised means — 100g a stack or a glass with a capacity of 200 g.
Pour milled buckwheat in an enamel or stainless steel small capacity. Bring to a boil on a slow fire. Don't forget to stir constantly. The whole process takes 15-20 minutes. In the end you can add a drop of breast milk or baby's usual mixture, if the child is on artificial feeding. For this recipe you can prepare and thicker 10% buckwheat. Enough for the same amount of water to take twice as buckwheat, that is 2 teaspoons. Salt and spices into the porridge for toddlers can not add.
About six month can give a child buckwheat, boiled in cow's milk. Milk should not be fat. It is better to choose something that is designed specifically for young children. In any case, it must be diluted with water in equal parts. Brewed this mess is exactly the same as for foods. The consistency depends on how your baby is used to a rather dense foods.
Child from 9 months buckwheat can be a little sweetened. Of course, if you are not allergic. Instead of sugar you can use fructose or just cook porridge on sour milk or cream. Usually kids like sweet food, but there are exceptions, so don't be surprised if suddenly your child will prefer buckwheat no sugar.
The baby, who is allergic to sugar, to give this product, of course, not worth it. But this does not mean that he will have savoury porridge. You can get out of the situation using other products that are not only allowed to your kid, but he liked me. It may be a fruit puree. Their range is quite large, and you can always find one that the child will eat with pleasure and without unpleasant consequences.
Advice 2: How to cook solid foods
Dogs and cats feed their young milk to an average of 2-2. 5 months. However, on the 3-4 week recommended to introduce
solid foods
, as breast milk to kids is not enough. Proper diet – the key to health and normal development of the animal. However, few choose the right products, you also need to be able to cook one meal.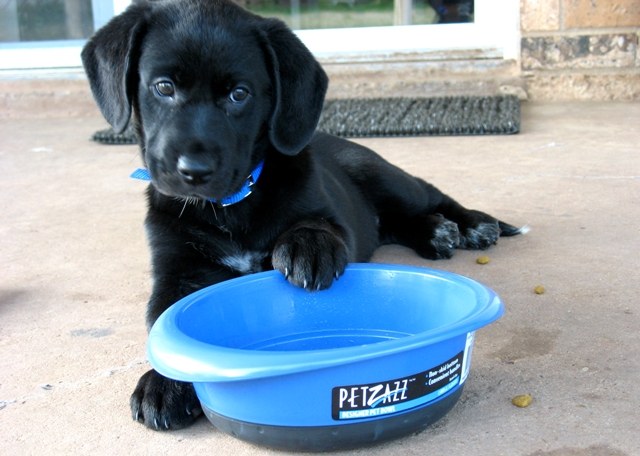 Instruction
Never add in the lure of salt, sugar, honey, chocolate, condiments, etc. Food for kittens and puppies should be cooked separately, and to give meals from the master's table is strictly prohibited. The pet owner should understand that normal food can be poison for your pet.
Cook puppies and kittens, fish and lean meat. To give these foods raw it is impossible in any case since it can lead to infection with worms. Also, do not give fatty meat, especially pork. Give preference to beef and chicken. Cut meat and fish into small pieces and then boil it in water, or diluted milk. After cooking pour all the broth – a bit can give the baby.
Cook puppies boiled potatoes. It's the only vegetable that they should not be given raw. Potatoes should be pre-peel and boil in their skins. It is also recommended to give him pieces, but not pureed. Potatoes should be boiled as usual, but without salt and spices, then cool and give your puppy warm pieces.
Be sure to cook the kittens porridge with meat. You can use semolina, rice, buckwheat, millet, oatmeal, etc., while mixing the lure should be in the ratio of 1 part porridge to 2 parts meat or fish. When you cook cereals, don't add too much water, not to drain it before to feed the kittens. Rice before cooking it no need to rinse, and prepared some rice gruel should be given, keeping the remaining liquid.
Do not use milk in the preparation of complementary foodsand every day. On the contrary, it is recommended to do not more than 3-4 times a week. The fact that cow's milk can cause stomach upset in your Pets. Puppies can from time to time to give warm milk, and kittens to cook the porridge.
Cut into pieces kidney, heart, liver, lungs before cooking them. Should not produce byproducts for too long. The essence of making feedingof these products and to destroy the probability of infecting kids, so you don't need long to boil the nutrients. The smaller the pieces are, the faster they cook. For example, cut into medium pieces beef liver to cook for 7-10 minutes, and chicken hearts – 15-20 minutes.
Advice 3: How to cook buckwheat in the microwave
Wonderful buckwheat porridge can be cooked in a microwave oven. Put in the buckwheat, various additives (for example, vegetables, mushrooms, chopped eggs), you can get a dish with a completely new taste.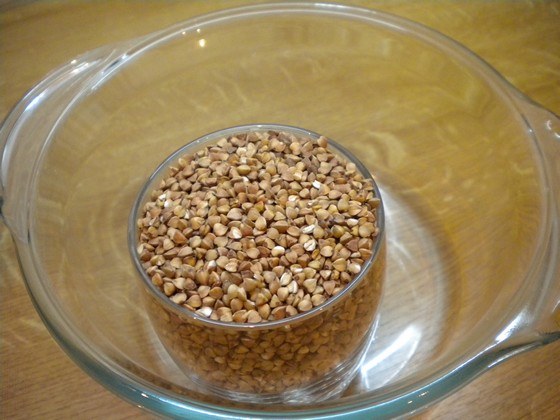 You will need
For the classic recipe of buckwheat:
- 1 Cup buckwheat;
- 2 cups of water;
- butter, salt – to taste.
For buckwheat with mushrooms:
- 1 Cup buckwheat;
- 50 g of dried mushrooms;
- 1 onion;
- 1.5 cups of water;
- 3 tbsp melted butter;
- salt – to taste.
Instruction
Thoroughly rinse the buckwheat. Vysypite buckwheat in a special container for the microwave. Pour cereal with water, add salt. Close the bowl with a lid and put it in the microwave for maximum power. Wait for boiling water - this will occur after approximately 4 minutes at a power of 1000 watts.
Mix the buckwheat, leave the cover of the dish removed. Install for 8 minutes, microwave power 600 watts. After this time, try the porridge if she's not ready, add in the buckwheat a little water and leave to prepare in the microwave a couple of minutes. Add in a ready dish with butter and serve.
Cook buckwheat in the microwave under a vegetable coat. Rinse the barley, put it in a bowl for the microwave, peel any vegetables - it can be a mixture of potatoes, beets, carrots, pumpkin, etc. the Number and ratio of the products in this dish to your taste.
Cut the peeled and washed vegetables in small cubes or grate on a coarse grater. Add salt, pour hot water (or yogurt) and put the dishes in the microwave for 20-30 minutes. Get an unusual dish, with buckwheat under a layer of vegetables, not dry.
Cook in the microwave buckwheat with dried mushrooms. Pour mushrooms in cold water, leave for 1 hour. Wash the buckwheat and soak it in water for 30-40 minutes. Remove soaked mushrooms from water, finely chop the rest and put them in the same water in which they were soaked.
Salt the mushrooms and cook them under the lid at full power in the microwave for five minutes. Stir in the buckwheat in boiling water with mushrooms and stir, add salt. Cook the oatmeal for 4 minutes on full power, then 4 minutes at medium power. Turn off the microwave, let the buckwheat stand for 10 minutes.
Peel and then slice the onion finely. Sauté it in the oil for 2-3 minutes, add the buckwheat and mix well.