You will need
heavy paper or cardboard, printer
Instruction
First you need to buy paper. It should be dense and opaque. The best option to a density of from 250 to 300 grams per square meter. Sell special paper for business cards.
There are various ways to print business cards. One of the most simple and accessible to everyone - to make a card in Microsoft Word. To do this in a blank Word document, add table.
Select in the options table under "height: 5 cm, column width: 9 cm This is to ensure that your card had a standard size, so your teammates can put them into standard business card holders. The edge of the table make the light that they were almost invisible, but at the same time it was convenient to cut name cards.
In the table, enter the required text. This is usually the name, contact information and job title. Diversify your card can figure, but it is necessary to choose depending on color or black and white printer you use.
After template business cards ready, you need to replicate it on a blank sheet. For this you can copy once and then paste (key combination + and +, respectively. Can use a little trick that will speed up the process. First, copy the first card and insert it into the sheet, then two, then four and so on.
After the document business cards created, proceed to the final stage - the printing business cards. The process of printing is different from printing a regular text document. Send the print job and wait until our electronic version will not be paper. It remains only to cut the cards and put them in the holder.
Advice 2 : How to make business card in Corel
It is for a business card very often formed an initial opinion about a person. Successfully designed card helps to attract new customers, the acquisition you have new orders. Program
Corel
Draw has all the tools to create these cards.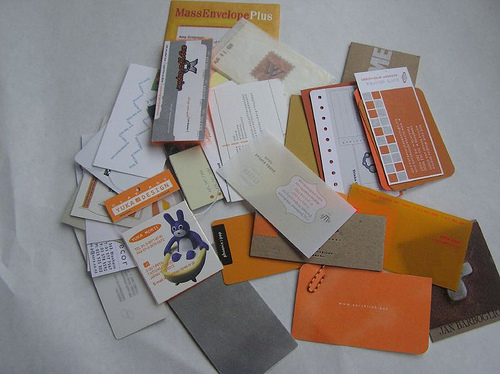 You will need
- installed on your computer Corel Draw.
Instruction
Create a new page (File – new) and set it to landscape orientation. Define the dimensions of business cards: standard sizes are 90x50 mm, and for the "eurovizitka" – 85х55 mm (width and height). Show that the card has a standard format (View – Show – the bleed).
Link the newly created document to horizontal View – setting up guidelines Guides horizontal 5 mm (45 mm) – Add) and vertical guides (Rails for vertical 5 mm (85 mm) – to Add).
Create a business card. Insert the required text fields such as: surname, name and patronymic, position, email address, work number and a mobile phone. Insert text blocks conveniently from a prepared text document. Text position not closer than 5 mm to the edge business cards, which focus on the guides. Format the text boxes.
Select the background of the card (Layout – page Background – Not – Other). Insert the required graphic elements: logo and patterns. The logo need to prepare in advance or not use it at all. Patterns can be inserted from the "hood. design", it is recommended that they go beyond the trimming of the edges not less than 3 mm. Save the file for subsequent printing.
Note
No tricks when printing business cards will not bring you success, if the wrong feature is their layout. Therefore their design should take into account enterprise features, status of the owner, his personal qualities and preferences. When placing the cards try not to use more than two fonts and three colors. The effect of this can be reversed – these cards will be hard to read.
Useful advice
If you can't get yourself to make beautiful business card, you can use pre-made templates Corel Draw (File – new from template...). Business card templates are located in the tab "Label".