You will need
Onion medium size 2 pieces
Chicken egg – 1 piece
Garlic – 2-3 cloves
Oatmeal – half a Cup
Greens fresh
Vegetable oil
Flour
Salt
ground black pepper
Instruction
Chicken wash, dry carcass of kitchen paper, cut away the meat from it. If burgers are not diet, the inner skin and chicken fat can be left.
Onion, garlic and chicken mince, there you can add a few sprigs of dill. Beat in the minced egg, knead it well until a dense homogeneous mass.
Oatmeal, pour boiling water, wait until they swell, drain the water and add them to the stuffing. Salt and pepper it lightly. Again mix well, cover the bowl with clingfilm and put in some time to the ground "rested".
Heat the oil in a frying pan. Form small meatballs from minced meat. Flour pour on a saucer or plate and each cutlet gently roll it. Then lay out on a frying pan and fry each on both sides in oil.
Fried meatballs, put in pan, reduce heat to minimum and cook them under the lid for 5-7 minutes more. The fire shut down, but the lid do not lift. After 5 minutes, take out the cutlets and lay them on the plate, lightly sprinkle with finely chopped garlic and herbs
Useful advice
If the chicken diet, they can just raw, without roasting, saute in a pan with any sauce, closing the lid. In this case, one is better to form round meatballs.
Advice 2 : How cutlets from chicken meat to make more tender
Patties of chicken meat delicious, fragrant and filling, and steamed, are an ideal protein diet product. So here's the thing – often chicken cutlets get dry. Meanwhile, experienced Housewives know how to make them softer and juicier.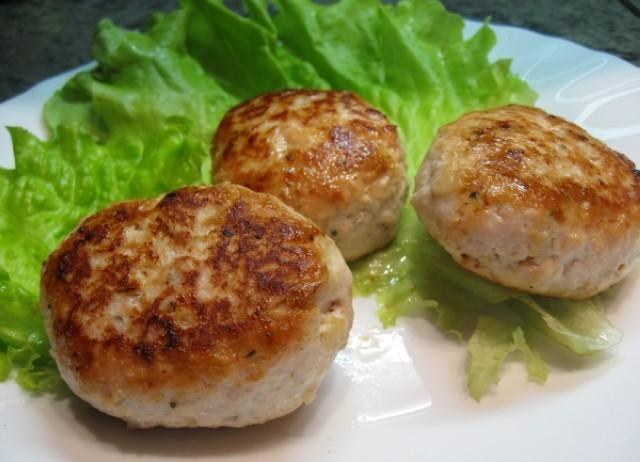 Will help additional products
Onions
To make patties of chicken meat turned out tender and juicy, put in the mince more onions. The ideal ratio of 1:1 (for example, 500 g of ground beef and exactly the same bow). Crank through a meat grinder chicken and onion twice.
The meatballs are more tender and juicier if the bow separately grind in a blender, and then attach to the chicken stuffing. Before forming the meatballs need to remove the stuffing in the fridge for 40-60 minutes.
Butter
When patties are formed and are already in the pan, make in the center of each small recess and put a small piece of butter. On top of flour.
Semolina and egg
Whisk the egg with salt in a lush foam. Ready minced chicken, add a little semolina (1 tablespoon per 1 kg of meat) and beaten egg. Leave for half an hour in warm (at room temperature) to swell the grains, then put in the refrigerator. After 30 minutes, remove, form patties and roll them in flour or in breadcrumbs, fry on both sides in hot oil. Then add to the pan a small amount of water and cook the meatballs for 15-20 minutes.
White crackers
1 kg chicken mince take 2-3 dried slices of white bread or loaf, pour the warm milk and leave it to swelling. Then soggy crackers press (not very much), crumble in the mince and mix well, preferably in a blender. To make the patties together when frying, the meat should be discourage.
To hit the meat, take it out of the bowl by the handful and throw it right back. Repeat a few times. Can also to take the necessary chops for the amount of meat and beat it with the power of throwing from one hand to another.
Special recipes tender chicken cutlets
Miss 500 g chicken fillets 3 onions, add 3 tbsp cream and 3 tbsp potato starch. Salt to taste, stir, shcherbinaite with a spoon and fry like pancakes.
1 kg chicken take 2 onions, 300 g hard cheese varieties 1 egg. Miss fillet with onion through a meat grinder, beat in the minced egg, salt, pepper. Mix. Cheese grate on a fine grater. On a large cutting Board, sprinkled with flour, form small pellets, in the middle of each put 1 tsp. of grated cheese, wrap the edges of the tortillas up, covering the cheese. Shape cutlets. Roll in breadcrumbs and fry in vegetable oil.
500 g chicken mince, add 200 g cottage cheese, 50 ml cream, 1 egg, 1 chopped onion, 2 cloves of garlic passed through the press. Salt, stir. If it turned out watery, add a little flour or potato starch. Roll in flour, fry in oil. If desired, after roasting can slightly saute in a small amount of water, the meatballs will turn out even more tender.