You will need
Chicken Breasts with herbs in foil

Chicken Breasts
Olive oil
Herbs and spices of your choice
Food foil
Chicken breast in a citrus-peanut breadcrumbs
4 medium chicken Breasts
1 liter of hot water
2 tablespoons sea salt
2 cups salted almonds
1 Cup bread crumbs
1 large chicken egg
¼ Cup lemon or orange zest
1 tablespoon flour
2 tablespoons sesame or any other vegetable oil
Pepper
Breast of chicken in lemon marinade
4 chicken Breasts
cut in half
hot red pepper-Chile
3 finely-chopped garlic cloves
2-3 tbsp finely chopped herbs - rosemary
thyme
oregano
of your choice
¼ Cup lemon juice
¼ Cup olive oil
Instruction
Culinary techniques to maintain the juiciness of chicken Breasts, a great many. Here are some of them: "sealed" followed by baking, pre-marinating, breading, cooking Breasts in foil. Let's consider the most simple and popular.
Chicken Breasts with herbs in foil
Preheat the oven to 220 degrees Celsius.
Mix in a bowl olive oil, salt, pepper and dry or fresh chopped herbs. You can also add a spoonful of wholegrain mustard to make the chicken more savory taste.
Coat chicken with mixture of oil and seasonings. Wrap the breast in foil. Pay special attention to the "package" of
foil
was tight and without gaps.
Bake the chicken for 30-40 minutes, depending on the weight of the fillet. You'll have a fragrant, juicy and light.
Chicken breast in a citrus-peanut breadcrumbs
This recipe uses another great cooking technique – pre-salting chicken meat.
Dissolve sea salt in warm, in any case, not in hot water. Put the Breasts in a brine bath at least half an hour, to a maximum of 45 minutes. Thus they are evenly salted and will be juicier.
Peel the almonds and finely chop it, mix in a wide bowl or plate with high sides with bread crumbs.
Whisk the egg with a fork, add the zest and pepper. Do not add salt, as the almonds are already salted!
In a thick-walled skillet, heat the oil. Reduce heat to medium.
Dry breast, whisk and flour. Dip turns Breasts into the egg mixture and then into nut-bread breaded.
Fry the chicken in hot oil for 5-7 minutes on each side. Do not cover the dish with a lid, otherwise the breading will get soggy from the accumulated steam and start to fall off.
Breast of chicken in lemon marinade
Chicken Breasts lightly beat off and marinate. For the marinade in a bowl, combine lemon juice, oil, garlic, pepper, parsley. If you get juice from a fresh lemon, before you squeeze it, send a citrus half a minute in the microwave. So it will flow out more juice.
Breasts in the marinade, cover with a lid or foil and send it for half an hour in the refrigerator.
Marinated breast you can just quickly fry in a dry non-stick pan for 2-3 minutes on each side or bake on the grill.
Useful advice
We intentionally do not is a popular recipe for chicken Breasts baked in bacon with herbs, as this dish is not diet. But delicious. But even tastier it will be, if you cut in the chicken breast "pocket" and put in it soft cheese with herbs.
Advice 2: How to cook chicken giblets
Chicken refers to dietary products, and chicken soup is considered medicinal. But to prepare delicious dishes and you have to use chicken giblets. These include the stomach, liver, heart. You can cook them separately or in combination with each other. Prepare baked chicken giblets is easy and simple.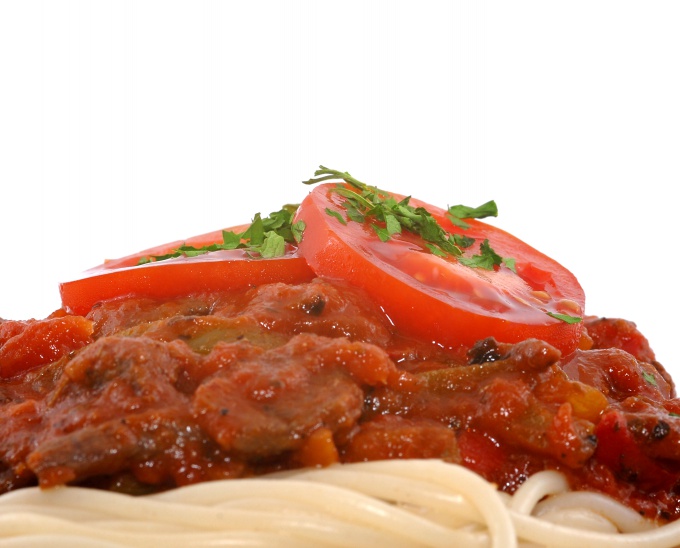 You will need
1 large onion;
150 g of cheese;
3 boiled eggs;
1 raw egg;
3 tablespoons tomato sauce;
1 Cup sour cream;
0.5 packs of butter margarine;
salt
pepper;
3 tablespoons of mayonnaise.
Instruction
Chicken giblets (heart, gizzards, liver) rinse well and finely chop.
Peel and finely chop the onion.
Cheese grate on a fine grater.
In a pan melt the margarine. Fry chopped chicken giblets with onions until soft. Add salt and pepper to taste.
Add to the pan chopped eggs, 2 tablespoons grated cheese, tomato sauce, sour cream. Mix well. Bring a dish to a boil, reduce heat, simmer 15 minutes.
Whisk raw egg with mayonnaise until a homogeneous mass.
Grease with margarine a baking dish, put in her stew of chicken giblets, pour a mixture of eggs and mayonnaise, sprinkle with grated cheese. Bake chicken giblets in the oven until Golden brown.
Put chicken giblets on a plate, garnish with vegetables, sprinkle with herbs. Serve as a hot dish.
Bon appetit!
Note
When roasting chicken giblets in the oven it is important not to overdry them.
Useful advice
Baked chicken giblets can be used as a cold appetizer.
Advice 3: How to cook chicken gravy
We all love to feast on the delicious sauce from the chicken. The history of our country allows us only to guess about various ways to prepare this wonderful, delicious and hearty meals.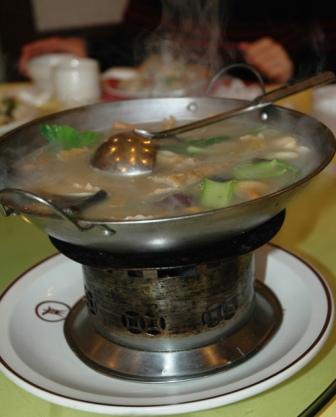 You will need
vegetable oil
bow
carrots
butter
flour
mayonnaise
Instruction
To prepare the gravy of chicken, buy the chicken if you bought frozen – defrost for 3 hours, then take a small bowl in which you may wish to clean it. After that have it apart, after removing the skin, cut into small pieces.
Then take a dry pan on the stove over high heat, heat 2 tablespoons of vegetable or olive oil.

Next, place the chicken pieces in the pan and fry for 10-15 minutes on high heat. Take a wooden spatula and rotate the pieces.
Take a carrot of medium size, wash and clean it from the peel, then grate on a coarse grater. Next, take medium-sized onion, peel it and finely chop. Then take a large tomato and slice it in small cubes.
In a pan heat 50 grams of butter, fry for 3-5 minutes onions and carrots over medium heat. Then add sliced tomato. Stir with a wooden spatula. Add two tablespoons of flour, intensively stirring, gradually add a glass of clean cold water as soon as the mixture comes to a boil, put the roasted chicken to vegetables.
Close the lid and let it cook gently for on low heat for half an hour.

The resulting dish serve hot and sprinkle with finely chopped greens. Put on the table fresh bread, so you don't have to lick your fingers! Bon appetit!
Note
If you cook rice and mix with the gravy, get a kind of pilaf.
Be creative and experiment – then you will be culinary delights!
Useful advice
Add a little pepper and spice when the dish is simmering on the stove – it will give a more vivid taste of the dish, most importantly, do not overdo it.
The chicken pieces can be coated in mayonnaise before fry in a skillet.
The taste can add mushrooms, sweet pepper, dill or cheese.
Advice 4: How to cook chicken navels
Chicken navels, they are also the ventricles – a dish for gourmets. Maybe someone will wince, having heard that navels are eaten, but those who at least once tried this delicacy, they will not forget his wonderful taste for a long time.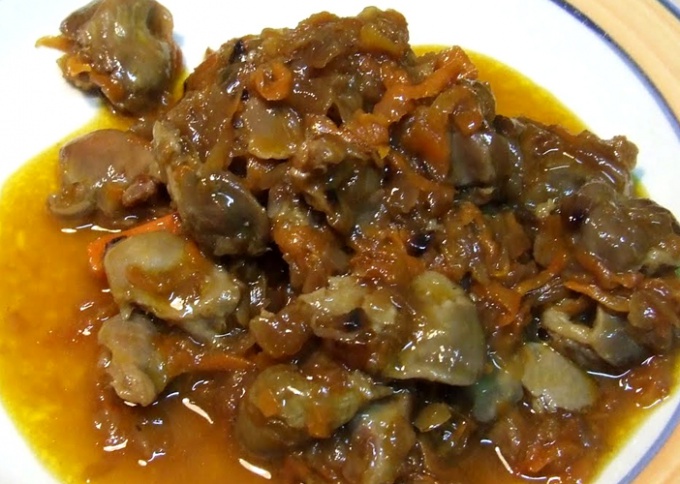 You will need
onions - 5 PCs.
soy sauce - 3 tbsp
the coriander.
Instruction
Before you begin cooking chicken popochku, gently peel the yellow film and rinse well in cold water. If you do not remove the film completely, the dish will taste bitter, which is unpleasant. After the ventricles will be cleaned, start cooking.
Chicken gizzards can be prepared as the first and second courses. However, if you have never tried the ventricles, it is best to sauté them with the addition of soy sauce. It will not take much of your time and effort, nevertheless, you will be able to evaluate not only the taste of the dishes, but also its flavor.
Take a kilo of chicken popochku. Divide each of the ventricles in two, cutting them along. Pour into the bottom of the gusyatnitsy a little vegetable oil and place it over high heat. When the oil is hot, throw in a baking dish a few coriander seeds, and half a minute later put the ventricles, diminished fire. Lightly salt the dish.
Clean the five heads of onions and cut into half rings. When will twenty minutes from the moment you put popochki on the heat, add the onion to the dish and simmer until tender, adding boiling water as necessary. For a few minutes before you remove the baking dish from heat, pour three tablespoons of soy sauce. It will add spice to the ventricles. Cooking takes an average of forty minutes.
Before you turn off the stove, make the fire stronger for a few seconds, then rapidly quench it. In any case, do not open the cover: the dish should infuse! The meal can begin within ten to fifteen minutes after cooking. Better if you submit the ventricles are hot, but if for some reason the dish has time to cool down – don't worry because in the cold it is nice, too. And last, take care of serving: a delicious dish and served should be "delicious."
Advice 5: How to cook chicken feet
A truly original and specific look of dishes from chicken legs. Most of all they are common in Chinese cooking. Legs are well suited for the preparation of hot snacks and delicious especially in combination with pumpkin.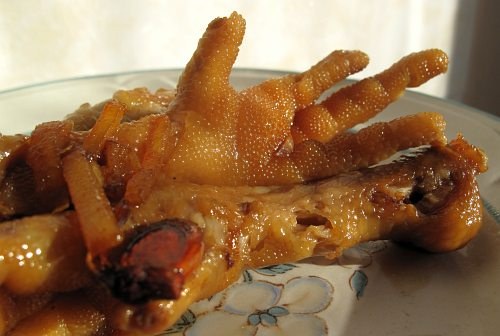 You will need
chicken feet;
potatoes;
vegetable oil;
salt;
mustard;
honey;
sour cream.
For the second recipe:
chicken feet;
pumpkin;
bow;
ginger;
salt;
dry white wine;
fragrant vegetable oil.
For the third recipe:
chicken feet;
vinegar;
soy sauce;
garlic;
sugar;
Anis.
Instruction
For cooking chicken legs in honey-mustard sauce wash with a stiff brush five young potatoes without removing the skin. Cut in half lengthwise. Form for baking grease with vegetable oil, lay the potatoes on the bottom and edges of boards.
One kilogram of chicken legs, place in a saucepan and cover with water. Bring to a boil, change water and boil again. Put paws on the potatoes and a good pinch of salt. Prepare the sauce. To do this, mix 2 tablespoons mustard with the same amount of liquid honey and cream. Pour the sauce over the legs and place in a preheated oven 160оС. Bake until cooked potatoes.
Put out legs with pumpkin. For this one minute dip of 500 grams of chicken legs to the boiling water. A small pumpkin peel, remove seeds and inedible in the middle, cut into short cubes and boil. Boil water in a clay pot and place the foot. Once the water again boils, remove the foam and add half of the chopped onions, five grams of grated ginger and simmer under the lid ajar for about an hour.
When legs are soft, add the pumpkin, half teaspoon salt, two tablespoons of dry white wine and bring to a boil. Then turn down the fire to minimum and drizzle with legs one teaspoon of fragrant oil.
Use another recipe for chicken legs. Boil 800 grams of the legs in lightly salted water for 20 minutes. Drain the water and legs wipe with paper towels. Place them in a hot pan with vegetable oil and fry over medium heat until brown.
Continuing to fry on a slow fire, pour over the legs with a mixture of one tablespoon vinegar and three tablespoons of soy sauce. One head of garlic slice narrow strips and add to the pan along with a teaspoon of sugar and two asterisks anise. Stirring constantly, let the sauce cook for a few minutes and then remove from heat.
Advice 6: How to cook chicken scallops
Rooster combs are considered a delicacy product, dish of scallops popular in China, France and Italy. On our table such food is not a frequent guest that's why the appetizer of scallops can be a great addition to the festive table. In addition, this appetizer looks intriguing.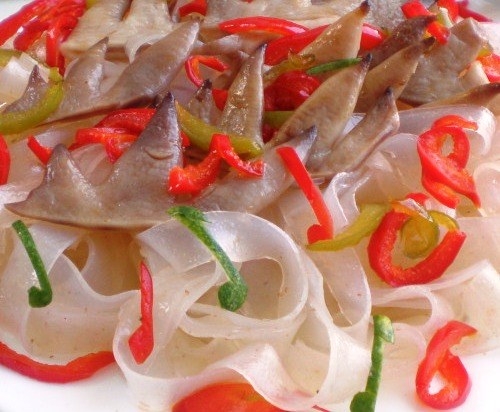 You will need
For chicken braised in wine scallops:

1 kg chicken scallops;
40 g of parsley;
40 g of celery;
40 g green onions;
50 ml white wine;
10 ml lemon juice;
salt.
For chicken scallops with cream:
10 chicken scallops;
1 onions;
200 ml white wine;
1.5 tbsp butter;
1 tbsp flour;
100 ml of milk;
100 ml cream;
50 grams of grated cream cheese;
salt;
pepper.
Salad with chicken grebeshki:
600 g chicken scallops;
300 g of cauliflower;
350 g gherkins;
250 g potatoes;
6 eggs;
300 g mushrooms;
20 g of celery;
salt;
mayonnaise.
Instruction
Chicken scallopsbraised in Wineville chicken scallops. Warm water, place the scallops, remove tape: remove the scallops from the water, lay on a Board, sprinkle with salt, RUB hard with a sponge, rinse in cold water. Then chop the parsley, onion, celery, put scallops and herbs in a saucepan, cover with water, add the white wine, lemon juice, salt and simmered for 30 minutes.
Chicken scallops with libcamomile scallops thoroughly. Pour the wine into the pan, put in wine scallops and onions, cook for about 10 minutes. Remove onions and scallops from the pan, chop.
Melt the oil in a pan, add the flour, stir, fry for one minute. Remove from heat, add milk, then wine, in which the cooked onions and scallops. Put the pan again on the fire, bring to a boil, stirring constantly, hold the fire until the mixture thickens.
Add scallops and onions, season with salt and pepper. Put in a small saucer. Whip the cream, mix with cheese and place on top of scallops.
Salad with chicken rebelcapitalist scallops, remove the salt with the film, rinse in cold running water. Boil water, add salt, throw the scallops, boil until cooked and leave to cool in the broth.
Wash and peel the potatoes, cut into strips, boil in salted water. Slice the gherkins. Boil in salted water the cauliflower, let cool and disassemble into small florets.
Boil water, add salt, put in boiling water mushrooms and cook until tender, cool and cut into large slices. Mix the potatoes, gherkins, cauliflower and mushrooms in salad bowl. Season with mayonnaise.
Boil eggs, chop the yolks on top of vegetable mixture. Sprinkle chicken scallops. Slice the celery as small as possible, sprinkle it on a salad.
Advice 7: How to cook chicken necks in slow cooker
Chicken necks, a very peculiar dish - lots of bones-the vertebrae and little meat. But fans of these Goodies a large number. The recipes are very different. But the best dish is in the slow cooker - the meat turns out tender and itself departs from the bones that are in the process of cooking becomes very soft.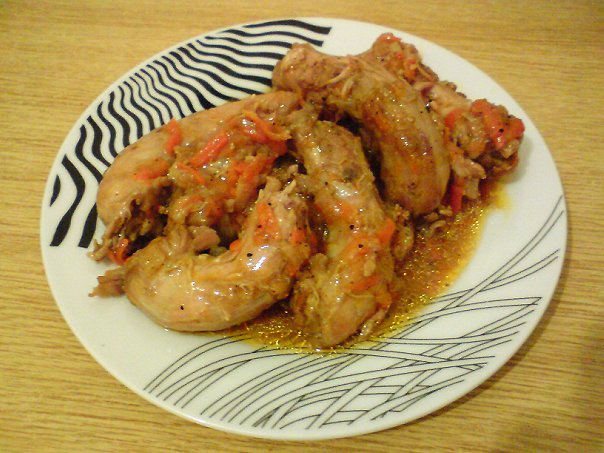 You will need
chicken necks - 1 pack
onion - 1 piece
carrots - 1 piece
soy sauce
spices of choice
Bay leaf
salt and pepper to taste
Instruction
First you need to rinse chicken necks and remove their skin. Salt and pepper to taste, add favorite spices and leave to marinate for an hour. Carrot regime into strips or grate on a coarse grater. Cut it finely the onion.
After an hour put chicken necks in a bowl multivarki and fry them until Golden brown on each mode.
After roasting add onion, carrot, 1-2 tablespoons of soy sauce, a Bay leaf, a little water and put it to stew for 1.5 hours.
Note
If you have a lot of necks, then fry them in a large pan, to make it faster, but the stew already in the slow cooker.
Useful advice
Chicken necks actually needed much less time for cooking. But the more they stew, the more tender it. To this dish you can cook any side dish of your taste. Also chicken necks are good as snack to beer.
Advice 8: How to cook chicken fingers
The fingers can be made from chicken fillet and stuff with a delicious filling of ham, cheese and eggs.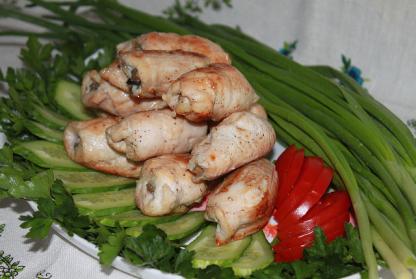 You will need
1 kilo chicken fillet, 300 grams of ham, 400 grams of Maasdam cheese, 2 cloves of garlic, egg, mayonnaise, onion, dill.
Instruction
Chicken fillet cut into portions, repelling, salt and pepper.
Ham, half of cheese and a boiled egg grate, dill finely chop, garlic chop. All mix.
On each fillet place 1 tablespoon of the mixture and roll into a roll.
Fry rolls in hot oil for 2 minutes on each side.
Place the fried fingers in a pan and cover with sliced onions. Sprinkle with the remaining grated cheese and pour mayonnaise.
Bake in the oven for 30 minutes. Serve with mashed potatoes or buckwheat.