You will need
For cooking chicken Breasts with soy sauce: 4 servings - 2 chicken Breasts; soy sauce; spices

pepper
garlic and herbs to taste.
For cooking chicken Breasts with lemon: 4 servings - 2 chicken Breasts; salt - pepper
1\2 - 1 lemon; a couple of heads of garlic; onion
herbs to taste.
For cooking chicken Breasts with a filling and oranges: 2 - 3 chicken Breasts; whites four eggs; 1 table. lemon juice, salt
pepper - to taste;100 ml low-fat yogurt; 2 - 3 oranges. Spices - optional.
Instruction
One of the ways to combat dryness of chicken breast – soy sauce. Soak in it the chicken should be already split, the best pre-cut the breast into two to four pieces, so all the meat is well soaked with sauce. Leave the sauce on the chicken should be 5 - 10 minutes not forgetting to stir! If You don't want to cut the chicken breast, leave it whole in the sauce, considering, however, that the time of soaking will be about double compared to the sliced breast. After marinating the chicken, you can add garlic or spices to taste and proceed to the fire or the frying. As for the salt, it should not be put, because after "swimming" in sauce chicken already acquire a nice salty flavor.
For those who don't like soy sauce, you can offer to replace it with the lemon marinade. For its preparation will need 1 lemon, a couple cloves of garlic, salt, pepper, onion and herbs to taste. Carve the chicken, cut, salt - pepper, and put in a deep plate or bowl. On top sprinkle with grass, finely sliced or grated garlic, lemon, divide into several parts and also put in a bowl with the chicken. Cover with a chicken dish or a tight lid to form the juice. Leave the chicken in the marinade at least 30 minutes.
If time is running out, the lemon juice, you can just pour the chicken just before cooking. The fact that lemon juice in conjunction with hot oil, forms a kind of film – a protective coating on the meat, not allowing it to drain the natural juice from the chicken. So the breast and it turns out especially tender and juicy, with a pleasant fresh scent!
If You want something special, you can bake chicken Breasts in the oven, with delicate shading and oranges that will add new notes of chicken meat. So, let's cut the breast and put them on a baking sheet greased with a thin layer of butter. Now to the fun part - casting! Without it: the dish is not a dish! Whisk egg whites until frothy, adding to the resulting mass teaspoon of lemon juice and a pinch of salt. Separately, prepare the second part of the fill - mix the juice and pulp of one orange with low-fat yogurt. Then mix well all the ingredients.
The chicken thickly daubed the resulting fill and bake at a temperature of 200C for about 10, maximum 20 minutes. Then reduce the temperature to 150C, and on top of the meat put the pre-peeled and evenly sliced slices of two oranges. You can also sprinkle the chicken with your favorite seasonings and left to languish in the oven for about ten minutes.
Useful advice
You can also add in the marinade for the chicken a couple of teaspoons of red wine and/or sweet and sour sauce for a special, slightly tart flavor!
Advice 2 : How to cook chicken Breasts so they were juicy
Many people complain that they did not manage to cook a tender and juicy chicken Breasts. The meat turns out dry and tough. So one of the main advantages of this part chicken fat turns into a significant drawback. It is precisely because of this delicate and diet chicken Breasts so just "dry up". But do not despair, ways to keep
chicken breast
tender and juicy so much that everyone will find a recipe that suits him.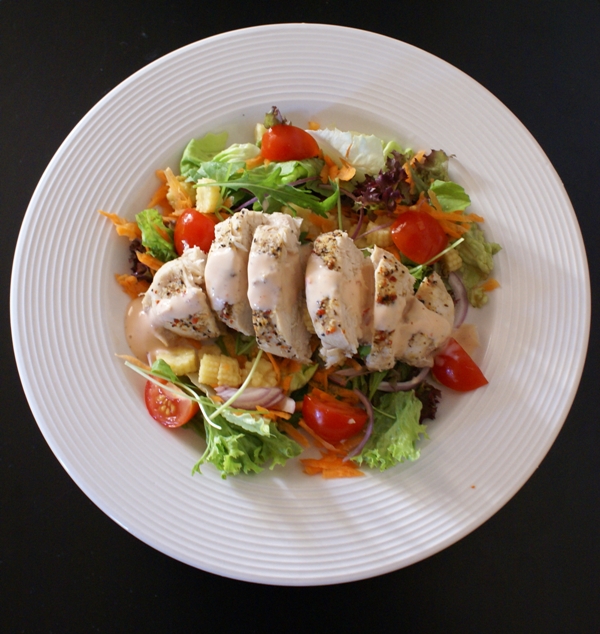 You will need
Chicken Breasts with herbs in foil

Chicken Breasts
Olive oil
Herbs and spices of your choice
Food foil
Chicken breast in a citrus-peanut breadcrumbs
4 medium chicken Breasts
1 liter of hot water
2 tablespoons sea salt
2 cups salted almonds
1 Cup bread crumbs
1 large chicken egg
¼ Cup lemon or orange zest
1 tablespoon flour
2 tablespoons sesame or any other vegetable oil
Pepper
Breast of chicken in lemon marinade
4 chicken Breasts
cut in half
hot red pepper-Chile
3 finely-chopped garlic cloves
2-3 tbsp finely chopped herbs - rosemary
thyme
oregano
of your choice
¼ Cup lemon juice
¼ Cup olive oil
Instruction
Culinary techniques to maintain the juiciness of chicken Breasts, a great many. Here are some of them: "sealed" followed by baking, pre-marinating, breading, cooking Breasts in foil. Let's consider the most simple and popular.
Chicken Breasts with herbs in foil
Preheat the oven to 220 degrees Celsius.
Mix in a bowl olive oil, salt, pepper and dry or fresh chopped herbs. You can also add a spoonful of wholegrain mustard to make the chicken more savory taste.
Coat chicken with mixture of oil and seasonings. Wrap the breast in foil. Pay special attention to the "package" of
foil
was tight and without gaps.
Bake the chicken for 30-40 minutes, depending on the weight of the fillet. You'll have a fragrant, juicy and light.
Chicken breast in a citrus-peanut breadcrumbs
This recipe uses another great cooking technique – pre-salting chicken meat.
Dissolve sea salt in warm, in any case, not in hot water. Put the Breasts in a brine bath at least half an hour, to a maximum of 45 minutes. Thus they are evenly salted and will be juicier.
Peel the almonds and finely chop it, mix in a wide bowl or plate with high sides with bread crumbs.
Whisk the egg with a fork, add the zest and pepper. Do not add salt, as the almonds are already salted!
In a thick-walled skillet, heat the oil. Reduce heat to medium.
Dry breast, whisk and flour. Dip turns Breasts into the egg mixture and then into nut-bread breaded.
Fry the chicken in hot oil for 5-7 minutes on each side. Do not cover the dish with a lid, otherwise the breading will get soggy from the accumulated steam and start to fall off.
Breast of chicken in lemon marinade
Chicken Breasts lightly beat off and marinate. For the marinade in a bowl, combine lemon juice, oil, garlic, pepper, parsley. If you get juice from a fresh lemon, before you squeeze it, send a citrus half a minute in the microwave. So it will flow out more juice.
Breasts in the marinade, cover with a lid or foil and send it for half an hour in the refrigerator.
Marinated breast you can just quickly fry in a dry non-stick pan for 2-3 minutes on each side or bake on the grill.
Useful advice
We intentionally do not is a popular recipe for chicken Breasts baked in bacon with herbs, as this dish is not diet. But delicious. But even tastier it will be, if you cut in the chicken breast "pocket" and put in it soft cheese with herbs.
Advice 3 : How to boil chicken breast
White chicken meat called chicken
breast,
is a diet product, it contains almost no fat, but is present in large quantities animal protein and many other nutrients. Especially a lot of phosphorus, which is essential for the human body. The phosphorus content of chicken breast is second only to seafood. If you decide to cook a chicken breast, it is better before cooking to remove her skins and meat to take home a young chicken, then the broth and chicken breast are delicious.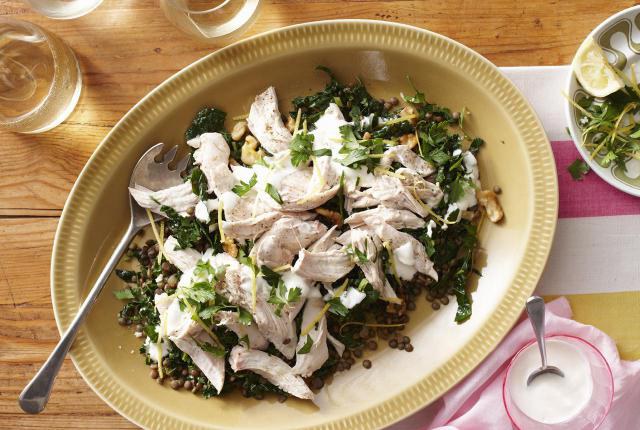 You will need
Chicken Breasts - 2 pieces,

Onion – 1 piece,
Carrot – 1 knock
Celery – 1 stalk,
Bay leaf,
Salt
pepper.
Instruction
Breast rinse, remove them with sandpaper. Pour into the pan enough water so that it just covered the Breasts, when we put them
on to cook
. Put the saucepan on the fire, when the water boils, toss the onion, carrots. Cut the celery in large pieces, throw it into the water. Put the pepper – 5-8 pieces, season with salt. Reduce heat and let the vegetables boil.
After 10 minutes, drop in boiling chicken Breasts, turn the fire on high and wait until the water boils. After that, the fire abated, so the broth is barely boiling. Throw a Bay leaf.
After 15 minutes, turn off the pan and leave the broth to stand for 10 minutes, without removing from the pan cover.
Remove the meat, cut it into serving pieces. Broth pour into mugs, sprinkle with chopped herbs and serve with meat.
Useful advice
Garnish with chicken Breasts very well as a side dish to use boiled rice and vegetables.
If you are on a diet, the vegetables with a chicken breast can be baked in the oven.
For cooking, use of chilled or fresh meat of young chickens, then boiled chicken breast is juicy and tender.
Chicken breast is good to use for salads, seasoning them with a mixture of olive oil, lemon juice and soy sauce.
Advice 4 : How to cook a breast of chicken
If you wish to eat correctly and healthy, you need to add to your diet chicken. The diet part of it – the breast and the most useful way of cooking – boiling. Today you will learn how to cook chicken breast correctly.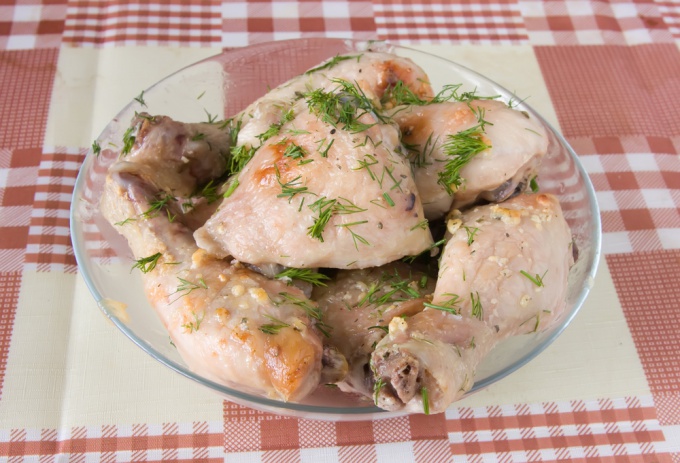 You will need
- breast chickens;
- broth;
water;
- salt and pepper.
Instruction
First you need to prepare breast. If the meat is frozen, let it thaw. This process can occur in the microwave if you are in a hurry to cook dinner, either in the fridge or in the pot of water. After that you need to wash each piece of chicken.
It is desirable to divide each breast into two pieces, so the meal will be ready faster. Then put the chicken pieces in a pot of water. Remember, the water needs to shut them down completely.
After that, the pot of Breasts to put on the stove and brought to a boil, then reduce heat. To check the readiness by the color of the inside of the piece should not be pink spots. How to cook a breast? Small pieces that are not skin and bones should cook for about 20 minutes. If you cook a bird for salad and bite size does not exceed 5 cm, then everything will be ready in 10 minutes.
When ready, remove the pan from the heat and drain the liquid. Lay the breast on a plate and check that the following method – the meat should easily break with a fork. Salt and pepper Breasts. Prepared dish can be a filling salad or serve it with a side dish of potatoes or oatmeal. Serve hot.
Advice 5 : The secrets of cooking a juicy chicken breast
Chicken breast - diet product. However, prepare to love her not many - when roasting a breast is dry and tasteless. To avoid this, you need to follow some rules of cooking chicken breast. Then she stays incredibly juicy and flavorful.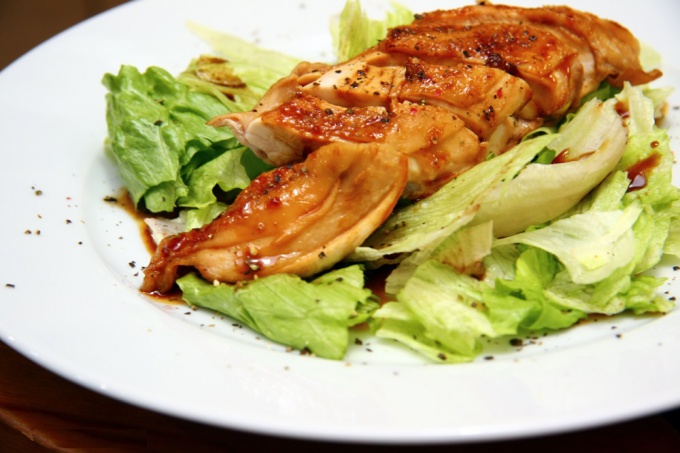 Recipe 1 - grilled chicken breast
If you really want to fry a chicken breast, let it be in the batter. The batter is prepared as follows: mix the bread crumbs with any seasoning and one egg yolk (1 kg smoky Breasts). Leave for 10 minutes to swell, then dip the breast in batter on both sides and fry. Fry without a lid - then it will be delicious crisp and the inside juicy flavorful chicken breast.
2 recipe - oven baked chicken breast
For cooking chicken breast in the oven you will need a bag for baking, 150 g sour cream, dill, garlic. Breast, cut into small (2-4 cm) pieces, put it into a bag for baking, pour sour cream, add chopped garlic and dill, salt - to taste. Tie the bag, puncture it in several places to get out excess steam, and place in a preheated 180 degree oven. Chicken breast is cooked quickly - after 20-25 minutes the dish can be removed. Chicken breast will retain all their juices, will be very soft.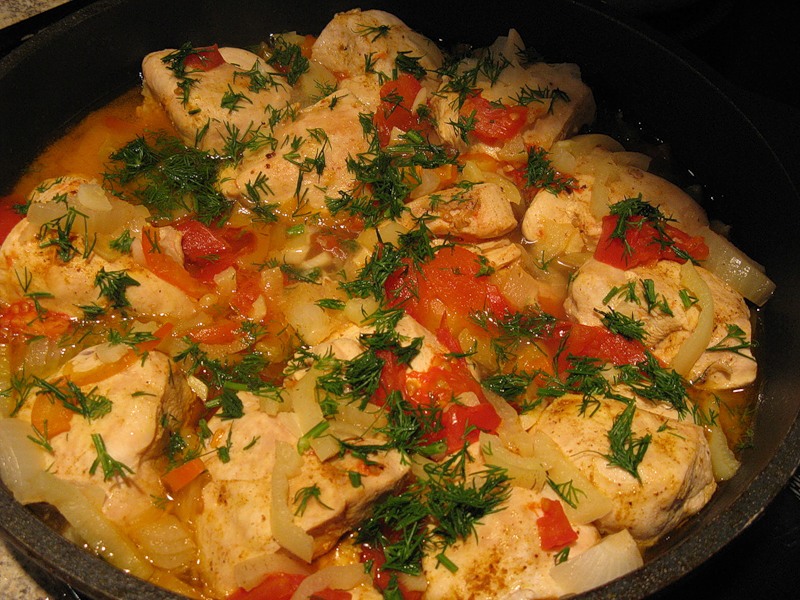 3 recipe - braised chicken breast with vegetables
Very tasty and healthy dish. In a large pot with thick walls lay a series - chicken breast (1 kg) 1 small zucchini, 1 eggplant, 1 tomato, 3 potatoes. The chicken should be diced, the vegetables round thin slices. Optionally, you can add a layer of sour cream and tomato sauce. Under a layer of vegetables chicken will be very juicy and soaked appetizing aromas.