You will need
For cooking chicken Breasts with soy sauce: 4 servings - 2 chicken Breasts; soy sauce; spices

pepper
garlic and herbs to taste.
For cooking chicken Breasts with lemon: 4 servings - 2 chicken Breasts; salt - pepper
1\2 - 1 lemon; a couple of heads of garlic; onion
herbs to taste.
For cooking chicken Breasts with a filling and oranges: 2 - 3 chicken Breasts; whites four eggs; 1 table. lemon juice, salt
pepper - to taste;100 ml low-fat yogurt; 2 - 3 oranges. Spices - optional.
Instruction
One of the ways to combat dryness of chicken breast – soy sauce. Soak in it the chicken should be already split, the best pre-cut the breast into two to four pieces, so all the meat is well soaked with sauce. Leave the sauce on the chicken should be 5 - 10 minutes not forgetting to stir! If You don't want to cut the chicken breast, leave it whole in the sauce, considering, however, that the time of soaking will be about double compared to the sliced breast. After marinating the chicken, you can add garlic or spices to taste and proceed to the fire or the frying. As for the salt, it should not be put, because after "swimming" in sauce chicken already acquire a nice salty flavor.
For those who don't like soy sauce, you can offer to replace it with the lemon marinade. For its preparation will need 1 lemon, a couple cloves of garlic, salt, pepper, onion and herbs to taste. Carve the chicken, cut, salt - pepper, and put in a deep plate or bowl. On top sprinkle with grass, finely sliced or grated garlic, lemon, divide into several parts and also put in a bowl with the chicken. Cover with a chicken dish or a tight lid to form the juice. Leave the chicken in the marinade at least 30 minutes.
If time is running out, the lemon juice, you can just pour the chicken just before cooking. The fact that lemon juice in conjunction with hot oil, forms a kind of film – a protective coating on the meat, not allowing it to drain the natural juice from the chicken. So the breast and it turns out especially tender and juicy, with a pleasant fresh scent!
If You want something special, you can bake chicken Breasts in the oven, with delicate shading and oranges that will add new notes of chicken meat. So, let's cut the breast and put them on a baking sheet greased with a thin layer of butter. Now to the fun part - casting! Without it: the dish is not a dish! Whisk egg whites until frothy, adding to the resulting mass teaspoon of lemon juice and a pinch of salt. Separately, prepare the second part of the fill - mix the juice and pulp of one orange with low-fat yogurt. Then mix well all the ingredients.
The chicken thickly daubed the resulting fill and bake at a temperature of 200C for about 10, maximum 20 minutes. Then reduce the temperature to 150C, and on top of the meat put the pre-peeled and evenly sliced slices of two oranges. You can also sprinkle the chicken with your favorite seasonings and left to languish in the oven for about ten minutes.
Useful advice
You can also add in the marinade for the chicken a couple of teaspoons of red wine and/or sweet and sour sauce for a special, slightly tart flavor!
Advice 2: How to cook delicious chicken legs
Chicken legs - wand of the mistress. Quick to prepare, hearty, affordable. They are suitable for use as a festive dinner, and everyday. According to doctors, the chicken meat should be eaten twice a week. Vitamins and minerals contained in the legs, good for skin and hair, improve the nervous system and metabolic processes in the body. Cook chicken legs in the sauce, delicious dish.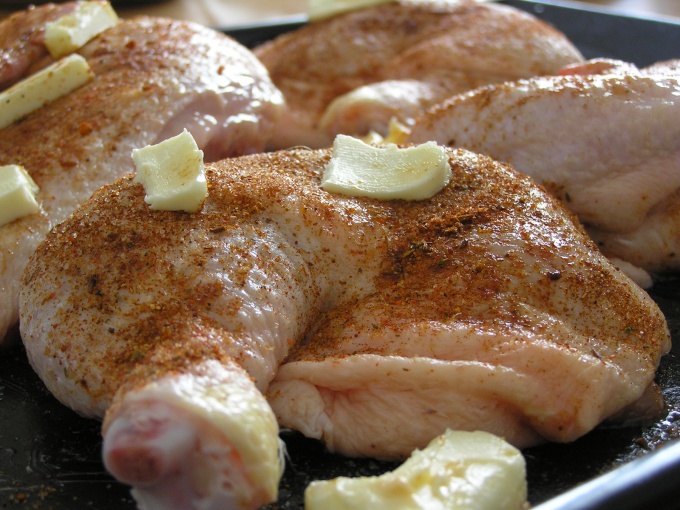 You will need
2 bulbs;
1 tablespoon of flour;
1.5-2 cups of water;
1 tablespoon tomato paste;
3 cloves of garlic;
black pepper;
Bay leaf;
salt;
2 tablespoons of 9% vinegar;
vegetable oil for frying.
Instruction
Inspect chicken legs. Remove them all penechki of feathers left over after processing. Excess fat is cut away, for cooking you may not need it. Rinse the chicken legs under running cool water. Gently Pat dry them with paper towel and cut each into three parts.
In a pan heat the vegetable oil. Fry the chicken
legs
from both sides until Golden brown. Do not put meat on a cold pan. In this case it will be less juicy. Roasted chicken legs fold into a thick-walled pot.
2 onions onions clean, wash and cut into half-rings. Brown onions lightly in vegetable oil. Put it in the pot with the meat.
On a clean dry frying pan fry 1 tablespoon of flour to the appearance of a brownish tint. Flour cool. Then dilute it with half Cup cold water, mix everything until no lumps of flour. Put 1 tablespoon of tomato paste, 3 crushed cloves garlic, 10 peas black pepper, Bay leaf and, stirring, bring everything to a boil.
In the pot with the ham and onions pour hot sauce from the pan, add 1.5 cups of hot water and leave to stew on medium heat until cooked meat. 10 minutes before end of cooking pour 2 tablespoons of 9% vinegar, stir contents of the pan.
On a plate put the garnish and chicken pieces. Pour all fragrant sauce and serve hot. If desired, sprinkle the dish with chopped greens.

Bon appetit!
Note
Buying legs, pay attention to the skin. It should not be sticky, undamaged and odor free.
Useful advice
For a side dish to the chicken legs in the sauce, serve mashed potatoes, boiled rice, pasta or buckwheat.
If you want a more dietary dish, skin the legs before cooking to remove.
Advice 3: The secrets of cooking a juicy chicken breast
Chicken breast - diet product. However, prepare to love her not many - when roasting a breast is dry and tasteless. To avoid this, you need to follow some rules of cooking chicken breast. Then she stays incredibly juicy and flavorful.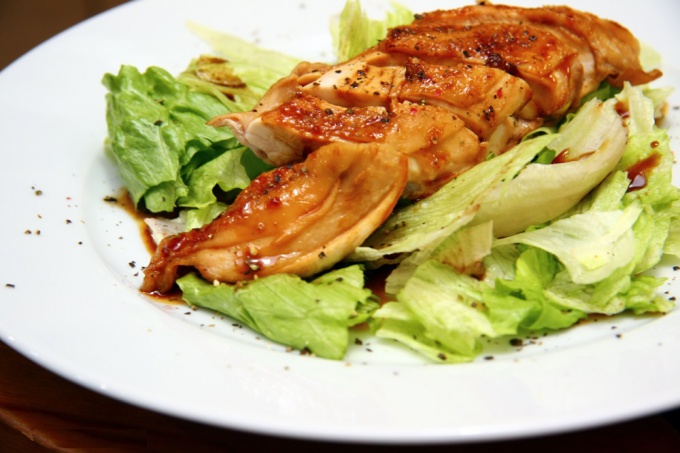 Recipe 1 - grilled chicken breast
If you really want to fry a chicken breast, let it be in the batter. The batter is prepared as follows: mix the bread crumbs with any seasoning and one egg yolk (1 kg smoky Breasts). Leave for 10 minutes to swell, then dip the breast in batter on both sides and fry. Fry without a lid - then it will be delicious crisp and the inside juicy flavorful chicken breast.
2 recipe - oven baked chicken breast
For cooking chicken breast in the oven you will need a bag for baking, 150 g sour cream, dill, garlic. Breast, cut into small (2-4 cm) pieces, put it into a bag for baking, pour sour cream, add chopped garlic and dill, salt - to taste. Tie the bag, puncture it in several places to get out excess steam, and place in a preheated 180 degree oven. Chicken breast is cooked quickly - after 20-25 minutes the dish can be removed. Chicken breast will retain all their juices, will be very soft.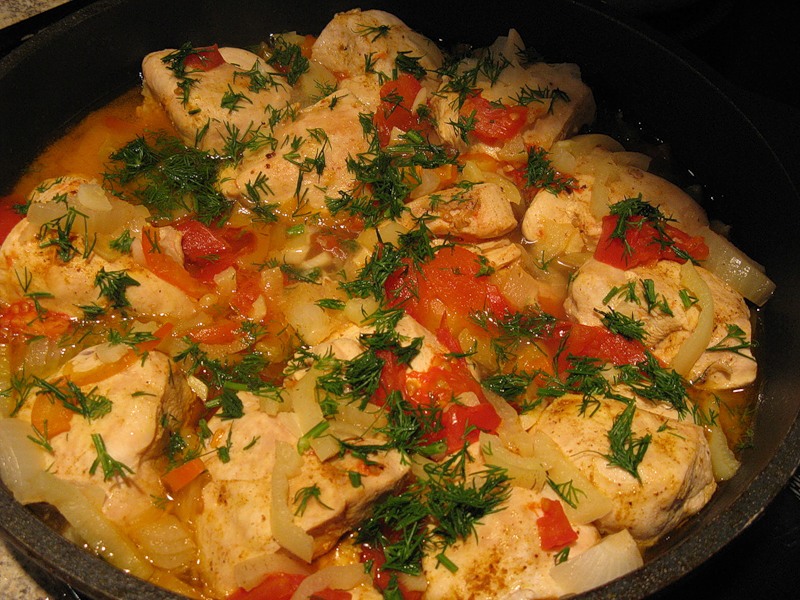 3 recipe - braised chicken breast with vegetables
Very tasty and healthy dish. In a large pot with thick walls lay a series - chicken breast (1 kg) 1 small zucchini, 1 eggplant, 1 tomato, 3 potatoes. The chicken should be diced, the vegetables round thin slices. Optionally, you can add a layer of sour cream and tomato sauce. Under a layer of vegetables chicken will be very juicy and soaked appetizing aromas.