You will need
200 gr. sugar
100 gr. raisins
5 gr. dry yeast
3 l of water
three-liter jar.
Instruction
Prepare the toasts from rye bread. Best suited Borodinsky bread. Slice the bread into pieces and bake in the oven until Golden brown.
Take a glass jar, and put the breadcrumbs. Pour them with hot boiled water and set aside to chill.
Dissolve yeast in warm boiled water and pour in the warm infusion of bread and water. Then the sugar and stir everything. Cover with gauze or a special cover with holes. Leave overnight it all to ferment.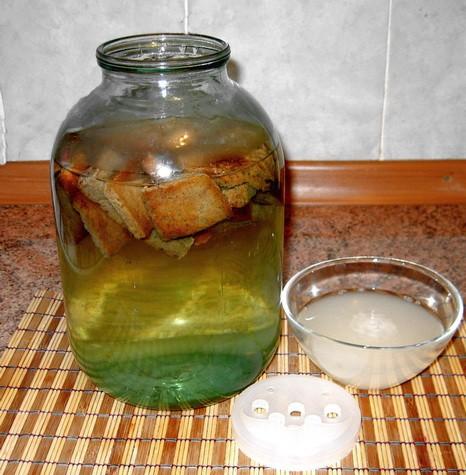 Strain the kvass in the morning through cheesecloth or sieve into a separate container. Try and add sugar if you don't sweet. The rest of the bread put back in the jar.
Wash plastic bottles, drop to the bottom of 3-4 raisins and pour kvass. Put the bottles in the fridge. A day kvass is ready.
Fill the jar again with the remaining leaven of cold water, add the sugar, a little crackers and leave it alone in a jar a handful of raisins. The brew needs to ferment again. You can see him playing in the bubbles. In the morning, repeat the procedure.
So you can all summer every day to get a delicious home brew. You can take a break and clean ferment for 2-3 days in the fridge, and then again to use.
Note
Kvas contains a little alcohol, so it is not recommended to use the drivers before the trip!
Useful advice
You can add dried mint to the jar, the brew will have a more refreshing taste.