You will need
200 gr. sugar
100 gr. raisins
5 gr. dry yeast
3 l of water
three-liter jar.
Instruction
Prepare the toasts from rye bread. Best suited Borodinsky bread. Slice the bread into pieces and bake in the oven until Golden brown.
Take a glass jar, and put the breadcrumbs. Pour them with hot boiled water and set aside to chill.
Dissolve yeast in warm boiled water and pour in the warm infusion of bread and water. Then the sugar and stir everything. Cover with gauze or a special cover with holes. Leave overnight it all to ferment.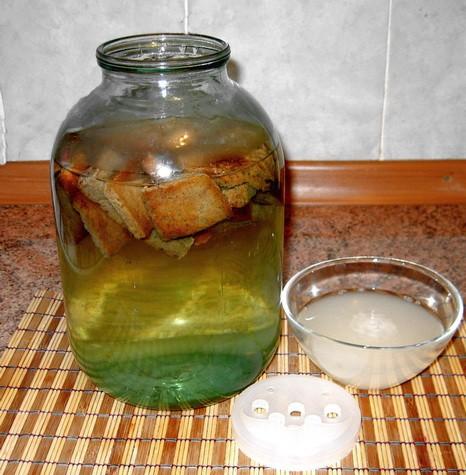 Strain the kvass in the morning through cheesecloth or sieve into a separate container. Try and add sugar if you don't sweet. The rest of the bread put back in the jar.
Wash plastic bottles, drop to the bottom of 3-4 raisins and pour kvass. Put the bottles in the fridge. A day kvass is ready.
Fill the jar again with the remaining leaven of cold water, add the sugar, a little crackers and leave it alone in a jar a handful of raisins. The brew needs to ferment again. You can see him playing in the bubbles. In the morning, repeat the procedure.
So you can all summer every day to get a delicious home brew. You can take a break and clean ferment for 2-3 days in the fridge, and then again to use.
Note
Kvas contains a little alcohol, so it is not recommended to use the drivers before the trip!
Useful advice
You can add dried mint to the jar, the brew will have a more refreshing taste.
Advice 2: How to make home brew bread
There are several varieties
of kvass
. However, special love enjoys a drink made from bread. It turns out not only nourishing, but also useful. To make kvass at home is not difficult.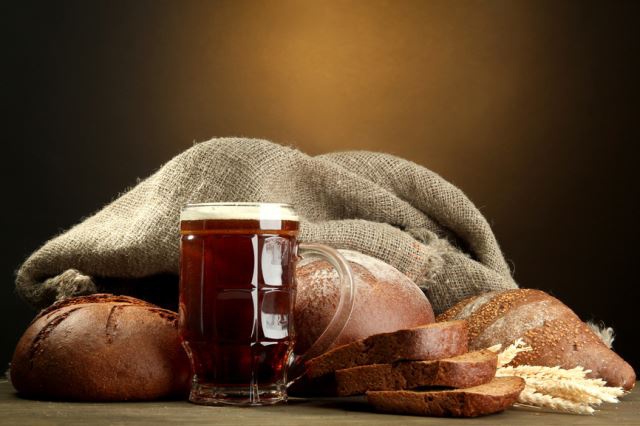 You will need
3-liter jar:
- a loaf of black bread;
- raisins to taste;
- 6 tbsp of sugar;
- 1 tsp of dry yeast.
Instruction
Slice the loaf of bread into pieces and dry them in the oven until the appearance of brown color.
Put the yeast for a future brew. To do this, take a quart jar and fill it halfway with dried bread. Add 2 tbsp sugar and pour boiling water until the middle of the banks. Leave ferment for an hour.
Mix it in an hour and if necessary, add more water. You should get a gruel of bread. Cool it to lukewarm.
Add yeast slurry, mix well and cover the bottle opening with gauze or cloth. Leave for two days in a warm place.
Fill a quarter three-liter jar with the remaining breadcrumbs. Add 4 tbsp sugar and mix. Fill a jar on the shoulders of boiling water. Cool and then add half the starter. Again, cover the jar with cheesecloth or rag. Leave in a warm place for a day.
Strain the kvass through cheesecloth, put the raisins and sugar to taste. If desired, you can add mint leaves or lemon balm. Then the brew will acquire the taste pleasant notes. Leave it for another day in the heat. Then pour the brew in a separate 1.5 liter bottles and put in storage in the refrigerator.
Advice 3: How to make home brew from a dry starter culture?
Kvass is one of the oldest, non-alcoholic, beverages, prepared on the basis of fermentation of flour and malt, dry rye bread. It was invented over a thousand years ago, but nowadays it is a well-known.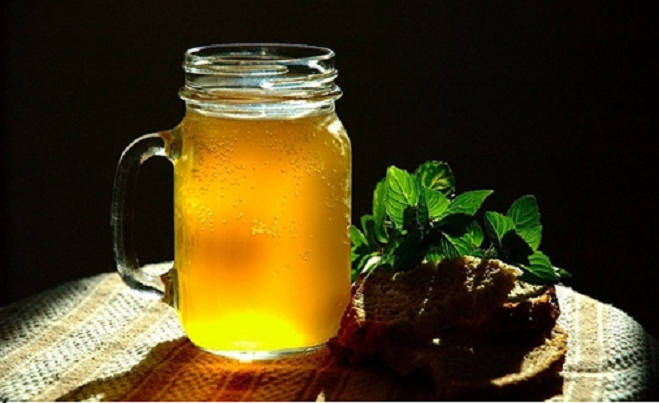 Need
-3 tablespoons of dry kvass;
-3 tablespoons of sugar;
-2 liters of water;
-Milk;
-Rye bread.
Cooking
Buy store easy dry brew, take 3 tablespoons of dry kvass put them in a pot and cover with water. Place the pot with all its contents on the fire and wait until all the liquid has boiled for 5 minutes. Next, pour in three-liter jar, add water, sugar and a spoon of milk. Once the Bank is full almost to the brim, add a few pieces of rye bread (in any case not white) and put the jar in a warm place, covered with a saucer or gauze. Over time, the brew becomes much lighter and the fermentation process is already happening, the contents of the can pour into bottles and close the lids, then it is necessary to clean a cold place. And get ready to drink in 3 days.
All the useful qualities he acquires, when the process of fermentation. A drink of dry kvass, as with any other kind of brew can cure various diseases, namely: gastritis, hypertension, dysbacteriosis, various diseases of the heart. And in a jiffy can bring up people who have weak immunity, because those acids that it has, lead to the decomposition of the sick and dead cells.
Your vitamins he receives from yeast, when used in this brew are strengthened tooth enamel, the level of ability to work of every citizen. Can be used during the diet, which helps in improving the metabolism and digestive tract, helps in digestion process of different foods and fatty meats, which were eaten by the man a few minutes, hours earlier, increases the appetite and makes the level of fluids and salts in the body within normal limits.
In this drink, there are negative qualities. You can not drink, people that have kidney problems, gastrointestinal diseases, kidney stone disease and any other disease or you may cause an exacerbation of the disease in any field. It also has a 1 – 2% alcohol, it is strictly forbidden to drink people who are driving a car, or you might for this reason conflicts with the authorities.
Advice 4: How to make homemade kvass from black bread
Kvass to prepare yourself better. It is more useful than brought from the store and when you follow the recipe much tastier. Here's a good recipe of kvass without yeast.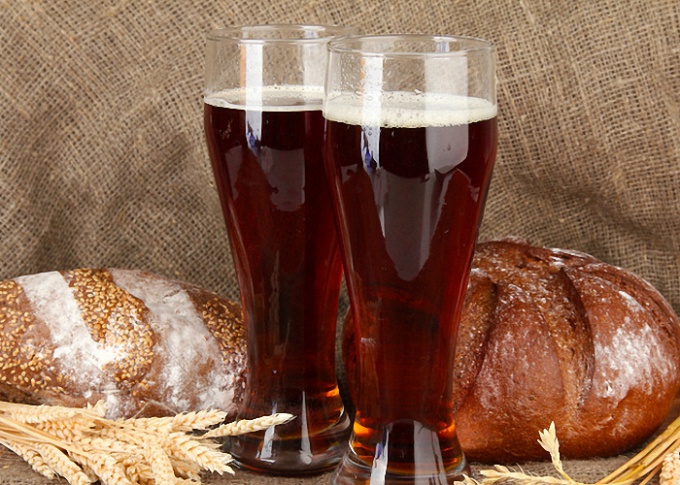 In order to prepare a home-made kvass without yeast, you will need to do first ferment. Prepare for her a glass of water boiled, it should be barely warm; a small slice of black bread; teaspoon of sugar. Put ingredients in a half-liter jar, pre-chopped bread. Cover the jar with a clean cloth. Thus prepared the sourdough for a couple of days put in a warm place.
To do at home grain brew, using yeast, to leaven you will need to add the following ingredients: a tablespoon of sugar, a couple pieces of rye bread, a half liter of cold boiled water, half a liter of the finished leaven.
After takes a day or two, the starter should try to ensure its readiness. Supposed to be cloudy, bitter liquid. Prepare for cooking two-liter brew capacity, into it pour the yeast, add two crushed piece of rye bread, sugar, fill to the brim with containers of boiled cooled water. On top, close the lid.
Now the jar (or pitcher) with all the ingredients necessary for a day to write in a quiet place to draw. You can add croutons, pre-dried until Golden brown in the oven or microwave. Brew while brewing a bit longer, but almost immediately acquire an appetizing Golden color. Try the brew tastes need a day or two.
To taste the kvass has been more intense, to insist it should be longer. The liquid can be used for re-fermentation to obtain a new portion of the drink. Pour into a separate container two-thirds of the resulting fluid. What's left in a jar, add boiling water, cooled to normal room temperature. Add okrashenii a piece of rye bread. Then all you have to cover for later infusion.