Instruction
You can easily diversify your daily menu, if your house appears buckwheat flour. Savory buckwheat bake bread, pancakes, dumplings, biscuits. Buckwheat flour is widely used in baby food because it is prepared faster and retain more of their healing properties. This flour you can buy in any big store, but much nicer to do it with their hands.
Take a common buckwheat and loop it from debris.
Rinse groats with warm water until until the water is transparent.
Calcined buckwheat in a skillet until light crackles. Then cool it, spread out on the table.
Crunch in a coffee grinder in small portions.
Store received the flour in a bag in a dry, dark and ventilated place.
Meals that contain buckwheat,
improve
bowel function and helps with constipation, lower cholesterol in the blood, improve memory, normalize blood pressure, strengthen the heart. There is even a diet that is very effective. Buckwheat increases the level of dopamine, which can cure mild depression. Cook buckwheat dishes at least once a week and you'll be healthy, happy and in great shape!
Note
The flour retains its useful properties up to two years, so keep track of how much time you have it stored.
Useful advice
Add in a bag of flour clove of unpeeled garlic, as it will not start bugs.
For the preparation of buckwheat bread you may want to add wheat flour.
Advice 2: How to make flour
White flour though and gives a very tasty product, but contains absolutely no nutrients. Remains almost one starch. You can make your own very tasty and useful flour. This will fit Pshenko, buckwheat, oatmeal, barley or crackers. You won't just make the flour, but will give your dish a special taste, different from the products of the conventional test. It is most convenient to use a coffee grinder, blender or spice mill.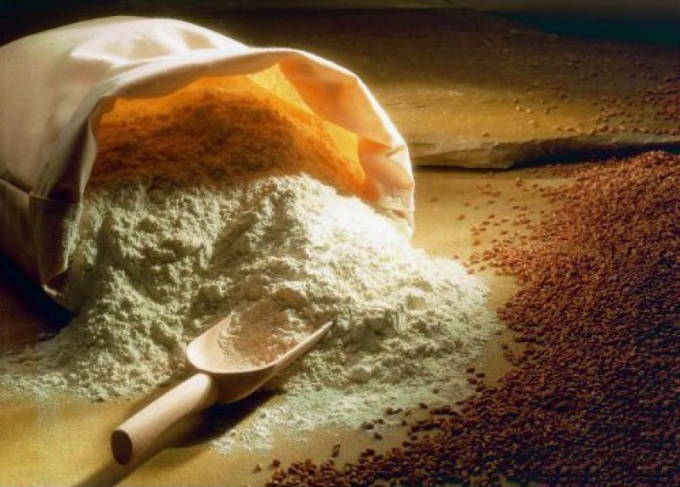 You will need
coffee grinder
a blender or spice mill.
Instruction
To make flour of crackers easier. Just put the crackers in a blender or coffee grinder and grind them to the maximum. This meal will taste very similar to the usual flour. It is useful to you in cases of emergency when regular flour will not be at hand, and you urgently will need to make gravy or fries.
As for flour from cereals. Only clean dry cereal is suitable for flour. If your cereal is dirty, rinse it well and dry in the oven or in a frying pan, stirring constantly. Now you can send it to grinding. The most delicious flour obtained from buckwheat and oats. You can make the flour not only fine grinding, but the larger to your product was impressive and unusual.
Very convenient to add to the usual flour flour homemade. Mix the flours, you will receive a new product, and the taste of the finished product will surprise you.
Prepared flour is best stored in paper bags, wooden packaging, but in any case not in plastic bags. Improper storage can lead to the spread of mold and bugs. Make sure that odors do not affect the finished flour and generally try to use it within six months. After this period, the product will not be usable.