You will need
salt
pepper
seasoning for fish
2 tomatoes,
1 onion,
2 cloves of garlic
greens,
mayonnaise
vegetable oil.
Instruction
To cook fish in the oven, you can use any bream, carp, crucian carp, Bonito, etc. you need to take a fresh and rather large fish, remove the scales and entrails. Also remove the gills and eyes (mind Express). Rinse well under running water, dry with paper towels and RUB inside and out with salt and pepper.
Prepare the stuffing for fish. Take a tomato peel. To do this, to make an incision in the form of a cross. And omit the tomatoes first in boiling water and then in cold water. Thus, the skin can be easily cleansed. Chop the tomatoes in large cubes.
Take one onion and a couple cloves of garlic, peel and wash. Onions should be finely chop onions, and garlic can be rubbed on a small grater, or skip through the press.
To take herbs (dill, parsley, cilantro) thoroughly wash and finely chop.
Mix chopped tomatoes, onions, garlic and herbs. Add a little salt, pepper and spices for fish. All combine and leave in the bowl.
Prepare a baking sheet, pre-oiled (on the bottom you can lay parchment paper). To thoroughly bake the fish, preheat the oven needs up to 180 degrees.
Then take our main ingredient and put inside the filling (as much as will fit, you can even stuff the head). And carefully put in on protivoyazvennoe fish. On top spread a thin layer of mayonnaise. Put in the preheated oven. Cooking time of fish depends on its size, but approximately 30-40 minutes.
Our fragrant dish is ready, serve whole on a large plate and garnish mugs of lemon and olives. Garnish suitable rice and fresh vegetables.
Note
Choose only fresh fish, please pay attention to the eyes, they should not be muddy and bloody. Open the gills and take a sniff, it should smell like fresh fish.
Advice 2: How to bake fish in the microwave
Bake fish
in the microwave
just for a few minutes. However, she turns out juicy and hearty. Even with a simple side dish. this dish can be served to the festive table.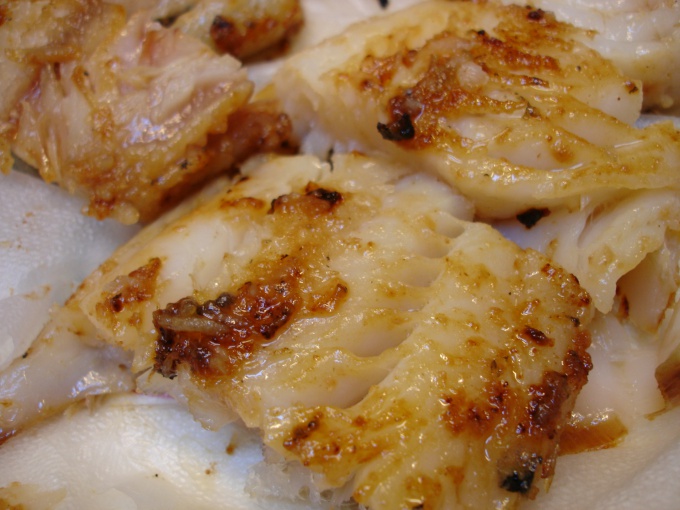 You will need
5 tablespoons of flour;
3 tablespoons vegetable oil;
half lemon;
2 eggs;
salt
parsley
ground black pepper
spices for fish to taste.
Instruction
Clean, rinse and dry fish, such as mackerel, blue whiting, tuna or red fish. Optionally, you can separate the fillets. Mix the flour and salt in a mixing bowl, add vegetable oil (preferably olive), half a Cup of warm water, break the eggs. Stir the dough with a spoon and put it on half an hour in the fridge.
Slice cut fish into pieces of 5-7 cm and Lightly salt on both sides. Black pepper, spices and chopped parsley. Sprinkle with lemon juice. Each piece of fish fillet dip in batter. Lay fish in a shallow dish so that pieces do not touch each other. From top to pour a small amount of vegetable oil without smell.
Cover the dishes of a small thin plate, leaving small gaps around the edges, in order not to soil the walls of the microwave oven. Place the prepared fish in the microwave for 4 minutes on maximum power. After the time remove the dishes from the oven and remove the top plate cover. With a fork, flip each piece on the other side. With a spoon baste the fish with the separated juice. Again cover with the same bowl and place in the microwave for 4-5 minutes.
Check the readiness of the fish – the flesh should be white or pink for red fish. If you find that the pieces are not cooked, then put to heat for another minute. But don't overdo the fish in the oven, it can become dry. To avoid this, place in the microwave along with a plate glass of water. Do not put a lot of fish pieces at a time for baking, otherwise they will be baked unevenly and will be raw in places. The dish is cooked very quickly, so better divide the prepared fish for 2-3 times.
Separately, fry or boil the potatoes and place in a bowl which you cooked the fish. She soaked fish fragrant juice. Instead of potatoes you can cook for a side dish boiled rice or pasta.
Advice 3: How to cook sea bass in oven
Branzino (sea bass) is considered in culinary terms a universal fish. It's delicious in baked, fried, grilled or in the ear. In addition, this fish does not contain bones. Due to such advantages, dishes of sea bass is popular all over the world.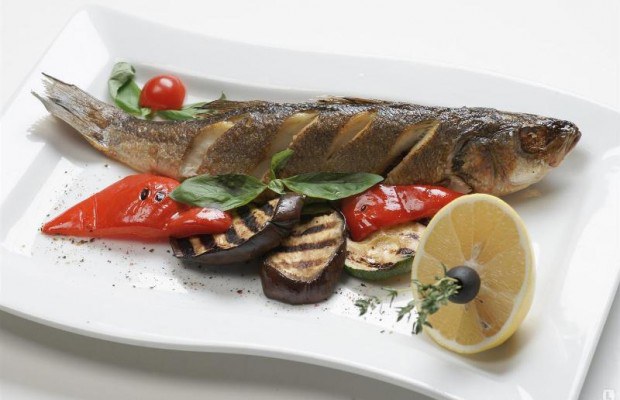 You will need
4 lemons;
cumin;
salt;
30 g butter;
1 clove of garlic;
2 Bay leaf;
4 leaf of Basil;
1 carrot;
1 onion;
7 tablespoons olive oil;
250 g tomato;
1 sprig of sage and celery;
100 g of white wine.
Instruction
Sea bass baked with lemon.
Gut the fish and rinse well with cold water. Try not to touch the gall bladder, if the gall be spilled, the finished dish may taste bitter. If you cook fish with the head, be sure to remove the gills and then again rinse the carcass.
Preheat oven to 220 degrees. Mix the seasonings: cumin, salt, black pepper and grate them on the fish outside and inside. Put a few slices of lemon.
Lay on a baking sheet foil in two layers and put her lemon slices, the length and width of each fish. On top of them lay the sea bass, and it has a layer of lemons. Pour a little dry white wine. Close the fish with foil on top, preload on all sides and place in oven for 15 minutes.
Remove the pan, open a little on top of foil and brush top of fish with butter. Without closing the foil, place baking sheet back in the oven for another 10 minutes. Baked sea bass can be cooked sauce. Mix olive oil, lemon juice, salt, cumin and fish juice from the finished dish and pour it over the fish.