You will need
0.5 l milk,
2 eggs
2 tbsp sugar
2 tbsp vegetable oil
1/2 tsp salt,
30 gr. fresh yeast
Instruction
Milk to boil in saucepan, let cool slightly. Empty into a bowl.
In warm milk dissolve 30 gr. fresh
yeast
. There also add 2 eggs, 2 tbsp sugar and ½ tsp salt.
Sift the flour through a sieve to make it saturated with oxygen. Gradually pouring flour, zamesit soft dough, adding 2 tbsp of vegetable oil.
Cover the dough with a clean tea towel and leave in a warm place for 2-2,5 hours.
When the dough came, you just got to press down and let stand for 40-50 minutes. Then again punch down dough.
On the table, sift a little flour, spread and knead the dough. Cover with a towel and be given a little more time for gluten. Our dough is ready, you can sculpt delicious cakes with different fillings. BON APPETIT!!!
Note
The flour must be sifted, it will become saturated with oxygen, and the dough will be softer and more luxuriant. No need to add yeast to the hot milk, as due to high temperature fungi yeast will die and the dough you will not succeed. So remember, the temperature of the milk (or water) should not exceed 40 degrees.
Useful advice
If the dough into the yogurt, pies it will make a very soft and tender. If you are preparing cakes in the oven, top them to lubricate the beaten egg yolk, then your cakes will turn out with a Golden crust.
Advice 2: How to prepare dough for fried pies
To prepare good dough for
pies
you need a good dough. To make it easy, but it is necessary to observe the proportions of the ingredients and be sure to add the liquid a certain temperature.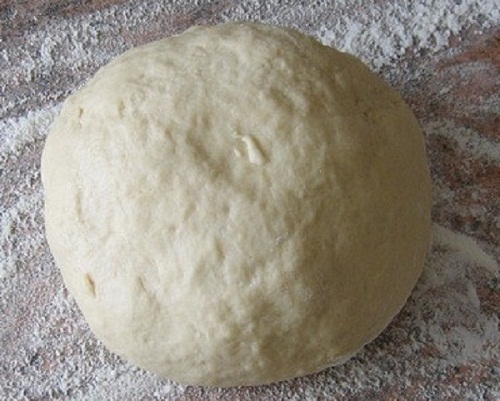 You will need
About 2 faceted cups sifted flour

1 teaspoon of salt
1 tablespoon sugar
dry yeast - 1 teaspoon without top
50 ml butter or oil
250 ml of water or milk.
Instruction
Get the dough. To do this in containers, of a capacity not less than 0.5 liters, mix 1 tablespoon sugar and 1 teaspoon
of dry yeast
. Pour the sugar and yeast 50 ml milk or water, the liquid temperature must be strictly from 30 to 40 degrees, otherwise the yeast will not work. If there is no thermometer, the temperature can be determined by lowering into the liquid finger. At a temperature of 30-40 degree water or milk hot, but not burning her skin.
Leave the dough for 15-30 minutes and wait until its volume will increase by about 2-3 times. Gently stir the dough has risen, pour it in a bowl of medium size, best fit for this metal bowl with high sides. Add 200 ml of warm milk or water, 1 teaspoon of salt and 50 ml of vegetable oil, or the same amount of melted butter (you can add other fats, such as margarine, corn, olive oil). Mix thoroughly all the ingredients.
Gradually add the flour to the mass and knead it until then, until it no longer sticks to hands. It will need about 2 cups twice sifted flour. The same batter can be immediately used for frying the pies, but it's better to let it sit another 20-30 minutes. During this time the dough will rise and become more airy. Be sure to grease the dough top with oil and cover the Cup top with a towel or thin package, it is necessary for it not to dry, yet will rise.
Immediately before frying again carefully knead the dough. Then you need to shift it out of the Cup onto a lightly floured wooden Board or kitchen table and divided into parts. Fry patties need a large amount of fat, in this case, the dough will not burn, and the cakes will turn out fluffy and bakes well.
Note
Pay particular attention to the temperature is added to the dough liquid. Hot is strictly prohibited.
Advice 3: How to cook pies from frozen dough
Who does not remember the smell of fresh pies? It creates a sense of comfort, and it is so important in the modern pace of life. And it is not necessary to spend half a day to properly knead the dough and wait until it rises. You can cheat a little bit to buy a ready-made frozen dough, make pies and enjoy life. And of course the tantalizing smell of fresh baking.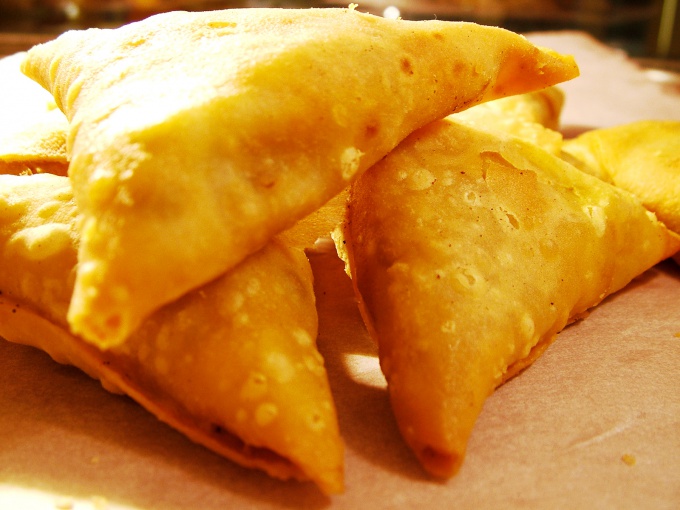 You will need
Package puff unleavened frozen dough

A pound of ground meat
Vegetable oil without smell
One medium onion
Spices
Salt
Instruction
Remove the frozen dough from the freezer and leave it out to thaw at room temperature, without opening the packaging.
Prepare the filling for pies. To do this, peel the onion, cut it into quarters and scroll through a meat grinder. Can use a blender if you allow the power of the device.Preheat the pan with vegetable oil. Put her the meat, add the onions to crank. Fry on slow fire, continuously stirring.Salt the meat, add the spices and bring the filling until cooked. Beef should be the color of boiled meat, but not dry and without crackling.Cool the filling.
The blade of the knife will cut the dough, cutting Board and rolling pin brush with vegetable oil.
Put layer of dough on a cutting Board. With a knife cut the dough into six approximately equal parts. Each of these parts can be cut in half, but then the cakes will turn out the size of a large ravioli.With a rolling pin, flatten each piece of dough, put the filling inside and zasypnica pie. Place patties on a baking sheet, greased with vegetable oil.
Bake pies in preheated oven until dough is browned.
Useful advice
Stuffing you can prepare yourself, but you can buy ready minced mixture of pork and beef. Choose not very fatty meat, but very lean too, will not do the filling for pies will turn out very dry.

Onions are not to grind to a pulp, and just cut, but then sweet pieces of onion are going to be felt in the stuffing. If you prefer to fried the onion, better chop it, puree before adding to the stuffing.

In the package of frozen dough are usually two layers. Put the second crust in the package until you roll first, otherwise the dough will dry out.

Spices can take any which you like. For minced pork and beef good mixture Khmeli-Suneli.
Advice 4: How to quickly prepare dough for pies
Some people are very fond of
pies
with different stuffing. But, unfortunately, not everyone has the opportunity for a long time to Tinker with a classic yeast
dough
m: someone has a small child, someone spends a lot of time to work and back. So they are forced to abandon your beloved meals, preparing pies only occasionally, from case to case. But there are recipes for quick yeast dough suitable for baking pies.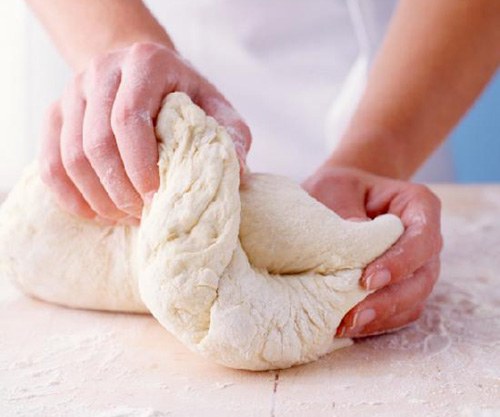 You will need
sunflower oil;
eggs;
wheat flour;
yeast;
the sugar and salt.
Instruction
Heat 200 ml of milk, add 70 grams of yeast, mash thoroughly. You can use dried yeast for this you need one small bag. In a bowl thoroughly beat two eggs with salt, sugar and three tablespoons of vegetable oil (sugar and salt, add to taste). Whipped the mixture into a bowl add milk and yeast. Mix well all the ingredients, should get a homogeneous mass.
Thoroughly sift flour, pour it in a pile on a large cutting Board or into a voluminous bowl, in the center make a hole. Slowly, in small portions pour back the mixture, continuously stirring it with flour. So that the dough does not stick to hands, moisten them with water or brush with vegetable oil.
Turn batter in any bowl or pan and place inside the larger container, for example a basin. Carefully pour into the gap between the walls of the tanks the hot water so that the dough is in a water bath. Can do otherwise: to shift ground in a thick plastic bag, then for more reliability in one package. Tightly tie off the neck and place in a pot of hot water. Of course, bandage the neck so as to free space, because the dough should visibly increase in volume. After about twenty minutes, take out the received weight from the package. The dough can be immediately used for the preparation of pies.
These proportions are rather relative, because different flours in different ways absorb liquid. If the resulting dough seems too liquid, add some flour; if too thick – add some milk and knead again till the formation of the consistency that you find optimal.
Note
1 Cup flour, 50 g butter, 2 eggs, 1 Cup sour cream, 2 tablespoons of any jam 1/2 Cup chopped nuts, 1/2 teaspoon soda, 1 Cup sugar
Useful advice
Sand tarts spread cottage cheese (can ready sweet curds to believe, but you can beat with a mixer or blender with cream cheese until smooth), top cut into slice strawberries and sprinkle with grated chocolate.
Advice 5: The dough for pies in the bread machine
With the help of a bread machine can greatly simplify the preparation of pies and pastries. After all, the yeast dough for them can be done using one of their programs this wonderful appliance.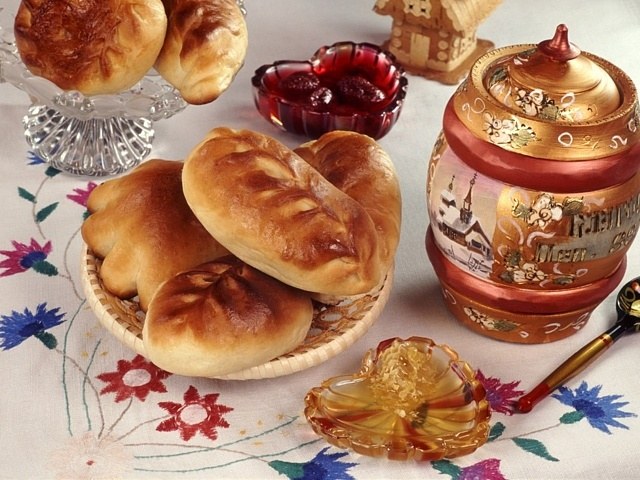 How to prepare dough for pies using bread machine
To prepare the dough in the bread maker, you will need 250 ml milk, 50 ml oil, 1 egg, 450 g flour, 2 tablespoons sugar, 1 teaspoon salt, 1.5 teaspoon of yeast. Instead of milk you can use buttermilk, then the batter will be more "air". For the filling, take 1 jar of canned fish (mackerel) and 4 eggs.
Pour into the container of the bread machine milk, with a room temperature, crack the egg and pour in the vegetable oil. Sift the flour and pour it into a container. Add the sugar, salt, yeast. Put the container in the bread machine and install the program "Dough". The dough will be prepared an hour and a half.
Check the status of the dough in the bread maker, if it is watery, mix in 2 tablespoons of flour.
While it is kneaded, make a filling for pies. Drain the liquid from canned fish into a separate bowl. Mash fish with a fork, removing any large bones. Boil and finely chop the eggs, mix them with fish and again mash with a fork. If the filling is too crumbly, add a little liquid from canned food, again all mash and mix.
After the end of the program lay the prepared dough on a cutting Board sprinkled with flour. Turn on the oven, let it warmed up. Begin to form patties. Cut the dough into four pieces with a knife, which must first be dipped in flour. Pull out each piece with your hands and again cut into four pieces. Knead each piece into a pancake, put in the middle of the stuffing and shape the Patty. Grease a baking sheet with oil, place the patties and leave on for 20 minutes, so they rose a little bit. Then whisk the egg, brush over the top of pies, put them in the oven, preheated to 180 ° C and bake until ready. From this test, you can prepare muffins, donuts, pizza, large pies - open and closed.
Stuffing recipes for pies
Very tasty pies with a filling of cabbage. For cooking take 300 g of cabbage, 1 egg, 25 g oil, salt to taste. Finely shred the cabbage, put it in a thin layer (4 cm) in a preheated oil pan and fry until soft, stirring from time to time. Ready cabbage slightly cool. Add the chopped eggs and season with salt.
The filling of meat, offal is used in closed pies. For open pies need a filling containing a sufficient amount of moisture (Kale, apples, jams).
To make the filling from the liver, take 300 liver, 2 onions, vegetable oil, flour, salt and pepper to taste. Clean the liver from the ducts, take off her tape. Cut liver slices 1 cm thick, sprinkle with salt and fry in a skillet in oil until blood. Cool it and mince.
Separately, make the sauce: finely chop the onions, a little fry. Fry without fat flour until light brown in color, add it to the onions, pour in water or broth and cook for half an hour, stirring occasionally. Pour the prepared sauce to the liver, skipped through a meat grinder, a little stew on a slow fire and let cool.
Advice 6: How to make dough for pies with potatoes
Traditional Russian cuisine pies cooked in almost every home, with different fillings. Very popular in this capacity, rich mashed potatoes, especially during lent. An important role in the cooking of meals plays his base. Try different types of dough for pies with potato – yeast-free, yeast and vegetable.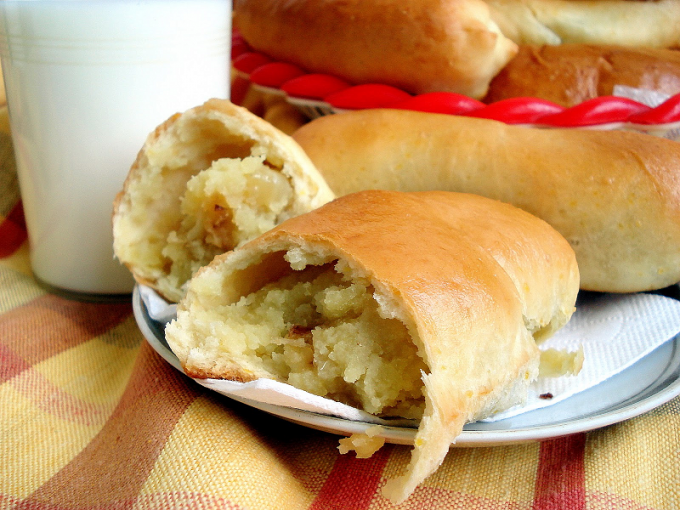 Unleavened dough for pies with potatoes


Ingredients:
- 300 ml of kefir 3.2% fat;
- 400 g flour;
- 1 tsp of baking soda, salt and sugar;
- 80 ml vegetable oil.

Remove the yogurt from the refrigerator 40 minutes before cooking. It needs to be at room temperature so the dough faster and better will rise. Stir in the soda, salt and sugar and add a third of the vegetable oil. Stir well until a uniform distribution of ingredients. Without ceasing to stir, gradually stir in the flour.

Start to knead the dough by hand as soon as it will be difficult to do with a spoon. At the end stir in the remainder of the vegetable oil. The basis for pies potatoes should be elastic and not sticky. Wrap it in plastic wrap to not dry out) and leave it for half an hour.


Yeast dough for pies with potatoes


Ingredients:
- 1 kg of flour;
- 1 tbsp of dry yeast;
- 500 ml milk 2.5% fat;
- 2 chicken egg yolk;
- 100 ml of vegetable oil;
- 1 tsp of sugar;
- 2 tsp of salt.

Sift the flour several times through a sieve and pour into a deep container. Make a leaven from 2 tsp flour, 100 ml warm milk, sugar and yeast. Let it stand for at least 15 minutes before doubling in volume.

Heat the remaining milk and pour it into the flour together with egg yolks. Sprinkle salt and place approached starter. Mix all until smooth in a blender or food processor on low speed, then enter a thin stream of vegetable oil.

Knead the dough for 10-15 minutes until a ductility and a light behind the hands or the walls of the cookware. Collect the data, place it into a bowl or container, sprinkle with flour, cover with a clean towel and soak an hour in a warm place without drafts. If such a space in your kitchen, place the yeast dough in a heated to 30-35oC oven.


Lean dough for pies with potatoes


Ingredients:
- 450 g of flour;
- 2 tbsp of dry yeast;
- 2 cups of water;
- 2 tsp of sugar;
- 1 teaspoon of salt;
- 80 ml vegetable oil.

Heat a glass of water to 40-50oC, dissolve in it the yeast, salt and sugar and wait until the surface appears high cap of foam. Mash in a separate metal bowl 3 tbsp flour vegetable oil, dilute with glass of boiled water, cool a little and pour in the yeast mixture. Add to the flour and knead the dough. Put it to heat for 15 minutes, wrapped the bowl a bit dense tissue.
Advice 7: Dough recipe for sweet fried pies
Sometimes you can treat yourself to sweet fried pies. Often, this should not be done, as the dish is quite high in calories. Be it with a lighter will help the dough from the cheese low fat, filling from berries, fruits, and paper towel.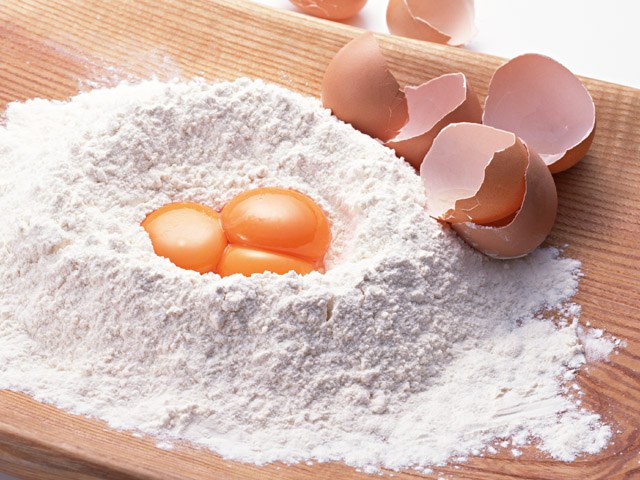 Pies from curd test


Lush and soft cakes out of the dough. They are prepared very quickly. For this dish do not need a lot of products. You only need:

- 2 packs of cheese (250 g);
- 3 eggs;
- 1 teaspoon of salt;
- 3 tbsp of sugar;
- 450-500 g flour;
- 0,5 teaspoon of soda or 1 teaspoon baking powder.

Beat 3 eggs in a bowl, mix them with a fork or whisk until smooth. Put to this mass of cheese, stir with a spoon. If you cook with baking soda, then stir it into the cheese. If the baking powder, then add it to the flour. Put flour in the curd, knead the dough. It should not be steep. To the dough not sticking to hands, periodically dip them in the flour.

Prepare any sweet fillings. This may be the same cottage cheese mixed with sugar and egg. Delicious sweet cherry pies. Take a piece of dough the size of a tangerine, make him a cake. On one side put 5-6 pitted, they add 0,5 teaspoons of sugar. Close the stuffing with the other half of the dough, shape the edges. Make sure that they did not get sugar, the juice . Otherwise, in these places dazzle them will be difficult. With this dough for sweet pies perfectly filling, made from apples, pears, peaches or raspberries.


Yeast dough


A little more time is the following recipe. But the waiting period of the proving can be spent relaxing or doing business.

For the dough take:

- 400-450 g flour;
- 250 g of water (1 Cup);
- 0,5 teaspoon of salt;
- 1 egg;
- 2 tbsp of sugar;
- 2 tbsp vegetable oil;
slightly less than half a pack of dry yeast.

The water heat to just warm. Pour into a small pan or bowl. Add to it the yeast, sugar and 3 tbsp flour. Stir until smooth. Cover with a towel. Put the container in a warm place. Let the dough suitable for 25-30 minutes.

When she comes, add salt, egg. Sift the remaining flour there. First knead the dough with a wooden spoon, then by hand. Pour in the vegetable oil. It will help the mass does not stick to the hand. Cover the bowl or pan in which you mixed the ingredients with a towel and put the dough to rise for 1.5-2 hours. Then mold him sweet cakes with your favorite filling. They were less calories, after frying lay them on a dish, which is in 2 layers with paper towels. It will absorb excess oil.


Kefir dough


As a bonus for those who read both the recipe, you can offer quick sweet dough for fried pies on kefir. For him pour in a bowl a Cup of yogurt, add 1 tsp of salt and soda, add 2 tbsp sugar and vegetable oil. Beat 2 eggs. Stir the mass of the halo or . Stir in 3 cups sifted flour. Replace the batter and fry in the pan delicious cakes.
Advice 8: How to make a yeast dough for pies
Good yeast cakes – lush, soft, tender, obtained only from good test. All the ingredients should be taken in the correct proportion, and the technology of preparation followed strictly.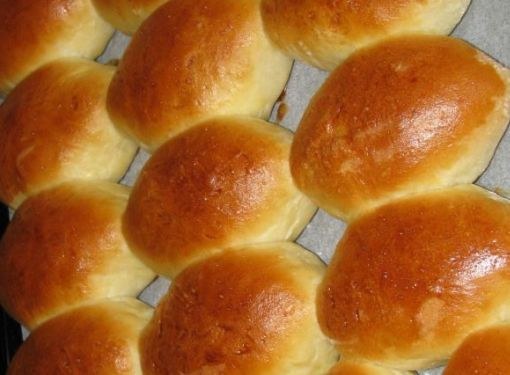 Ingredients for the dough

Yeast dough is prepared from different ingredients. Unchanged are three: yeast, flour, and eggs. Further variants are possible: prepare yeast dough in the water or use fresh milk. If you want to make pies from sour dough, to cook it is necessary for dairy products – yogurt, whey, sour milk, sour cream. In the dough to taste, add salt and sugar to rise yeast. Fresh dough prepared without fat. To butter add margarine, oil or butter.


Recipes dough

For unleavened dough 700 g of milk, water or dairy products added 1000 g of flour and 50 g of yeast, 2 eggs, 10 g salt and 20 g sugar.

For pastry is the same amount of milk, sour or fresh, and the flour can take the three eggs. Salt and yeast the same as fresh. If fresh milk, 20 g sugar, too, If sour – 40 In the pastry for this amount of ingredients you put 300 g of margarine or butter. You can add 120 g of vegetable oil.


Preparation of yeast dough

It is possible to prepare first the dough. That is, to knead the yeast with the water (milk), flour, sugar and salt and allow to stand overnight. The dough during this time should rise 3-4 times and it must be upsetting. After that add remaining ingredients in following order – egg, margarine (oil). From the test molded patties and placed on cookie sheet. They need to give more time to approach and you can bake.

The second option is faster. Stir yeast in warm water or milk (half a slice), which added the entire sugar regulation. To allow the yeast to come. Then the eggs are whipped with salt, add milk and flour, butter and pour the yeast. Kneaded the dough. He should get to come once. Then sculpt cakes, wait until they will fit on the baking sheet and bake.


Cooking pies

Before you mold the patties, you need to prepare the stuffing. It may be different, sweet and savory. To savory stuffing is not dry, it is fried in vegetable oil onions. The stuffing should be allowed to cool down below it was warm.

Roll the dough into a large pancake using a rolling pin and divide into circles (cut with a Cup or glass). You can not roll, but rather shape the dough into a sausage, then cut with a knife and a piece on the palm to make it a kind of pellet. One hand is placed a disk of dough in the middle of the stuffing. Edge siplivaya between fingers, and the pie is crimped on all sides between the palms.
Advice 9: As the dough into dumplings
In the fourteenth century there appeared in Russia
the pelmeni
, and since they can be called Russian national dish. Dumplings can be found everywhere - at home and in the restaurant and in the kitchen with friends. Especially delicious
dumplings
made with their own hands, in their cozy kitchen. Invite your friends and neighbors and enjoy their homemade dumplings,
prepared
from delicious and the white test.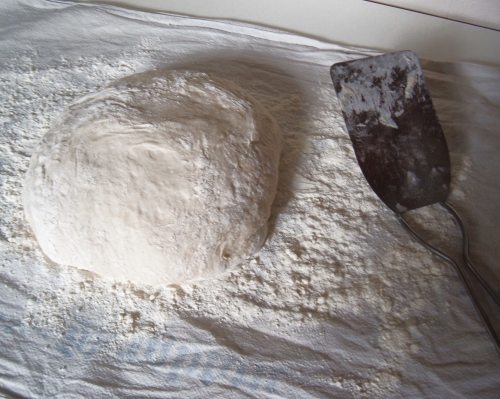 You will need
2 eggs,
1/2 tsp salt
1 Cup water
1 tbsp vegetable oil.
Instruction
Take a deep bowl or basin. Sift the flour through a sieve (so that the flour is saturated with oxygen) directly in this dish.
To make in the middle deepening and to gently break 2 eggs. There also gently pour water, add salt. Add 1 tbsp oil.
To start gradually collecting the flour from all sides, so that water is not spilled. So start to knead
the dough
. Sift the flour on the table and put
the dough
, continue to knead to desired consistency (it should not be very thick).
Leave the dough on the table for 20 minutes, covered with a soft cloth or plastic bag. Disperse the gluten, the dough will become soft. Again knead the dough and you can begin to mold delicious, homemade ravioli.
To do this, cut a piece of dough from which to make a long harness. This harness cut into small pieces. Each piece roll in flour, roll it out, put the stuffing and make dumplings.
Note
The dough should be both dense and elastic. If the dough turned out quite hard, you remember it with wet hands.
Useful advice
The dough can roll into a thin flatbread, and a glass to cut out circles for ravioli (so did the dumplings are our ancestors). The dumplings are good served with fresh homemade sour cream and finely chopped greens.
Advice 10: How to make dough for dumplings
Dumpling
dough
should well and thinly roll out to be flexible and to succumb to the moulding. Ready
the dough
should not greatly swell when cooked and become soft and delicate taste. Recipes dough for ravioli several. The dough can be kneaded with milk. Also from the recipe to exclude the eggs. Vegetable oil is added when preparing the dough, give the dough elasticity.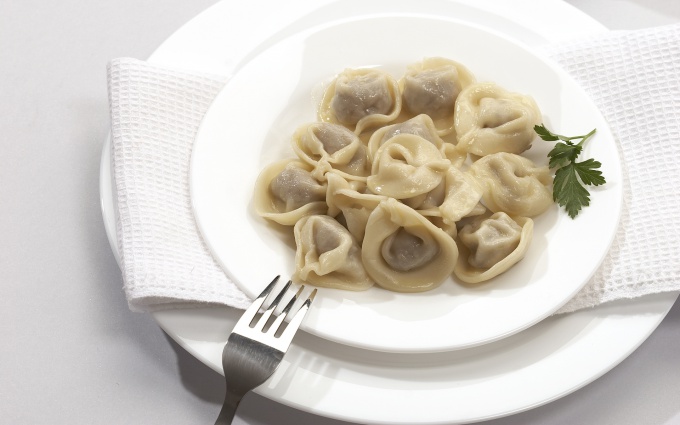 You will need
1 teaspoon vegetable oil
1 egg
1 teaspoon of salt
1 Cup water
Instruction
Form the flour on the table in the water around the mountain with a hole in the middle.
Pour it in the hole, egg, water and butter, season with salt.
Adding flour from the edges, knead the dough.
If necessary, mix in flour.
Knead the dough to a state of plasticity.
The finished dough shape into a loaf, cover with clingfilm and leave for 30 minutes.
Useful advice
Flour for making dumplings of dough used wheat higher and 1st grades.
Flour should always be sifted through a sieve to cleanse it from impurities and to saturate it with oxygen.
The longer you knead the dough, the more elastic and tastier it will be.
Advice 11: How to make cakes: variety of fillings
Pies is one of the most famous and popular dishes. Everyone knows what it is, but not everyone can cook this wonderful food. If you've ever been asked to cook the patties and you have decided to learn this wisdom, then let's understand this question.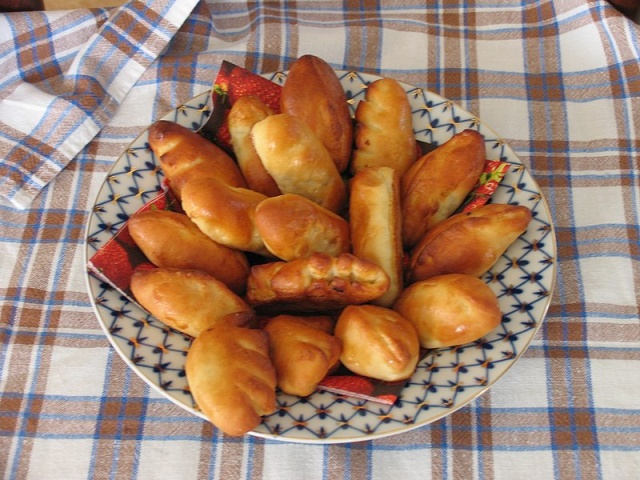 Instruction
Obvious is the fact that for the preparation of cake you will need two components – the dough and filling.
The dough can be flaky, yogurt, yeast (more lean
for pies with
savory and sweet filling for mince pies). It should be noted that it is not always for pies with sweet filling, use only butter and sweet dough. For example, neutral puff pastry very well with both salty and sweet fillings.
As for toppings, then there are opportunities for creativity. Savory pies can be made with meat, mushrooms, cabbage, potatoes, egg and green onions and etc Sweet – curd cheese, with jam, fresh berries or fruit. List all the options of toppings is simply impossible – there is practically every woman brings something different.
According to the method of cooking the pies are divided into roasted and grilled. Baked, respectively, are baked in the preheated oven on the baking sheet. Fried – fried in a pan.
So, with the classification figured out, now need to get the dough. How? There are several options:
• buy ready-made (now have a choice and yeast, and puff pastry);
• ask how it's done from an experienced female relatives (mothers, grandmothers, aunts) or friends and make the dough under their leadership;
• find the recipe online and make the most.
Choosing what kind of dough are you going to do, is to consider not only its taste, but also the cooking time. For example, yeast dough, especially if its preparation used dry quick yeast, and extruded, this should do it two or three times, which will take quite a long time.
If you decide to cook a recipe from books or the Internet, to begin with read the recipe. Prepare everything you need for the test products. Follow the sequence mentioned in the recipe operation – mix everything you need in the described sequence, let the dough stand for, if required. The first time the best of recipe not to retreat. In the future is my own experience and taste, you can make changes in the composition of the dough, and technology of the manufacturing process.
The dough is ready. Now it needs to roll out. If it is more dense puff pastry – can be thinner, the yeast is thicker. Then the dough should be cut into blanks for future pies. The dough can be cut into squares, circles, triangles, depending on the shape of the patties you are going to cook.
The next stage is filling. Putting it on the workpiece in small portions so that the edges of pies, it was easy to fold and take. The edges of pies carefully semipelite, otherwise, when you start to fry them or oven, all the stuffing will come out. Especially often loves to do sweet juicy filling, such as cherry with sugar or cheese. Give the pie the desired shape.
If the fried pies – pour into the pan with vegetable oil and preheat it. If you are going to bake cakes – lay out on a greased or parchment-covered baking sheet and place in preheated oven. Now just have to wait until your patties are ready, make sure they do not burn.
Advice 12: How to make the dough for pasties
Pasties – a kind of cakes made from thin and unleavened dough with various fillings. For the filling use not only the meat but also cabbage, cheese, mushrooms and potatoes. For making pasties is especially important to use the right dough recipe, then pasties will turn out delicious and soft. Surprise your household appetizing and hot pasties before which no one can resist.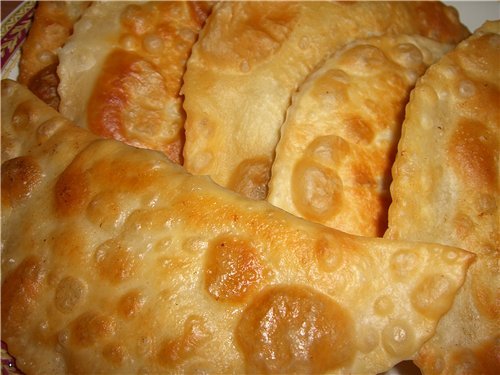 You will need
4 cups flour,
salt,
1 teaspoon granulated sugar
8 tbsp vegetable oil.
Instruction
For the dough you will need a bowl. Pour it in 1.5 cups boiled hot water, add a couple pinches of salt and one teaspoon of sugar. Mix everything carefully.
Measure a little more than four cups of flour and sift through a sieve. Slides in the center of flour make a well and pour in the hot water with dissolved salt and sugar.
Add one teaspoon of vodka and eight tablespoons of vegetable oil, knead the dough. Cover the dough with a clean cloth or towel and allow it to rest a little.
After some time again Pomezia dough and cover with a cloth and let it lay. Knead, so the dough 3 times.
Left to roll out the dough in a layer thickness of 3 mm, cut out circles with a saucer. Put on each circle of dough a little minced meat and combine the edges. Make a border with a fork, pressing the teeth to the edges of the dough, and fry in deep fat with a large amount of vegetable oil.
Note
During cooking, dough, egg laying is not necessary, as they reduce the softness and plasticity. The dough for pasties need to brew, so it should be kneaded in boiling water, this will give the dough a special lightness and delicacy that is the main component of tasty pasties. Vegetable oil added during kneading, will help give the finished pasties particular bubble. Added to the batter vodka makes it a little crispy and receivemy frying.
Useful advice
During lent, you can cook the pasties with cabbage filling. You can try to cook the dough for pasties with the addition of beer. For this you will need one glass of light beer in which you want to add salt, sugar, one egg. Stir in desired amount of sifted flour. The dough some time must lie under a towel, regularly knead. The dough should be not less than one hour. Instead of beer you can add mineral water, with gas bubbles, it will be more tender.
Advice 13: As knead the dough for pasties
Pasties — one of the most popular dishes "street food". They are sold almost at every step. It's hearty, quick and convenient. However, the pasties can be dish of the holiday table, and great homemade dinner. Classic make pasties with meat, but sometimes put them in the potatoes, mushrooms and other savoury fillings. The Foundation of any baking — dough, and pasties in this sense is not an exception.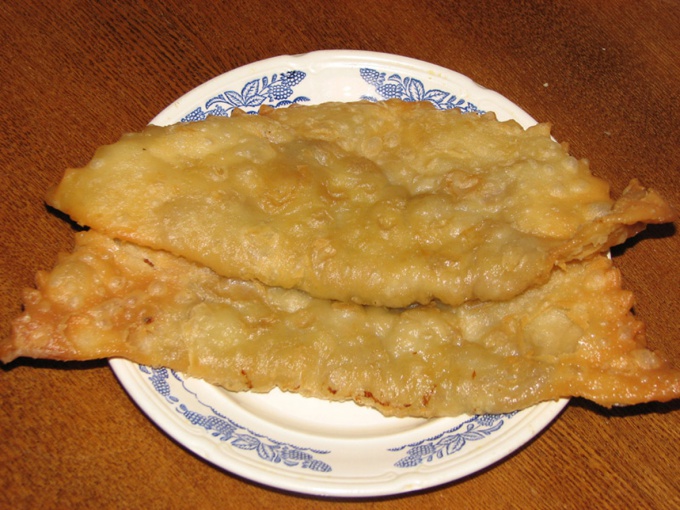 You will need
8 tablespoons of vegetable oil;
1 teaspoon of sugar;
1/2 teaspoon of salt;
1 teaspoon of vodka;
1 1/2 cups of water;
a big bowl;
small bowl;
saucer;
sieve;
a cotton or linen napkin.
Instruction
In a small bowl, pour half Cup of cold water. Sprinkle salt and sugar and stir until dissolved. Sift the flour. Pour it in a pile on the table. At the top make a hole. In deepening pour the sugar solution and salt. Add a teaspoon of vodka and vegetable oil.
Knead the dough. Knead it until a homogeneous elastic mass. The dough for pasties must be stirred several times. Having obtained a homogeneous mass, shape it into a neat and not very dense clump. Put the dough in a bowl and cover with a dry cloth.
Allowing the dough to Mature for half an hour, again knead it and shape into a ball. The second time, cover with a cloth and leave for half an hour. Repeat the procedure a couple more times.
Roll out the dough into a thin pellet. Its thickness should not exceed 3 mm. Cut workpiece using a saucer. You should be circles with a diameter of 15-18 cm Size is not critical, you can make pasties and more, and less.
For minced meat for this amount of dough you will need 600 grams of meat. It can be lamb, pork or beef. You can make the stuffing and of the two, and even three types of meat. Cut the meat into pieces and pass it through a meat grinder. Add minced onion and herbs (also minced), salt, pepper. Dilute the beef milk should be semi-liquid. All stir it well. In the middle of the circle with a diameter of 15 cm put 1 tablespoon of stuffing.
Note
Vodka is not a mandatory ingredient, so if it is not, nothing bad will happen.
Useful advice
You can take the ready meat. It should be mixed with milk or meat broth.
Advice 14: As the dough into dumplings
Manti is a traditional Asian dish, and a favorite of the Russian people. Nutritious and delicious combination of minced meat and dough, as well as a special taste, steamed, left no one indifferent.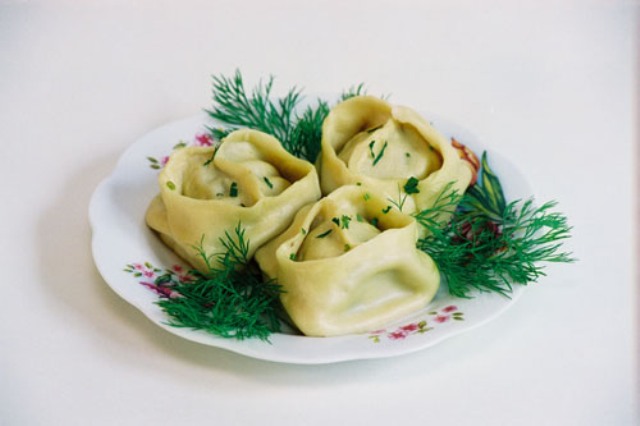 You will need
1 egg;
1 teaspoon of salt;
water.
Instruction
Method # 1.
Pour into a bowl or a deep bowl 500g of flour, pass it through a sieve. Add one egg, a teaspoon of salt. Start to mix the dough, adding a little clean water to knead it easier.
When the main ingredients are mixed, remove the dough their bowls. Put it on the table, previously sprinkled with flour and begin to knead the dough with your hands, with the force that rolling it, squeezing.
Roll the dough into a large ball and let it steep for about 10 minutes.
Again knead the dough, Pomezia it a few minutes.
Roll out
the dough
into a large thin pellet of thickness 1-2 mm. Cut
the dough
into square pieces with a thickness of 10 to 10 cm, put into each a tablespoon of chopped meat and a piece of sheep fat to make
dumplings
. While you cook the next batch of dishes already made dumplings, cover with a kitchen paper so
the dough
dries up and cracked.
Method # 2.
As a rule, the ingredients for the dough for the dumplings, always the same. Different ways of preparing the basics for this dish.
Miss 500g of flour through a sieve and pour it on the table slide.
In the top of the flour slide and make a small deepening and pour into it 1 egg.
Do not salt the flour, better add the salted water. With tbsp of water to dilute it with salt pour into the "crater" to the raw egg. Make sure that they're not poured from the grooves.
Knead the dough from the edges to the center, closer to the water and the egg. Collect the flour in handfuls and sprinkle on her the middle of the flour structure. When the egg and water mixed with flour, begin to knead the dough more intensively, unrolling it on the table and robbing again. Knead the dough until, until it begins to roll out smoothly, without cracks and folds.
When the dough is brought to this condition, make a dough ball and wrap a clean, damp cloth. Leave it in the moisture for 30 minutes. After a while it will become soft and elastic.
Roll out the dough into a pancake, then roll it from the harness. Each harness cut into pieces with a thickness of 3 cm.
Form the dough into small balls, then roll them out into tortillas. Put on tortillas and stuffing sculpt dumplings.