You will need
0.5 l milk,
2 eggs
2 tbsp sugar
2 tbsp vegetable oil
1/2 tsp salt,
30 gr. fresh yeast
Instruction
Milk to boil in saucepan, let cool slightly. Empty into a bowl.
In warm milk dissolve 30 gr. fresh
yeast
. There also add 2 eggs, 2 tbsp sugar and ½ tsp salt.
Sift the flour through a sieve to make it saturated with oxygen. Gradually pouring flour, zamesit soft dough, adding 2 tbsp of vegetable oil.
Cover the dough with a clean tea towel and leave in a warm place for 2-2,5 hours.
When the dough came, you just got to press down and let stand for 40-50 minutes. Then again punch down dough.
On the table, sift a little flour, spread and knead the dough. Cover with a towel and be given a little more time for gluten. Our dough is ready, you can sculpt delicious cakes with different fillings. BON APPETIT!!!
Note
The flour must be sifted, it will become saturated with oxygen, and the dough will be softer and more luxuriant. No need to add yeast to the hot milk, as due to high temperature fungi yeast will die and the dough you will not succeed. So remember, the temperature of the milk (or water) should not exceed 40 degrees.
Useful advice
If the dough into the yogurt, pies it will make a very soft and tender. If you are preparing cakes in the oven, top them to lubricate the beaten egg yolk, then your cakes will turn out with a Golden crust.
Advice 2 : How to cook cakes
Dough for soft and sweet pies were most often prepared sponge method. Protiven grease with vegetable oil or fat. Before placing in the oven cakes have to stand in a warm place for 20 to 30 minutes. Fillings for pies, there are many. The beauty of these little products is that once they can be baked with different fillings. Just do not put on pan cakes with sweet and savoury fillings.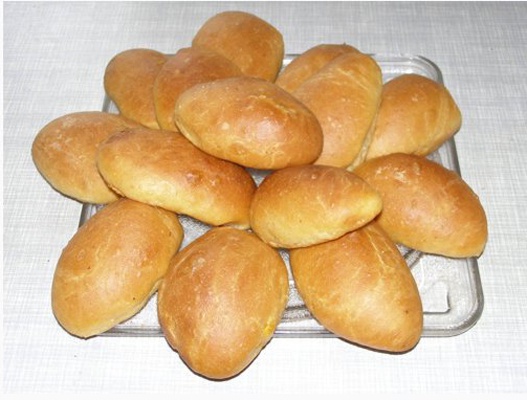 You will need
milk (1/2 Cup);
fresh yeast (30 g);
granulated sugar (2 tbsp.);
salt (1 teaspoon);
margarine for baking or butter (50 g);
wheat flour (900 g).
Apple filling:
fresh apples (500 g);
granulated sugar (1/2 Cup).
Stuffing from fresh cabbage:
cabbage (1 kg);
onion (1 piece);
egg (3 pieces);
milk (1 Cup);
salt to taste.
The filling of cottage cheese:
cottage cheese (200 g);
sour cream (2 tbsp.);
egg (2 pieces);
sugar (1 tbsp);
flour (1 teaspoon);
salt to taste.
The beef:
cooked beef (500 g);
boiled rice (1/2 Cup);
onions (1 head);
salt to taste.
Instruction
Dough.
RUB the yeast with 1 tbsp. of sugar. Pour the warm milk and pour 400 g of flour. Stir the batter and put in a warm place. The dough should increase in volume twice.
Add salt, remaining flour and melted butter. Separately whisk the eggs with 1 tbsp. of sand. Pour them into the dough. Knead the dough with your hands until it becomes smooth and will be easy to come unstuck from hands.
Cover the dough with a cloth and let it rise. Ebonite it thoroughly to remove air bubbles and leave to stand. The dough should come up 2 or 3 times.
Ready to dump the dough on the table sprinkled with flour. Roll out the dough into long and thick sausage, cut it into pieces. Try to keep the cuts came out of the same. Knead each piece into a pancake. In the middle lay stuffing and semipelite.
Lay the patties on the baking sheet so that they do not touch each other during proofing and baking the dough will rise. Brush top of pies with egg yolk. Bake pies in a hot oven for 20 - 25 minutes.
The filling is Apple.
Peel the apples peeled, divide into four pieces and remove seeds. Slice the apples slices and place in saucepan. Add sand and two tablespoons of water. Saute until Apple mixture becomes homogeneous.
The filling of fresh cabbage.
Chop the cabbage and put it in a saucepan. Cover with milk and simmer until soft, while the milk is completely evaporated. Cook hard-boiled eggs. Onions chop and fry in oil. Mix together all ingredients and season with salt.
The filling of cottage cheese.
Mix in a bowl the cottage cheese with eggs and sugar. Add the sour cream. If the mass turns out watery, add flour. If desired, the filling, place the raisins or chopped dried fruit.
The filling of beef.
Mince the cooked beef. Add rice and fried onion. Add salt and pepper to taste.
Advice 3 : How to make a quick dough for savory pies
Pies with mushrooms, meat, fish or other savory stuffing - a great dinner for the whole family. The product can bake in the oven or fry in oil - products in any case will turn out delicious. The main thing - not to save on stuffing and make a delicious dough. Try the original yeast-free options that are prepared very quickly.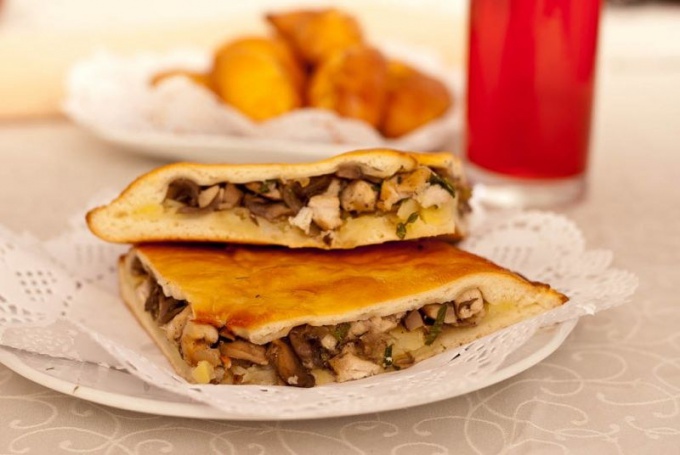 The dough for the pie fast
Try to cook the pie on the kefir - the dough is kneaded for him very quickly. As toppings, use pieces of cheese or other mild cheese, boiled meat, chicken or smoked sausage. A cake baked in the shape, and served hot.
You will need:
- 4 eggs;
- 2 tablespoons of sugar;
- 0,5 l of kefir;
- a pinch of salt;
- 2 cups wheat flour;
- 1 teaspoon of baking soda;
- 2 tablespoons of vegetable oil.
Yogurt can be replaced with yogurt, sour cream, diluted with milk or just boiled water.
Egg whisk with sugar and salt, pour in the yogurt, then add soda, slaked vinegar, and vegetable oil. Stir in the sifted flour and quickly mix into the batter. Spread it well to avoid lumps. To speed up the process you can use the submersible mixer.
Refractory form of grease, lay the pieces of the toppings and pour the batter. Bake pie in the preheated oven, until the surface of the product are brown.
The potato dough
The dough on the basis of boiled potatoes fit long patties that are fried in oil. As a filling, try adding salted mushrooms, stewed sauerkraut, or boiled beans mixed with fried onions.
You will need:
- 1 kg of potatoes;
- 2 eggs;
- 4 tablespoons of milk;
- 2 cups of flour;- salt to taste.
To the test choose a crumbly potato - baking will be more delicious.
Potatoes, peel and boil. Scrolling through a meat grinder, add eggs, warmed milk and salt, then stir in the sifted flour. Knead moderately stiff dough. Divide it into balls, knead each into a pancake prisypaya flour, fill with patties and fry in hot vegetable oil. Cakes made of potato dough best served hot, with fresh cream.
Dough for pies
For pies with meat filling will fit the original dough. It is better to fry it in oil, and you can eat both hot and cold.
You will need:
- 400 g of cottage cheese;
- 2 tablespoons of sour cream;
- 2 eggs;
- 1 teaspoon of baking soda;
- 2 cups wheat flour;
- salt to taste.
Cheese mash with salt and soda, add eggs, and then portions of flour. Gather the dough into a ball and place in the fridge for half an hour. Then remove it, knead it into the harness on the Board, sprinkled with flour. The harness cut into small pieces, roll each into a pancake, put the stuffing, seal the edges and fry the patties in vegetable oil.