You will need
- flat Board, particle Board or plywood;
shells;
- PVA glue;
- sandpaper;
jig - saw;
- the stain.
Instruction
Run the sketch panel of the shell. Do not have to draw by hand, you can find a suitable digital image or scan the card. In Adobe Photoshop make the image contour. When choosing a pattern, note that small parts on it should be as small as possible, because the shells themselves are very nice material. In addition, they have a certain texture that must be taken into account when making the sketch. Print the image, pre-fit it to size.
Prepare the Foundation. Take a thick Board or plywood. For example, good wooden cutting Board. The hole for the stud it can be removed, there kleiv a wooden cork. Ordinary Board process by using an emery paper so that the surface was smooth. If the shells remain bright, background a little darker, for contrast. To do this, use a dark color stain. Stain if necessary, you can replace the dark solution of potassium permanganate, which gives shades of deep red-brown to light brown.
Put picture on the Board. To do this is to use carbon paper. The stage of sketching you can skip immediately tried to make a song on the Board.
If the shell needs painting, do it before gluing them on the Board. To paint the shells you can use bright acrylic paints. Choose a color depending on the nature of the image.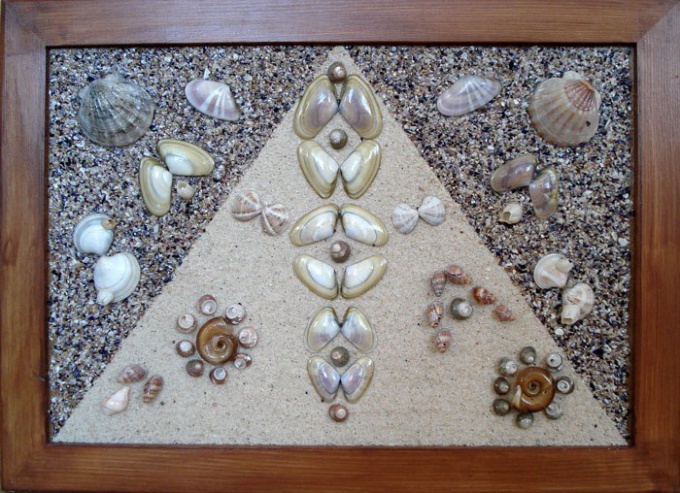 Useful advice
Stick material such as the shells, preferably with PVA glue, although it may be used any other, for example hot melt glue or universal. You can also add a panel and other materials, except for shell. For example, beads, beads, grains or seeds of exotic plants, which can be performed spots on the petals or the stamens of flowers.