You will need
oatmeal pureed soup: 400ml water

3 tbsp of oatmeal
150ml milk
1/4 raw eggs
butter
salt
sugar;
pureed potato soup: 400ml water
2 medium potatoes-best potato
1/2 raw eggs
butter
1 teaspoon flour
sour cream
greens
salt;
a pureed soup of cereals Hercules with vegetables in meat broth: 400ml meat stock
1 tbsp of Hercules
1 potato
1 carrot
salt.
Instruction
Pureed soups, usually cooked on a broth of grains, vegetables, meat broth or a mixture of these concoctions. In their may include such products as meat, poultry, fish and different vegetables: zucchini, cauliflower, pumpkin, potatoes, carrots, green peas.
Products used for making pureed soups, you can RUB through a sieve or grind in a mixer to a homogeneous consistency. Those products that bad noodles, mince with shallow bars 2-3 times. Then wipe the received weight through a sieve. Grits grind in a coffee grinder or a mortar.
To cook oatmeal pureed soup, oatmeal, run through, rinse it, pour boiling water and simmer until fully cooked. The resulting broth strain, rump RUB through a sieve again and mix it with the broth. Add to soup hot milk, bring it to a boil and remove from heat. Shake in a bowl or a small bowl of raw egg and fill them with hot soup. Add the pureed dish of salt, sugar or butter.
To prepare grated potato soup peel, wash and boil the potatoes. Potato drain the broth in a small pot, and potatoes wipe through a sieve. Then get cooking a special sauce. Dissolve the flour in two or three tablespoons of potato broth, boil the resulting mass and strain. Next, mix the broth, sauce and pureed potatoes, add a raw egg and butter. Thoroughly mix the soup, boil it and add salt. Before serving, season the dish with sour cream and garnish with finely chopped greens.
Very useful a pureed soup of cereals Hercules with vegetables in meat broth. To cook it is not difficult. Pour oat groats into the boiling water and cook it until cooking on low heat for at least an hour. Rump carefully wipe through a sieve. Then clean, wash and cook in meat broth potatoes and carrots. Vegetables to wipe through a sieve and mix with the crushed grains. Pour the resulting mass of meat broth and bring soup to a boil, then add salt.
Advice 2 : How to cook soup with smoked ham and cheese
With the onset of relatively cool time of year, our body needs extra calories. To diversify your menu and make another recipe in his book cook, you can cook a wonderful soup with smoked ham and cheese.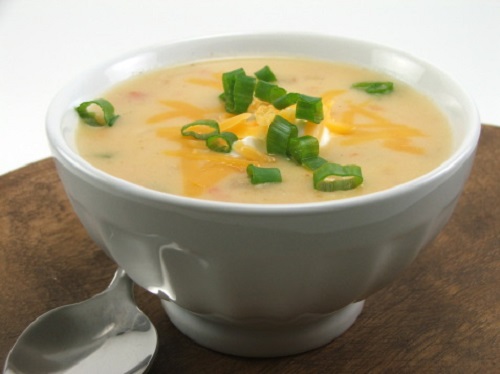 All the ingredients of this soup are available and do not require additional processing.
In order to cook soup with smoked ham and cheese, you need to prepare a saucepan of medium size. Ingredients you will need:
- smoked ham or smoked Turkey breast – 1 PC.;
- onions – 1 PC.;
- carrots – 1 PC.;
- potatoes – 4 PCs.;
- processed cheese – 1 PC.;
- greens;
Sol.
Fill a pot with water and bring to boil. Meanwhile, smoked chicken legs or breast to carve, cut into cubes about the size of 1,5x1,5 cm and run into boiling water. Bone you can optionally boil and then remove it before serving.
Meanwhile, scrape the carrots and grate on a coarse grater, and onion cut into small cubes. On a small amount of vegetable oil carrots and onions fry and add to a pot with smoked ham.
Potatoes peel and cut into small cubes, add to the pan and season with salt.
Cottage cheese, you can choose with the addition of herbs or bacon, but you can take the usual brickett. Cut cheese into several pieces and add to container, stirring occasionally.
Soup with smoked ham and cheese is cooked a little longer, and it turns out very hearty and flavorful. Most importantly, before serving dishes to the table, not to forget a sprinkle of fresh herbs.