Instruction
Remember your fare type. The most common one-part and two-part. First do not change during the day. For the calculations the entire volume of energy consumed is multiplied by the installed cost kW/h. In the second case, is given separately in the daytime and at night. Each period has its own electricity price.
Read liquid-crystal display, without pressing any buttons. Before you - the amount of energy consumed during the operation of the counter at this rate. The inner room rate for the counter is expressed by the indication on the screen to the left. Before the number is the letter T: T1, T2, T3, T4. If you have a single, then the more you read nothing.
Subtract from take readings data for the previous month. Multiply them by the value of kW/h and you will get the amount of payment for electricity this month.
Click "Enter" to see the amount of power used on other types of tariffs. After the third tap, if the counter is configured to the maximum number of tariffs, the screen shows the total amount of electricity consumed. That is, you do not need to write off the testimony in all intermediate positions, just press the desired number again on the bottom button.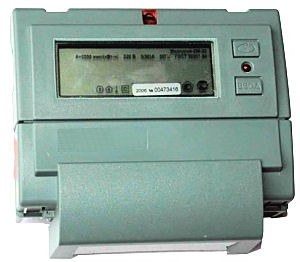 Click on the top button "O" to know the power loads connected to the meter. The right will be the unit of measurement is
"kW" on the left and the current rate. Press this button again to change the time. To make corrections you need to choose the "Input" button. Each time you press the time increases by 1 minute. It is impossible to make the amendment more than half an hour.
Click on the "O" button a third time to specify the date of the deposition. If in this position again, press the "Enter", then you will see the data on energy consumption for the last month. That is, with this meter you do not need to look at previous bills. The device itself will give all the necessary information.