Instruction
First of all, to truly love, you reach the age when such love is possible. Of course, love all ages, but love is very different and for a truly Mature love still needed to grow up.
Create the conditions under which it is possible to love. Often love is impossible without certain conditions, such as social (i.e., the environment in which we live and educated people), family, financial, utilities and so on.
Understand that Platonic love is very, very rare kind of love that is found mostly only in books. Love is always associated with some of its physiological manifestations, do not be afraid of this idea.
Think carefully and determine what characteristics should have your object of love. How old he must be, how it should look, what it should be interests – think about all the details.
Only idealizes in his mind the image of the future lover, do not make too high demands, otherwise seek a partner for a relationship you will be a very long time. After you make a rough portrait of the beloved, try to find a suitable candidate in your circle.
Don't try to buy love. Even if you have lots and lots of money. You can buy manbut not his love – it never works.
If you start a relationship, remember that in a relationship both partners need to become better and happier. If you feel that one of you begins to pull the other down, it is unlikely that such a relationship can turn into something good.
Do not try to change the object of his love in accordance with the views that you have about him. If the person does not meet some of your requirements or if you are not satisfied with some aspects of his character, you better learn to accept them. It is quite possible that your beloved person is something you will not arrange. Imagine how will you feel if he wants to change you? Learn to accept each other for who you are.
Don't let the object of his love is bad to deal with you and humiliate you. If you let him do that even once, then you simply will not be able to convince him that you can't do it.
Don't become dependent on a loved person. You both must depend on each other equally.
Drop the jealousy. Bouts of jealousy all straight, constant surveillance, hysteria and pressure on the loved person will not allow to build normal relations.
Advice 2 : As a man falls in love
American scientists made the discovery that a person is a tenth of a second to fall in love. How a person falls in love and what happens in it on a physiological level?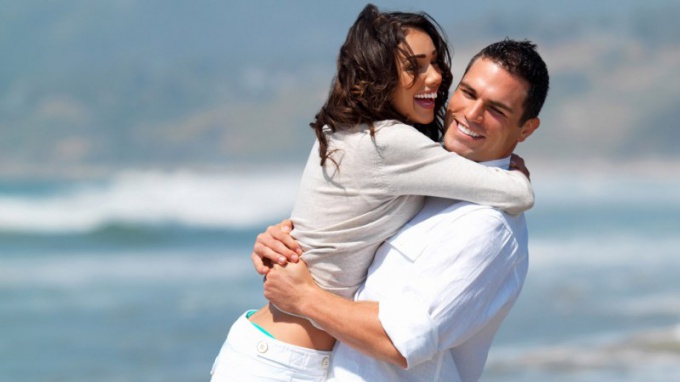 Instruction
At the moment when a person looks at the object of his love, in his brain aktiviziruyutsya from twelve areas. In blood ejected a unique connection of neurotransmitters and hormones. Among them oxytocin, adrenaline, dopamine and others. Scientists compare the inner feelings of a person in love with euphoria that he may experience when taking certain types of drugs. Depending on what kind of love one experiences in relation to the other, passionate or Platonic, aktiviziruyutsya different regions of the brain.
Activation of the brain of a person in love entails the enhanced blood flow to the heart and stimulates its activity. Because we can not say that a person falls in love only with the brain or heart. He and the other authority involved in the processes of love. In the blood of the lover is undergoing obvious changes. It increases protein compounds, responsible for the maintenance of life of neurons, so necessary for the formation of nerve cells in the body.
Researchers estimated that really hard a person falls in love only 2-3 times in my life. And at least once in all of his loves man experiencing unrequited love, for example, unrequited or tragic. Characterized by the fact, that love is on average the same number of times in my life, both men and women.
The age at which people are especially much fall in love for the first time is 18-19 years old. But it is late love bright after 40-45 years. And to forget his love if she is unhappy, more adults in love could not as soon as young people.
From the point of view of the poets and the psychologists lovelorn man changes simultaneously before the object of his passion their own opinions, habits, early judgments. He is only interested in the person he is in love. Emerged feeling able to completely block the mind of a man in love, to take him into the subconscious, complete in itself.
Knowing the causes of love one person to another can cause this feeling in the object of his love. The first thing that people appreciate in the opposite sex and that may appeal is the appearance, deportment, grooming and sex appeal. If the appearance appeals, then love in the first sight is possible.
If a person discovers in another outwardly pleasing to a man of similar traits, habits, interests – this also brings a man and a woman. Compliments, kind words, supportive, admiring gaze contribute to the arisen feeling to intensify.
The success of the first meetings, a pleasant Dating, sexual attraction turns love in a large sense, which may end with the wedding and will last for many years.