Instruction
For the preparation of conventional Pirozhkova the dough will need: pour into a bowl 1 liter of warm water. Pour 2 tablespoons of
dry
yeast
, 1 tablespoon of sugar, a half tablespoon of salt, pour 2 tablespoons of sunflower oil. After all zarenitsa, add 2 eggs, stir and pour the sifted flour. The flour pour gradually to get a fairly thick mass. All cover with a towel and put in a warm place. After the first rise, it's okay from tapping that. Again put in a warm place. After the third rise, the dough is ready.
The products you will need: 1 liter of water 2 tablespoons of dry yeast, 1 tablespoon sugar, half a tablespoon of salt, 2 tablespoons sunflower oil, 2 eggs, 2 kilos of flour.
Pastry differs only in that instead of water you need to pour warm milk. Sugar you want to pour twice. Sunflower oil to replace butter. Everything else is also done.
Advice 2 : How to make a batter lush
Every housewife is proud of its signature pies and recipe test. You can of course buy a ready-made pre-packaged
dough
, but it's nice to do it myself. How to cook a puffy, airy yeast
dough
?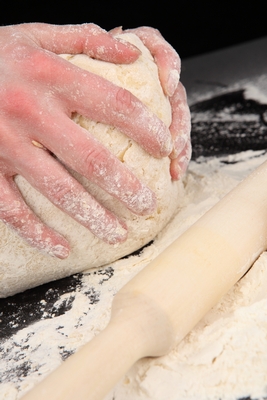 You will need
570 g of wheat flour,
60 g of sugar,
70 g butter (margarine),
2 eggs,
30 g compressed yeast,
200 g water or milk,
10 g of salt
Instruction
Take 120 grams of fresh milk or water and heat it to a temperature of 40 °C. Add the milk previously dissolved the yeast. Please note, the yeast should not be dark in color. Sift the flour and add about 280 grams milk. Mix until a homogeneous mass. Turned out the dough.
Sprinkle surface of dough with flour and cover with cloth. Place the pot in a warm place for fermentation for about 2,5-3 hours. If the dough rises and bursts, the yeast is selected good. If not, have a new knead the dough in other yeast.
In the remaining milk dissolve salt, sugar and beaten eggs. Mix. Add this mixture to the yeast mixture after it will increase in 2 times. Stir in the remaining flour and knead the dough.
At the end of kneading, pour the resulting dough softened fat. Knead the doughuntil it becomes homogeneous. Cover the dough with a cloth and leave to rise for another 2-3 hours.
In the process of raising ebonite the dough 2-3 times. It will allow to remove superfluous carbon dioxide and enrich the dough with oxygen. The ingredients of Aminah become more elaborate.
Note
To get a good lush test, you must use only fresh ingredients. This is especially true of yeast. Remember, the yeast can't stand neither very hot nor too cold temperature.
Useful advice
Do not overdo it with sugar. The more sugar in the dough, the less lush work the dough.

Filled with stuffing pies to laying in the oven, you need to give rasstoyatsya. This will make them softer and more luxuriant.