You will need
- 1 pack of margarine
- 1 tablespoon fast-acting yeast
- 3 tablespoon sugar
- 1 Cup milk
- 1 egg
the filling (jam, boiled condensed milk)
- 5 cups of flour
Instruction
First you need to melt the whole tub of margarine in the pan (the microwave). Further, in warm milk add a tablespoon of sugar and fast acting yeast. Put in a warm place for a couple of minutes to swell yeast.
While the yeast swell, pour the melted margarine into the bowl and attach the egg. Mix thoroughly and pour have already approached the milk with the yeast.
After all the components are whipped, add the sifted flour. Add it gradually to avoid lumps. Knead the dough and leave it for 20 minutes in a warm place.
When the dough has risen, egged on by it and spread on a clean table. Divide the dough into several pieces, about 6, and roll out a thin layer.
The rolled out circle divide with a knife into 4 parts and then each part into 3. On each part of the blend boiled
condensed milk
and roll in the bug.
Next, each twisted wire dip in sugar and put on baking sheet. Baking tray pre-greased with vegetable oil or spread a baking sheet.
Put in a preheated oven our baking pan and waiting for the cookies browned. Pulls out plate and done the same with other parties.
Useful advice
Bugs can be done not only sweet, but also with any other filling.
Advice 2: How to make cookies
What is a tea party without something yummy? If you do not want to go to the store, you can make tea biscuits themselves. There are numerous very simple and quick recipe. For example, for cookie, "Lemon", you need only 3 products, which are in any home - flour, sugar and egg, and about 15 minutes of time. And if you approach it with imagination, for this recipe you can bake several different varieties of cookies, padding the dough not only lemon zest, but also, for example, raisins or cinnamon.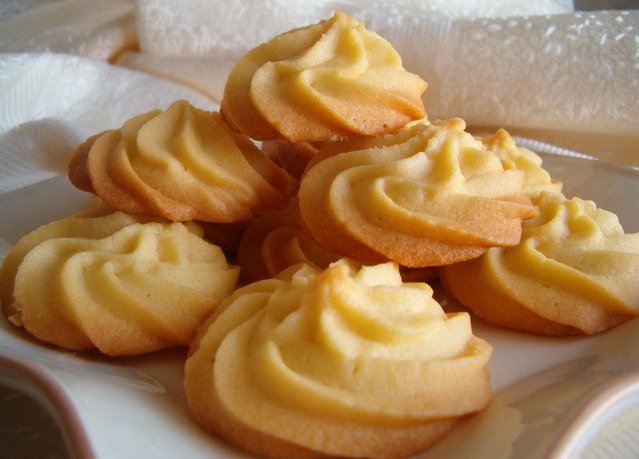 You will need
6 eggs
1 Cup granulated sugar
zest of 1 lemon
Instruction
RUB the eggs with a wooden spatula, sugar and lemon zest.
Sift the flour through a sieve, so she was enriched with oxygen. Mix the flour with the eggs until smooth.
Put the dough with a teaspoon on a baking sheet, greased. Preheat the oven to 260 C. Bake the cookies 8-10 minutes.
Useful advice
You can also make cookies using a pastry syringe with various tips - then you'll have different in the form of figures.

In addition to the lemon peel can be added to this dough the raisins, vanilla, cinnamon, candied or after baking sprinkle with sugar.