You will need
- special products for cleaning silver;
- liquid soap;
- Mel;
Sol;
- rubbing alcohol;
- ammonia;
- baking soda;
- vinegar;
- toothpaste.
Instruction
Silver earrings with stones can be cleaned with special products that can be purchased in a jewelry store. Before use consult the dealer or read the manual.
Mix a little liquid soap or dishwashing detergent in warm water. Immerse the earrings and leave it for a while. An old toothbrush will thoroughly clean jewelry. Then rinse in running water and Polish.
Grind chalk into a powder and add water to make a soft paste. Gauze pad or cotton swab put on the decoration and clean. Then opasnite cool water and wipe dry.
Silver earrings with pearls may be cleaned with table salt. In a handkerchief pour a few tablespoons of salt finely and place decoration. Then rinse the earrings in the cool water.
Soak a cotton swab or a brush in rubbing alcohol and clean the earrings. If the product is badly poisoned, soak it in solvent for a few hours. After Polish with flannel or chamois cloth. Thus it is possible effectively to clean silver earrings, it does not damage the gems.
In a glass, pour warm water, add a few drops of ammonia and a teaspoon of baking soda. Soak the silver earrings in this solution and leave on for 15-20 minutes. Then clean the old toothbrush and rinse with cool water. Wipe dry with a soft cloth.
If silver earrings appeared mildew stains, use vinegar. Soak a cotton swab in the remedy and RUB zagrozenie areas. Then buff with a soft cloth.
To remove dark plaque take toothpaste. Apply it on a cotton pad or cloth and RUB the product.
Useful advice
Store silver jewelry in a box lined with soft cloth. Don't keep decorations near sources of heat and sunlight. Their impact silver will quickly grow old and lose luster.
Advice 2: How to clean a silver spoon
Silver does not tolerate contact with oxygen it darkens. For cleaning, you can contact the jewellery workshops. Or to use traditional cleaning methods that you can use at home.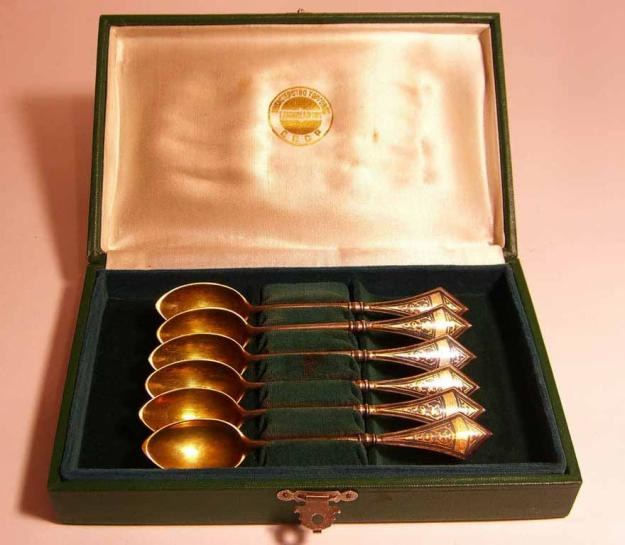 You will need
liquid for cleaning jewelry;
- ammonia;
- tobacco ash;
- lemon juice;
- citric acid;
- baking soda;
- potato decoction;
- toothpaste.
Instruction
In jewelry and hardware stores sell special tools to care for silver jewelry. Just wipe her
silver
spoon
. Using this liquid to clean silverware and silver jewelry.
To clean silver using ammonia. For this is enough for one hour of dipping a silver spoon in a solution of alcohol (the ratio of water and alcohol is 1:10). If there is no time to wait, take a napkin and soak it in the solution and carefully wipe the product to remove stains. Ammonia is impossible to clean the silver with black.
Put silverware in a bowl of water and add tobacco ash, boil, then wipe the instrument dry. You can mix the ashes with lemon juice and RUB the darkened devices.
Citric acid is also very good to clean any silver items. Put the spoon in her solution for a few minutes, and she will again delight you with its brilliance.
Through the use of ordinary baking soda to clean silver items that do not have a lot of patterns. Take a damp cloth and using baking soda and clean the products before the disappearance of spots. You can also use a soda solution. Approximately 30 g of baking soda and pour 100 g of water. In the solution put silver jewelry in for a few hours. For best results, you the solution with silver objects bring to boil.
Make a solution of cream of Tartar for a few minutes and put items from the finicky metal, then wipe dry.
To restore the luster of silver devices will help the potato broth. Place in it a silver spoon for 10 minutes and they will be like new.
Silver spoon is well cleaned with toothpaste. Apply to a soft cloth and wipe the paste products.
Note
Mechanical type of cleaning silver can be applied only when the product is a sample of 625 and above, otherwise it may worsen of the silver devices.
Useful advice
Proper storage of silver items will provide a great view of your silver for a long time. So after the holiday silverware thoroughly and then carefully dry with a towel.