You will need
- results of unified state examination in chemistry, physics, biology and Russian language,
- passport,
- certificate of education,
photography
- documents on privileges.
Instruction
Choose a school that you wish to study to become a dentist, it is better to do several, but not more than five. Be prepared for the fact that large reputable universities big contest and do much more difficult. Can start your education with College or trade school, they eligibility requirements below and it is necessary to learn only 3 years. But keep in mind that if you want, having received secondary education, to study further, you will not have any benefits and privileges at receipt in high school (not counting, of course, the best of the knowledge items).
Examinations for admission to the school pass in school, this exam (unified state exam). For admission to the University, as a rule, results are needed by chemistry, biology, Russian language and physics (physics is required not everywhere). To enroll in a vocational school or College, prepare results in chemistry and Russian language and will be useful to know the basics of artistic modeling.
Submit the required documents to the admissions office. Be sure to complete the application for admission and submit the original document about education (certificate of secondary complete primary or vocational education). In addition, you will need a photo 3x4 cm, certificate exam, held this year, as well as documents about the benefits to which applicant is entitled to receive. Additionally, you may need a medical certificate and identity card (or certificate of a citizen subject to conscription). Thanks to the universal spread of the Internet, the first set of documents in most educational institutions can be submitted in electronic form (however, if you do, go will still have).
Try to do this on a budget (free) place. Budget places are few (and every year becoming less), so the competition for them is great. In order to enroll, you must have very good exam results, so start from school very actively to study botany, Zoology, biology, anatomy, organic and inorganic chemistry to solve chemical challenges. If the score is still not enough, do not give up on your dreams, apply today for the paid Department.
Advice 2: How to become a dentist
The profession
of a doctor
-dentist - one of the most prestigious to date. The dentist needs to have medical knowledge and special skills. Master the intricacies of the profession of dentist in the medical University, but to become a truly first-rate doctor, you must have a vocation and to constantly improve.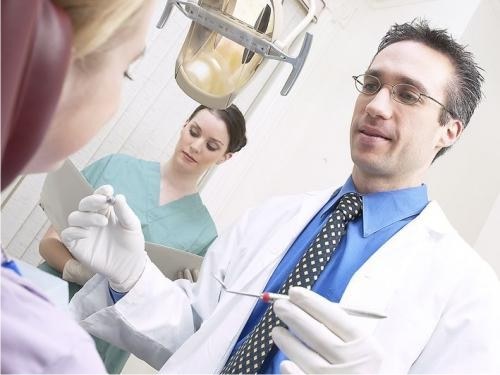 Instruction
Before becoming a dentist, you must have knowledge in medicine. For admission to the UNIVERSITY welcomed a diploma of secondary special education, especially red. It is therefore advisable to start training at the medical College. Higher education, in addition to advantages on the entrance exam, gives the opportunity to study at the evening Department of the medical Institute.
For admission to medical school prepare for exams in chemistry, biology and Russian language. Find out the conditions of admission to the University on the exam; each school has its own rules of admission of applicants. Pass the entrance examination and wait for the enrollment to the 1st year.
The first courses will receive fundamental training in basic disciplines: mathematics, chemistry, physics, Latin languages. For all medical faculties of the University are provided a common base program.
With 2-3 courses of special study of medicine. Reinforce theoretical knowledge with practice in medical establishments as Junior medical staff.
At the undergraduate walk medical practice in the dental clinic under the supervision of a physician. The fifth course will define the area of dentistry, to work in which you will in the future, and select the Department.
After 5 years of study at the University will receive a diploma without the right to conduct practical activities. This document indicates that you have mastered theoretical knowledge. The Dean will receive a referral to the internship.
Pass the practical training in internship on the basis of dental clinics under the supervision of skilled professionals. In a year will receive a certificate on the basis of which you have the right to treat people as a General dentist.
To become a specialist in one of the areas of dentistry, e.g., periodontal or orthopedics, will do in residency. Diploma of residency is also required and even dentists who plan to make an administrative career and become a chief doctor or head of the Department.
If you are prone to academic career, continue training in postgraduate study and then doctorate. In the end, to become a dentist, you will need more than 7-10 years, you should study and during operation for refresher courses.