You will need
paper for pattern making, "the Sophist twist", pencil, ruler, chalk;
- fabric of desired color and texture with a size of 50 x 30 cm;
- metal wire, thick enough to keep hair, length – 1 meter;
- sewing machine or needle and thread the right color, scissors.
Instruction
Draw a pattern "Sophist twist" on a sheet of paper as shown in the drawings. First watertite rectangle 40х8 cm, round the corners. Swipe the longitudinal and transverse lines to determine the center of the product. Mark a longitudinal line slots – four dash. Cut out the pattern along the dotted line; it's the size of the product with the seam, and the inner circuit pattern is a line and the lines correspond to the real size of the future "the Sophist twist." The dimensions of the patterns can be arbitrarily changed depending on your preference and thickness of hair. Gently make a well in the middle of the pattern line of the slot. If you do not want to draw the pattern yourself, you can just download and print on the printer.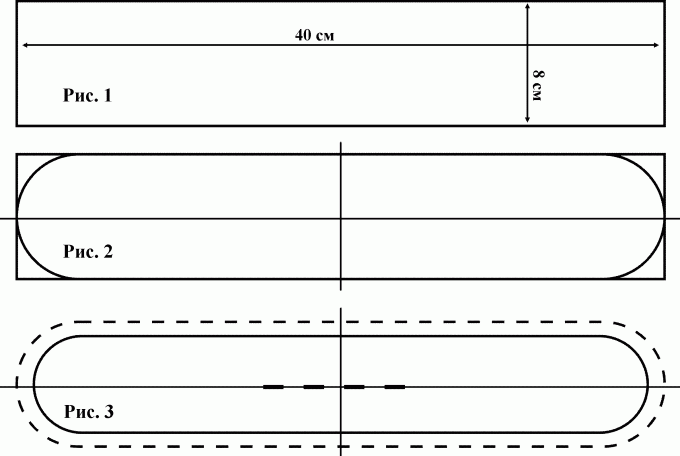 Fold the fabric in half lengthwise, face inside, put on the table and unfold. Place pattern on fabric and pin it with pins. Chalk circle contour patterns, don't forget to mark the line of the slot. You can now cut out the fabric.
Remove the pattern, leaving the pins to both layers of fabric was chopped off. Making the seam allowance 1 cm prostrochite on a circle outline "the Sophist twist" on the sewing machine or sew a tight seam using a needle and thread. Remove pins. With small scissors carefully make an incision in the middle line of the slot. Remove the product on the front side is made through the slot.
Take the wire and bend it to the shape of the resulting "Sophist twist." The excess ends will Obratite around each other to make a closed loop. Through the slot, insert the wire ring inside, gently straighten.
Now just need to seal and secure the slot. The simplest way to stitch directly on the front side of the dense stitching on the principle of a loop. But you can show imagination and, for example, to bind the opening with bias binding, braid or tie the hook. Device for hair "Sophist twist" finish.
Useful advice
Optionally, you can decorate "the Sophist twist" sequins, rhinestones, beads, embroidery, etc.