You will need
fresh or preserved vine leaves

0.5 kg of minced meat of lamb
100 grams of rice
2 large bulbs
fresh dill and cilantro
salt
black pepper
200 grams of sour cream
4 garlic cloves
Instruction
In the summer season, fresh grape leaves sold in the market. In the rest of the year to cook dolma from pickled or savory leaves, which are on sale not only in markets but also in some supermarkets.
If you decide to cook dolma from fresh leaves, try to choose the most young and tender leaves. These grape leaves is enough to wash in the water and trim the stems. If the leaves for dolma not so young, be sure to fill them for a couple of minutes with boiling water. If you use pickled or brined grape leaves, be sure to pre-soak them in hot water for at least 15 minutes.
Wash rice, mix it with minced meat. In Eastern countries, where dolma is very common, usually used minced lamb. But you can also use minced meat, consisting of equal parts lamb and beef. Add the minced meat minced or chopped in a blender onion, finely chopped greens and freshly ground black pepper. Thoroughly mix the stuffing.
Take a vine leaf and put it on the wrong side of a tablespoon of minced meat. Then, a tight "wrap" the filling. This is done as follows: first, bent the lower part of the sheet, then his side. Turns out the "envelope", which is "sealed" remaining upper part of the leaf.
Lay on the bottom of the pot of grape leaves and carefully lay them dolma. Get a few layers. Now pour dolma salted hot water so that it completely covered the contents of the pan. Put the saucepan on slow fire. Cooking of dolma will take approximately 45-50 minutes.
While the dish is cooked, make a sauce for dolma. To do this, add in sour cream, pressed garlic. Instead of sour cream you can use unsweetened natural yogurt.
Useful advice
When you cook the canned dolma from leaves of salt to the water a little less.

Rice for the filling is better to use a round to keep the stuffing was too crumbly.

The stuffing for dolma in addition to the dill and cilantro also add a little mint or Basil.

For cooking dolma it is desirable to use a saucepan with a thick bottom and walls.

To grape leaves when cooking is not dark, add water, a few slices of lemon or a few tablespoons of lemon juice.
Advice 2 : How to make a sauce for dolma
Dolma is a delicious dish made with young vine leaves and minced meat. However, to use the best dolma with the sauce, able to emphasize its original taste.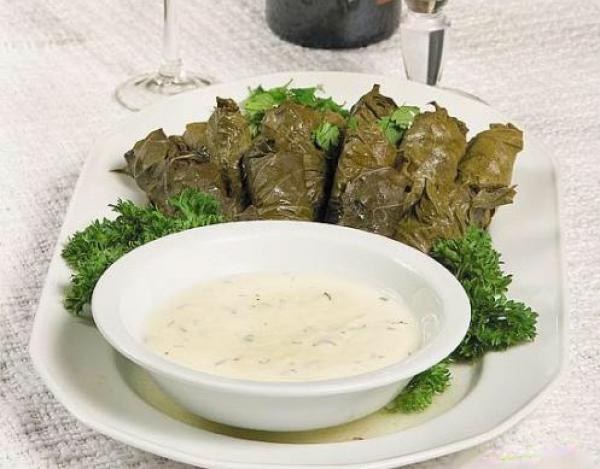 The sauce for dolma in Georgian


Dolma is a popular dish of Caucasian cuisine. It is not surprising that the most appropriate additive for him is a traditional Georgian sauce.

For preparation of the Georgian sauce for dolma you will need the following ingredients: 400 g yoghurt, 3 garlic cloves, ground cinnamon.
Matsoni is a fermented milk product specific, which is rare in Russia. If it is not possible to buy yogurt, you can use regular unsweetened yogurt. Although replacement significantly changes the taste of the sauce.

Garlic is cleaned from the skin and finely chop with a sharp knife. You should get a paste, which is mixed with yoghurt. The resulting mixture is seasoned to taste ground cinnamon. The finished sauce is recommended for 30 minutes to hold in your fridge for yogurt has absorbed the aroma of cinnamon and garlic.


Sauce recipe for stuffed yogurt


You can cook the sauce, more familiar to Russian citizen. You need the following ingredients: 200 ml 3% yogurt, 2 tbsp 20% sour cream, 2 cloves of garlic, salt, black pepper, fresh dill.

Yogurt and sour cream using a blender mix until smooth. To the mixture add grated garlic, salt and black pepper to taste, and chopped dill.


Sauce for dolma with dried apricots


Most often, dolma, boiled in water and served with sauce. However, you can prepare a dish in an interesting sauce made from dried apricots. This ingredient will give the dolma a little spice and seasoning, making it taste a truly original and unforgettable.

The products needed to prepare the sauce: 400 g of dried apricots, 1 kg of onions, 400 g tomato paste, 1 tsp salt, 2 tsp sugar, 1 tsp. black pepper, 1 tsp ground cinnamon, vegetable oil, 1 liter of water.

Onions cleaned from the husk and cut into thin strips. In a deep saucepan pour the vegetable oil layer of 1 cm heat Oil and fry onion in it until Golden color.

Fried onion, pour a liter of water. Pre-soaked and diced dried apricots put in boiling water. After 5 minutes boiling in a pot add tomato paste, sugar, salt and black pepper. The sauce is used directly for cooking dolma.

Dolma put in a saucepan layers. Each layer pour the cooked sauce. The dish simmer until cooked. This dolma additional sauce is not needed.