You will need
Two liters of water:
Bank "Saury";
Potatoes - 2-3 pieces;
- Carrots(medium) 1 piece;
- Round rice 2 tbsp;
- Onion(medium) 1 piece;
- Tomato paste 1 tbsp(to taste);
- Fresh herbs(to taste);
- Salt, pepper.
Instruction
Thoroughly wash the rice until transparent. I take always round because it is great for this soup. Put a pot of water on high heat, fell asleep there, our washed rice.
While water boils, prepare all the necessary vegetables. Clean the potato and cut into cubes. Carrots can be grated or finely chopped. Onions finely chop.

Once the water with rice to a boil, put the potatoes and put the fire on medium. Cook about seven to eight minutes.
Fry the carrots in vegetable oil, after three minutes, add the onions and saute for two to three minutes. Optional after frying onions you can add the tomato paste and to extinguish under a cover for five minutes. I add tomato paste according to your mood.
When the potato is ready, add the broth roasted vegetables. Cook on a medium heat one to two minutes.

Open the canned food. Saury with a fork shred directly in the Bank. Put in the soup and allow to simmer for a few minutes.
By the way, saury can crush and put in whole pieces, as you like.
Salt, pepper and add to taste the greens.
Note
Greens to the soup is great dill.
Useful advice
Rice it is advisable to take the round.
Not persolita, since canned and enough salt.
Advice 2 : How to cook fish soup from canned food
Ear is one of the national Russian dishes. In Russia, there was even a whole technology of cooking this soup. Now, with the advent of canned foods, the cooking process of the soup considerably simplified. However, even here there are subtleties.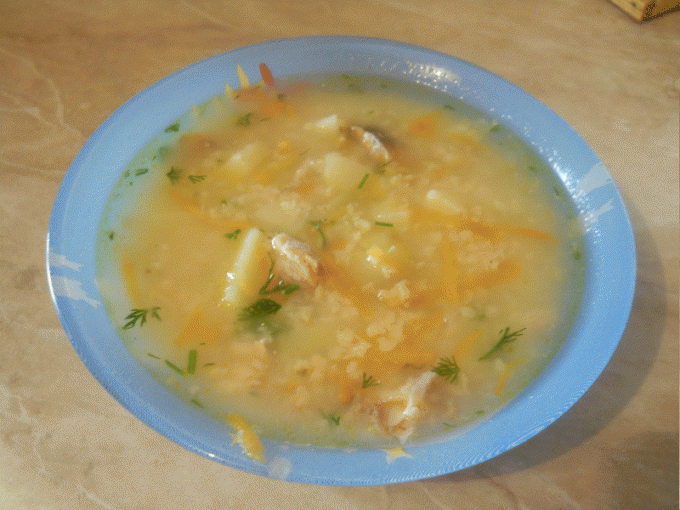 You will need
2 cans of canned Pacific saury in oil
5 large potatoes,
1 Cup of rice,
1 onion,
greens,
Bay leaf,
salt,
pepper.
Instruction
Pour water into the pan and season with salt. Put on the fire.
Clean the potatoes. It can be cut into cubes or strips of medium size. Lightly fry it in a pan with butter or sunflower oil.
Loop Fig. Rinse it under running water until the water the rice is completely transparent.
Wait for the moment when the water in the pan boils, and throw in it the potatoes and rice. Cook on medium heat, stirring constantly.
Separately pour into the pan of sunflower oil (or butter), heat. Finely chop the onion, grate the carrots into strips. Drop in hot oil the chopped vegetables and lightly sauté them.
Pour the vegetables into the pot of soup, put the Bay leaf and stir.
Open tin cans. Dump contents of cans into the mainstream. If desired, you can RUB the fish with a fork into mush, and then throw or leave in whole pieces. Stir again ear.
Cook until fully cooked. Sprinkle the soup with finely chopped greens (parsley, dill or celery). If no fresh herbs, use dried.
Ladle into bowls and serve with mayonnaise or sour cream.
Note
This soup is a real "lifesaver" for outdoor recreation. If you went fishing, but unfortunately caught nothing, but got a couple of cans, you will somehow be able to enjoy the soup.
Useful advice
This recipe describes a standard way of cooking fish soup from canned food. If you wish, you can add various other ingredients such as olives, green peas, lemon, tomatoes, etc. Figure you can substitute other grains, such as millet. In General, all depends on your preference and imagination.