How to make ice cream without ice cream maker
You will need:
- 300 ml of milk;
- 250 ml 35% cream;
three teaspoons of powdered milk;
two teaspoons of starch;
- 100 grams of sugar;
- teaspoon of vanilla sugar.
In a saucepan, pour 250 ml of milk, add him the sugar, vanilla sugar and dry milk, mix thoroughly. In the remaining 50 ml of milk, dissolve the starch.
A pot of milk, put on fire, bring milk to a boil. After the mixture boils, pour into it the milk with the starch and continue to cook and stir until until the mixture thickens.
Remove the pan from the heat, cool slightly mass, then cover with plastic wrap and leave until cool. Whip the cream to peaks, then mix them with the cooled milk mixture.
The resulting mass pour into a special container for freezing and place it in the freezer for three hours. Every 20-30 minutes take out the ice cream and beat with a mixer.
After some time ice cream place in paper cups and again place in the freezer, but on the half hour. Homemade ice cream is ready.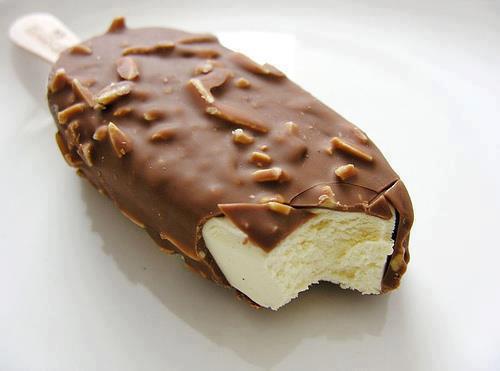 How to make homemade Popsicles without an ice cream maker
Prepare the ice-cream recipe, which is described above (optionally in the preparation of ice cream, you can add berries, nuts, chocolate, etc), and then pour the mass in a first container, and after hardening, remove the ice cream in a special elongated narrow molds (can be purchased at any hardware store), trying as it is possible more densely compacted. Place the ramekins for 30 minutes in the freezer, pre-in the center of each ice cream by placing a special stick for a Popsicle.
While ice cream freezes, prepare the glaze. Take 100 grams of chocolate and fresh butter, put the ingredients in a saucepan and melt. Cool the glaze to 30-35 degrees, then remove the ice cream from the molds, dip each in slightly warm glaze and place on a tray, the laid parchment. Place a Popsicle for 15 minutes in the freezer.