Blood donation is an extremely important area because of the rules of blood donation affects the lives of at least two people - a donor and a recipient. In this regard, it is tightly regulated by the current legislation.


The upper age limit for donor

For several years, the main legal act regulating the process of blood donation in our country was the law of the Russian Federation № 5142-1 of 9 June 1993 "On blood donorship and its components". Article 1 this law is really contained specific age limit for persons wishing to become donors: it was stated that to donate blood for medical purposes could only people aged 18 to 60 years.

However, in 2012, adopted a new Federal law No. 125-FZ of 20 July 2012 "On blood donorship and its components", which operates to this day. This legal act is indicated only the lower age limit for potential donors, which remains at 18 years. Thus, from a legislative point of view, the age limit for persons wishing to act as blood donors, to date, does not exist.


Other constraints to donor

However, persons wishing to donate blood as a donor must meet several other criteria and conditions, compliance with which is mandatory regardless of age. Thus, among the General requirements for any donor include:
the body weight component of not less than 50 kilograms;
- body temperature not exceeding 37°C;
- the systolic ("upper") pressure in the range of 90 to 160 mm. Hg.St.;
- diastolic ("lower") pressure in the range from 60 to 100 mm of mercury.St.;
- pulse, which is in the range of 50 to 100 beats per minute.

In addition to these General conditions, there are a number of requirements to health of the potential donor. So, first, he should be absent all diseases from the list, which is a strict list of contraindications for blood transfusion. It includes 19 major disease groups, which include parasitic diseases, and some diseases of the respiratory system, digestive system, kidneys, liver, skin, eyes and other organs.

In addition, the donor must not have temporary contraindications to blood donation, for example, drinking alcohol, taking certain medications and others. If a potential donor meets all the listed requirements, its age is no obstacle to blood donation.
Advice 2: Why is it helpful to be a donor
Blood donation every year increases its importance. A lot of people need blood or its separate components. Why not help? Someone does it out of good intentions and desire to help, and someone saves a life, receiving financial aid.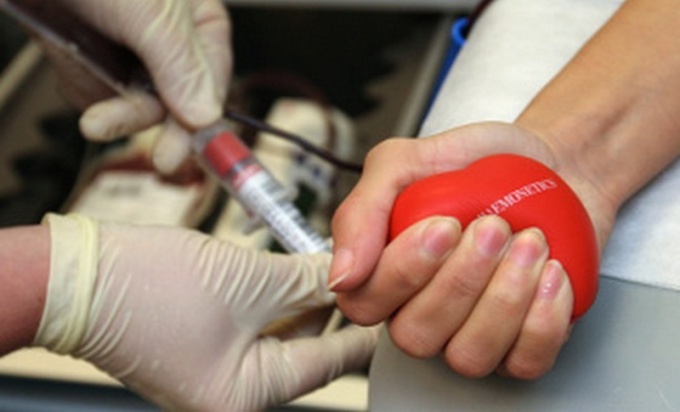 Blood donation is a bold step on the path to selfless action. Medicine evolves as the rest of the industry, but, unfortunately, it is impossible to fully reproduce and recreate the composition of the blood, so it all depends on people.
If you have recently had surgery, illness and so on, please inform the doctor during the examination, which is mandatory before the blood donation. Don't hide your illness, pain, as this may be dangerous both for you and for those who will pour your blood or its components.
Why is it useful to donate blood
This fact is most like to the female. The body is a renewal of blood, which means the rejuvenation of cells. Besides improves holistic body immunity. Even if there is blood loss, then you will suffer less painful for bodies this process. Life expectancy is increasing, as a rule, for 5 years.
Advantages
Donor to be profitable because the state provides to such people certain benefits. The person who donates blood has the right to two days off, one of which is taken directly on the blood donation day. After the donor has donated blood 40 times or plasma of 60 times) it receives from the state a monthly allowance.
How are you going to donate blood depends on you. Either cash payment or free of charge.
In any of the above cases, your act will be appreciated by those who need blood. Don't forget about moral satisfaction, because you will save lives.
The conditions that must be followed to the donor:
do not donate blood more often than once in 60 days, and the plasma is not more often than every 14 days;
do not donate blood more than 5 times a year, and plasma 12 times a year;
to use during sampling disposable system that for a long time is provided by the centers for donating blood;
before the procedure, drink sweet tea and biscuits on-site blood donation, after a hearty meal and to refrain from strenuous activity during the day.